Janet Farrar
Written and compiled by George Knowles.
Since their initiation into witchcraft by Alex Sanders in February 1970 and starting their own coven in December the same year, Janet and Stewart Farrar have done much to make Wicca and the pagan way available to the public. Their books have become classics in their own time, and over the years through faultless and diligent hard work, they became England's most eminent and respected modern day witches. After the death of Stewart Farrar on the 7th February 2000, Janet married their family friend and business partner Gavin Bone on the 5th May 2001. Since then they have continue to work on promoting and explaining the craft to those who would want to hear.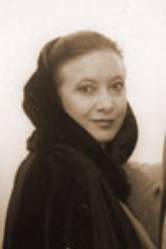 Janet Farrar was born as Janet Owen on the 24th June 1950, in Clapham a district of London, England. Her father Ronald Owen came from an English and Welsh background, her mother Ivy Owen (nee Craddock) was an immigrant Irishwoman. Both parents worked in the local hospital and were members of the Church of England. Janet was five years old when her mother passed away.
Janet was educated first at Leyton Manor School in London, then at Royal Wanstead High School for Girls in Sawbridgeworth, Hertfordshire. After leaving school Janet started work as a model, in-between assignments she worked as a receptionist. She first became involved with the craft after a friend started visiting with the Alex Sanders, the "enfant terrible" of witchcraft and the "King of Witches" as he later became known. Janet having a Christian background, tagged along with the intention of dissuading her friend from becoming involved. However what she saw impressed her, and she ended up joining herself.
While training with their coven Janet met another initiate called Stewart Farrar, who although he was thirty-four years her senior, later become her husband. Alex Sanders initiated Janet into his coven during February 1970, and at more or less the same time, his wife and High priestess "Maxine Sanders" initiated Stewart Farrar. Later the same year according to Janet, she and Stewart were both elevated to the second degree on the 17th October 1970, after which they decided to leave Alex and Maxine's coven. While awaiting their third degree initiation, they founded their own coven in London during the Yule festivities of 1970, under supervision of Alex and Maxine. Later on the 24th April 1971 they received their third degree, which then allowed them the autonomy to become independent, however some Alexandrian revisionists have disputed these events.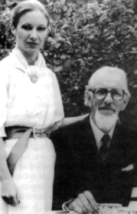 While indebted to the Sanders' for their initial training in the craft, both Janet and Stewart felt that much of their teaching was sparse in content. From the start of their own coven in 1970, they both worked to develop and structure their own rituals and training methods for use within their own covens. Janet and Stewart were handfasted in 1972, and later legally married at the Registry Office in Woking, Surrey in 1975, attended by Stewart's two daughters and two sons from three previous marriages, his marriage to Janet Owen was his seventh.
In April 1976, fed-up with the pace and toil of life in the crowded streets of London, the Farrar's turned their coven over to Susan and David Buckingham and moved to the Republic of Ireland for the peace and quiet of the fields and mountains in County Mayo and County Wicklow. They finally settled in at a two-bedroom cottage on the bog called "Herne Cottage" in Kells, County Meath, from there they continued to expand and found new covens. The structure and method of their workings had by this time developed and had changed radically from their original Alexandrian roots. Today some seventy five percent of Wiccans, both in the Republic and Northern Ireland can trace their beginnings back to the Farrar's.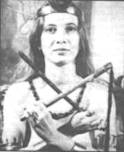 Living in peaceful surrounding they each collaborated on writing some of the most influential books on modern witchcraft published to date. Such books as: Eight Sabbats for Witches and The Witches Way (jointly published as The Witches Bible), also The Witches Goddess, The Witches God, and Spells and How They Work (see Bibliography below). Their writings, some of which have now reached classic status, are an influence to both practitioners and future craft writers alike. They have also lectured in the United States, as well as Europe and the Netherlands, and are now exploring video as a medium for presenting further information on modern Paganism.
The Farrar's returned to England in 1988, and while speaking at a Pagan Conference in Leicester 1989, they met Gavin Bone and formed a lasting friendship. When they returned to Ireland in 1993, they were joined by Gavin and entered into a "polyamory relationship". In 1995, Stewart Farrar suffered a stroke, and Gavin as a trained nurse and healer was instrumental in helping him back to good health. The three of them co-author two more books 'The Healing Craft' and 'The Pagan Path'.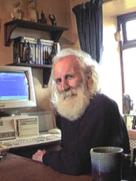 Having developed their own brand of witchcraft, the Farrar's became honorary initiates of several other traditions including "Traditional Italian Strega". In 1999, they were ordained as third-level clergy with the Aquarian Tabernacle Church, and also hold the charter for the same in Ireland. This is now based at the Tempal Na Callaighe in Ireland.
Despite all their achievements and adornments, the Farrar's prefer to be known simply as "Wiccans", working on the Pagan Path. They believed strongly in the idea of Wicca being a progressive and dynamic religion that is accessible to all whom wanted to belong. After a brief illness, Stewart Farrar passed into the next world on the 7th of February 2000. After his death, Janet married Gavin Bone on the 5th May 2001, and together they continue to work on promoting and explaining the craft to those who would want to hear it.
Gavin Bone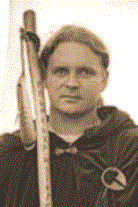 Gavin Bone was born in Portsmouth, Hampshire in England, in 1964. He trained as a registered nurse and has studied complimentary healing methods such as reflexology; he's also a practicing spiritual healer. He was initiated into Seax-Wicca in 1986, and is currently developing the theory that Wicca "may have" some roots in tribal shamanistic healing traditions, as apposed to medieval ritual magic.
Gavin first met the Farrar's in 1989 at a Pagan Conference in Leicester, from where they struck up a friendship. After a tour of the United States in 1992 accompanied by Gavin, the Farrar's returned to Ireland in 1993. Gavin later joined them as their business partner; they also entered into a "polyamory relationship".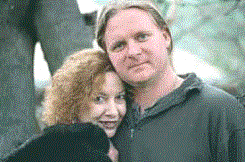 When in 1995, Stewart Farrar suffered a stroke. Gavin's training as a nurse and healer proved most valuable. He was instrumental in helping to nurse him back to good health. Gavin co-authored two books with the Farrar's: The Pagan Path (Bookpeople, 1995), and The Healing Craft (Phoenix Publishing, 2000). He also acts as the production manager of their latest moves into video.
As the Farrar's business partner in 1996, Gavin was responsible for setting up their WebPages - "http://gofree.indigo.ie/~wicca/". This has since developed into the "Pagan Information Network", a contact network for pagans across the Republic and Northern Ireland, for which Gavin and the Farrar's are the primary coordinators.
Sadly Stewart Farrar passed into a better place on the 7th February 2000. He was an outstanding example of a dedicated Witch, and one who simply preferred to be called a Wiccan. Supported by Janet and Gavin, his contribution to the evolution and development of the modern day witchcraft movement, has helped many to find their way on the path. Janet and Gavin today carry on with his work, and were married on the 5th May 2001. Best wishes and happiness to them both.
End.
Sources:
The Encyclopedia of Witches &Witchcraft - by Rosemary Ellen Guiley.
Encyclopedia of Wicca & Witchcraft - By Raven Grimassi
A Witches' Bible - By Janet and Stewart Farrar
What Witches Do - By Stewart Farrar
Websites:
http://www.witchvox.com/va/dt_va.html?a=usxx&c=passages&id=2655
http://en.wikipedia.org/wiki/Stewart_Farrar
http://www.themystica.com/mystica/articles/f/farrar_janet_and_stewart.html
First published on the 25th April 2001 - up-dated 24th June 2007 © George Knowles

Best wishes and Blessed Be