Damh the Bard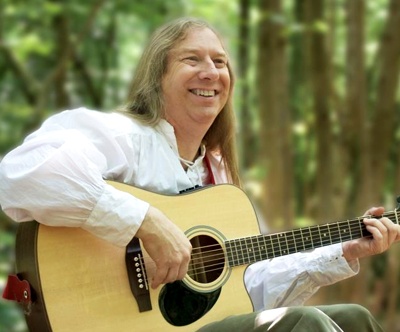 Written and compiled by George Knowles
Damh the Bard is a Pagan musician, singer/songwriter, poet and storyteller with a growing international reputation. He is also the current 'Pendragon' of the Order of Bards, Ovates and Druids (OBOD), one of the largest international Druid Orders operating out of the UK. At the Spring Equinox 2000, together with his artist partner Cerri Lee, he founded the 'Anderida Gorsedd' based at the Long Man of Wilmington in Sussex. There they hold free and open public rituals celebrating the Solar and Seasonal festivals of the year.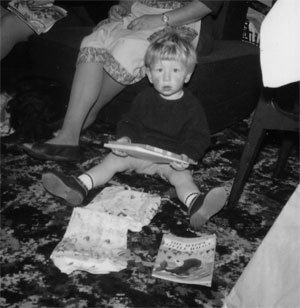 Damh age 1
Damh the Bard was born Dave Smith in Redruth, Cornwall on the 16th June 1965. Obsessed with music from his earliest days, he was later encouraged by his parents, Patrick and Ann Smith, to play out in nearby woods and there grew to love and appreciate the sounds of nature. At the same time he was raised on the legends of King Arthur and other Cornish myths and folklore, and would spend hours seeking out Spriggan and Faeries in holes beneath trees or hiding under mushrooms. His vivid imagination allowed him to see their faces in the bark of trees, and he could hear them singing in the far distance, but they were always just out of reach. Ever since then, music became a dominant focus of his life.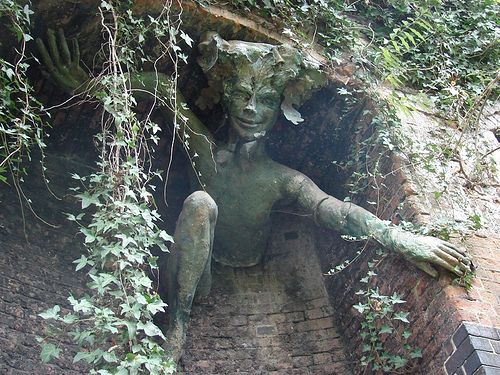 A Spriggan Sculpture by Marilyn Collins located under the arches of the disused railway line between Crouch End and Alexandra Palace in London, as part of the Parkland Walk footpath and a section of the Capital Ring Walk
In 1971 his family moved to Haywards Heath in Sussex, where Damh began his junior education at St Wilfred's School. Still enthused by music and constantly badgering his long-suffering parents, they finally relented and for his 8th birthday bought him a guitar, but on the proviso he learned to play it properly. Damh states: "My guitar teacher's name was Tim O' Leary, an Irishman, and I was his first student. He couldn't read music, so taught me using the oral tradition (I still can't read music, and have since learnt that the Bards used the oral tradition as their preferred teaching method. So even then my future as a Bard was taking shape). He taught me Irish folk tunes, jigs and reels, and really guided my own style from those very early lessons."
After taking lessons with Tim O'Leary, and with inspiration from other popular folk singers, such like John Denver and Ralph McTell, he was soon ready to perform on stage himself. In 1976 while on holiday from school and visiting the Isle of Wight, his father persuaded a local pub landlord to let him play while the resident band took a break. Although he was still only 11 years old, he surprised and impressed everyone by playing two of his own songs.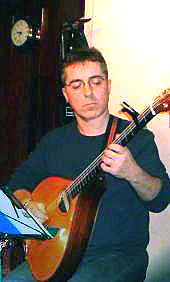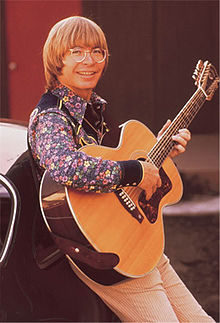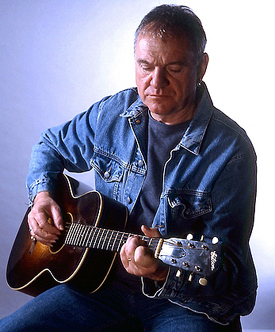 Tim O'Leary

-

John Denver
-

Ralph McTell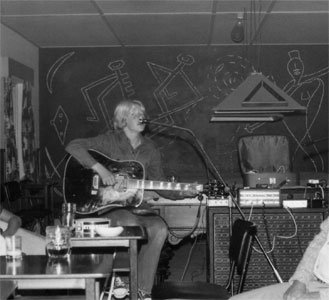 Damh age 11 at the Pub
On his return home, Damh started his senior school education at Oathall Community College and took every opportunity to take his guitar in with him. By this time however, most of his friends favoured electric guitars, which didn't really suit his acoustic finger picking style, but having a good ear for rhythm, he adapted, stopped playing guitar and took up drums instead.
After leaving school in 1981, Damh turned professional playing gigs with local bands and groups bashing out music inspired by popular rock/pop sensations such as Sweet, Slade and T Rex. Later he joined a heavy metal band called "Targa", which regularly played as a support band on the London nightclub circuit. Eventually Targa gained a headline slot at the prestigious Marquee Club in London's Soho district, but before they could play it, one of their lead members moved away and the band split up.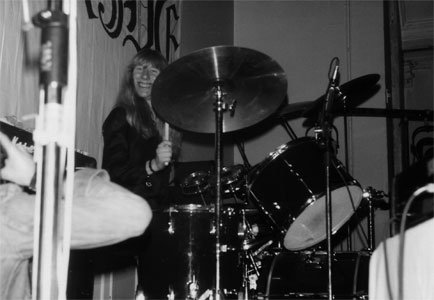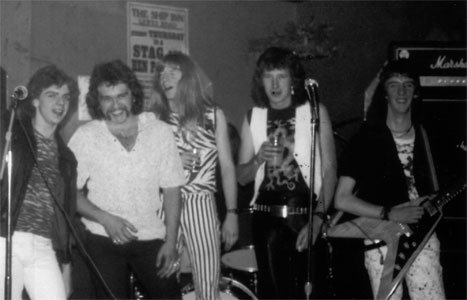 Damh playing drums
-

Targa at the "The Ship" in Brighton.

By the end of the 1980's as well as playing music, Damh's main interest was in Magick and the Occult, inspired by an earlier fascination with the Hammer Horror film "The Devil Rides Out" starring the actor Christopher Lee as the "Duc de Richleau". Later he was introduced into the Occult Church Society, a ceremonial group in Kent working on the teachings of Aleister Crowley and the Hermetic Order of the Golden Dawn. Damh worked with the group for the next four years and advanced to grade of Philosphus, but then decided it was not the path he should be following, and decided to go back to the nature of his youth where he had felt most comfortable.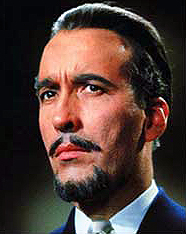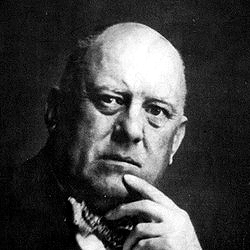 Christopher Lee - Aleister Crowley
In 1994 Damh came across a copy of Prediction, one of the UK's main esoteric "Mind, Body and Spirit" magazines, and found a number of classified adverts for various pagan organisations, including: The Fellowship of Isis, The Guild of Pagans, The Pagan Federation, and one about Green Spirituality and the Druids. As he now states: "The cost of a postage stamp changed my life". Later he joined the Order of Bards, Ovates and Druids (OBOD), and it felt like he had found his way home. After completing the first part of their correspondence course, he was initiated into the Bard grade at the Spring Equinox in 1995.
By this time having had enough of bands and traipsing around London's nightclub circuit, he returned to his acoustic folk music roots and began learning the mandolin. On his own website Damh states: "After seeing the great Bard Fiona Davidson play and tell stories at the 1994 PF (Pagan Federation) conference, I bought a Celtic Harp. This was a very intensely creative period of my life, things that I seemed to have no control over were happening. I began to write songs, Pagan songs. There were only a few Pagan bands around at the time, Silver on the Tree, the Dolmen, Heathens All, they were all of them were fabulous, but I couldn't help but feel that the Bardic/mystical element was missing in Pagan music. What I loved were the stories, not just of mythology, but of the land, so I put pick to string, pen to paper, and began to write. I played a few of the songs at local Pagan events and at PEWC (the Pan European Wiccan convention), and low and behold, people actually seemed to like them."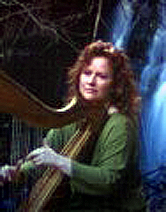 Fiona Davidson
(Scottish harpist, singer and storyteller)
On Sunday the 10th August 1997 Damh competed in the Wessex Open Eisteddfod, the first Eisteddfod to be organised on English soil since the 1920s. Organised by Dylan Blight (aka Dylan Ap Thuin, founder of the Insular Order of Druids) and Portsmouth City council, the event was held in the open air in a green field by Southsea beach. As a free event open to the public and in front of a crowd of 800 plus people, many of the UK's noted poets, musicians and re-enactors competed for the prize of a replica Iron Age Celtic neck torc and the title of Bard of Wessex, and Damh won them both.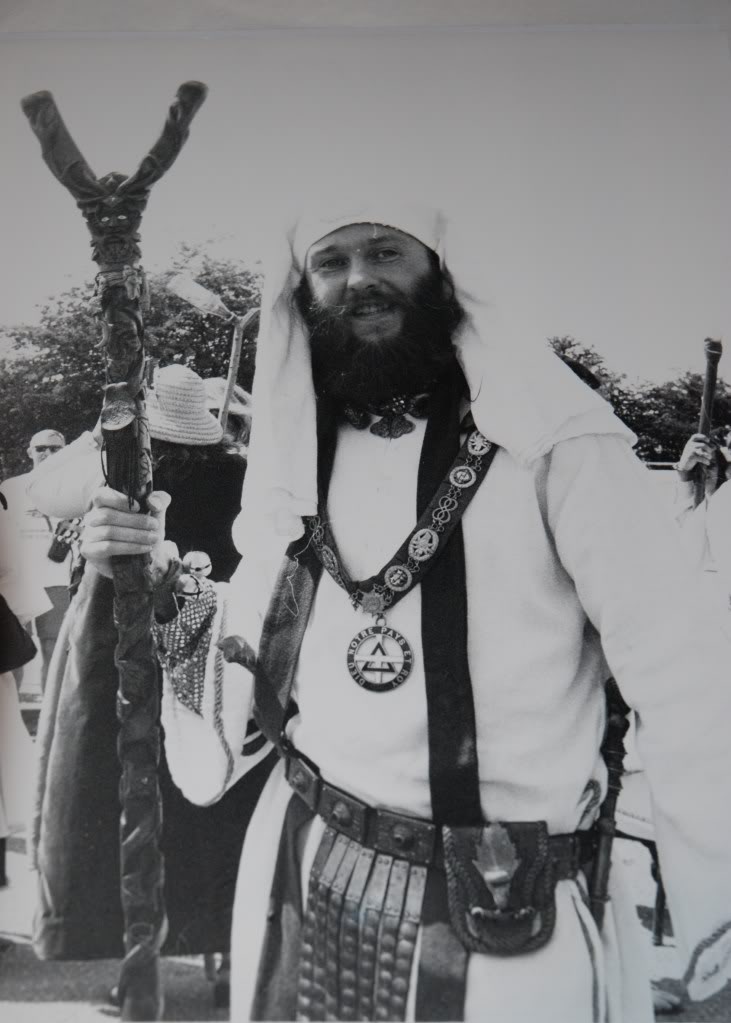 Dylan Ap Thuin
In November of the following year 1998, Damh was asked to play at the OBOD's 10th anniversary party in support of Robin Williamson (the Scottish singer/songwriter, and founder of the renowned The Incredible String Band in the 1960's), who was to be made the first honorary Bard of the OBOD. For the concert, Damh put together a folk band called Spiral Castle, consisting of himself and three friends: Chris Tinniswood, Rob Hall and Carl Sutterby. The concert was such a great success that the band continued to play regularly at Pagan festivals across the country, including the main Pagan Federation International Conference held annually at Fairfield Halls in Croydon, South London. They also recorded a CD together called None but Seven.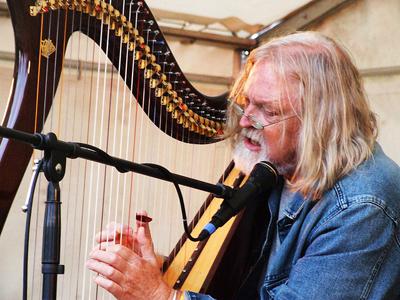 Robin Williamson
In 2000 Damh together with his partner Cerri Lee founded the Anderida Gorsedd at the Long Man of Wilmington located on Windover Hill in East Sussex. The origins of The Long Man are still unclear, but recent archaeological estimates suggest the figure dates from the 16th–17th century AD. Measuring 69.2 metres (227 ft) in length, The Long Man was designed to look in proportion when viewed from below. In his book The Druid Way (1993), Philip Carr-Gomm, the current Chosen Chief of the Order of Bards, Ovates and Druids, drew attention to the significance of the Long Man as a sacred site in the modern world. Today since the Spring Equinox 2000, the Anderida Gorsedd led by Damh the Bard, have been holding free and open public rituals there on Sundays closest to the eight main Pagan Festivals of the year.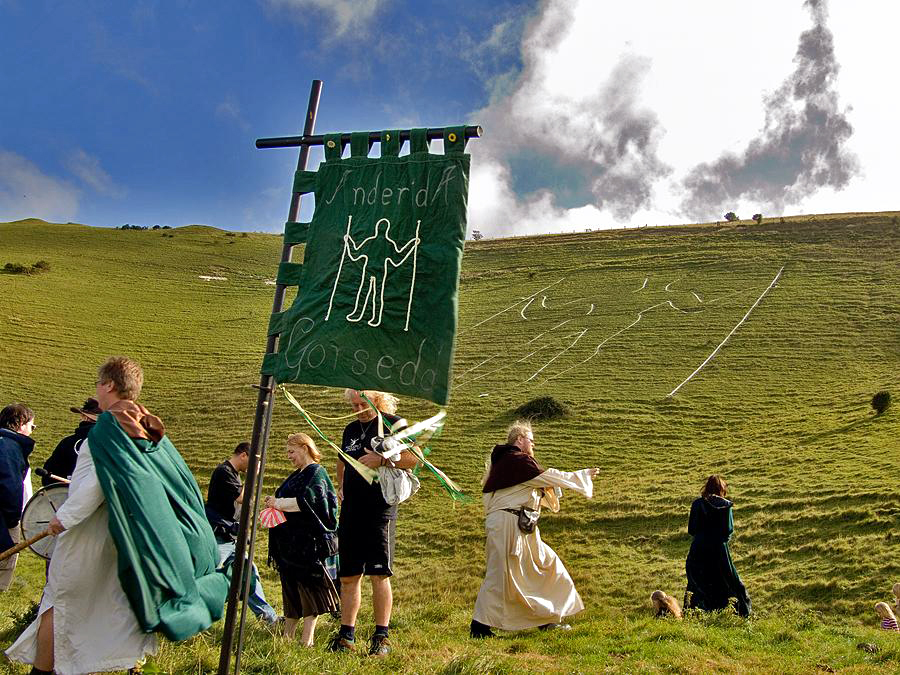 The Anderida Gorsedd at The Long Man of Wilmington
By this time in year 2000, Damh decided to go solo with his music career, and a year later release of his debut CD album called Herne's Apprentice. He followed this with The Hills they are Hollow in 2003, Spirit of Albion in 2006, The Cauldron Born in 2008, Tales from the Crow Man in 2009, and a live performance album recorded during the Witchfest International Conference held at Fairfield Halls in Croydon, South London called As Nature Intended in 2010. Most recently he has also released a single recording called The Sons & Daughters (of Robin Hood) in 2011.
In February 2002, Damh completed all three grades of his OBOD training courses, but while he is a qualified Druid, he later asked the Anderida Grove to re-initiate him as a Bard, feeling that is where his life's journey led him and where he wished to stay. In 2006 he began holding "Magical Camps Outs", and founded the short lived "Wildlore School of Wilderness Awareness, Bushcraft and Native Ways", about which he states: "I formed Wildlore in 2006 and had a great year with it. Every event sold out, but at the same time my music was taking off without me really trying. It was a pivotal point. I'd always wanted to earn my living through my music, so I chose to close the school, and focus on music."
In August 2007 Damh was one of the folk singer/songwriters featured on a popular CD recording called John Barleycorn Reborn. This is a compilation of songs from leading UK folk artists, those who are considered to be breaking new ground by exploring our countries ancient mythology and folklore with themes of seasonal birth, death and rebirth. Damh's contribution to the album was a song called "Spirit Of Albion." The recording was produced by Coldspring Records and Woven Wheat Whispers, and also includes a booklet with articles, essays and explorations of the album's concept.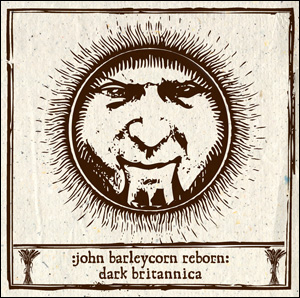 Double CD album cover of
John Barleycorn Reborn
In June 2010, during the OBOD Summer Solstice celebration held at Glastonbury Town Hall, Damh was initiated as the Order's new Pendragon, taking over from artist Will Worthington who had held the position for the previous 19 years. Since then he has performed extensively on the festival circuit in the UK, as well as visiting the USA, Canada, Australia and Europe. As if he was not busy enough, Damh also became involved in a movie:
The Spirit of Albion – The Movie
The Archway Theatre in Horley, Surrey, is a small 95-seat theatre company providing young adult workshops for budding actors in the 16 to 21 year age range. Throughout the year, the theatre produces 10 full productions, each running for 10 performances over a two-week period. Every summer the theatre puts on a special show for it members and decided that for their summer 2010 production, they would create and produce a new musical based on the music of Damh the Bard. 10 of his songs were chosen to create the storyline with characters, and the end result was the musical called: The Spirit of Albion. This was performed at the theatre for 3 nights in early July 2010.
So positive was the response, the musical was staged again later that year at the Witchfest International Conference held at Fairfield Halls, Croydon, on 6th November 2010. This time however, as most of the original youth cast had already moved on, a cast of professional adult actors performed it. Once again it received a positive response, and so a decision was made to turn it into a movie. Produced by Joy Andrews of the independent British film company Egotrip Productions, and directed by Gary Andrews, work on the movie began in April 2011. Just a year later The Spirit of Albion – The Movie was completed and released on DVD in May 2012.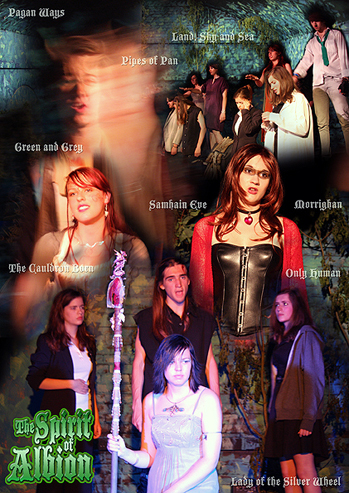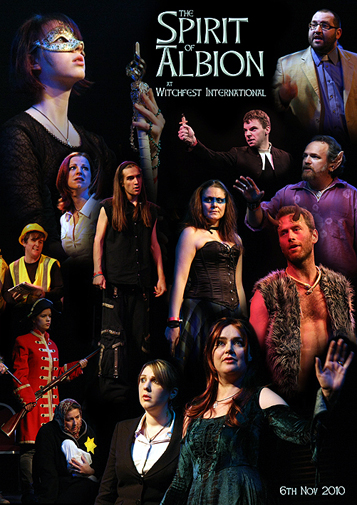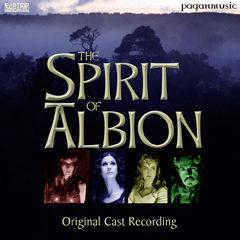 The Archway Theatre poster - The Witchfest poster - The Movie
Today when not on the road playing concerts or touring abroad promoting Druidry, Damh works out of the OBOD office in Lewes, Sussex. There together with Annie Gayford and Stephanie Carr-Gomm (the current Scribe, and wife of Chosen Chief Philip Carr-Gomm), they administer the Order's activities and training programme, post out English correspondence courses, supply books and audios, and answer the hundreds of queries they receive from members all over the world. Damh also runs the Order's monthly podcast called Druidcast.
Damh describes his music as "mystic folk music", and takes his inspiration from the ancient myths, legends and folk customs of the British Isles and Ireland. He claims to be as much at home playing to small intimate audiences, such as local moots, as he is playing at large festivals with audiences of 1500 plus. His current ambition is to one-day play a Pagan Concert at the prestigious Royal Albert Hall in London, UK. At home when his busy schedule allows, Damh likes nothing more than spending quality time with his two son's Zakk and Josh and partner Cerri, roaming on the beech in Brighton, East Sussex, or visiting the nearby countryside seeking fresh inspiration.
Discography: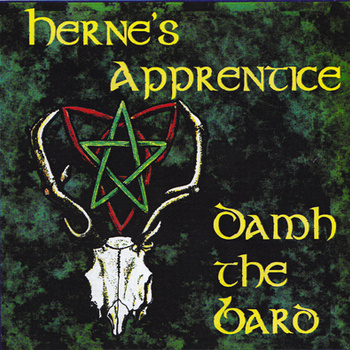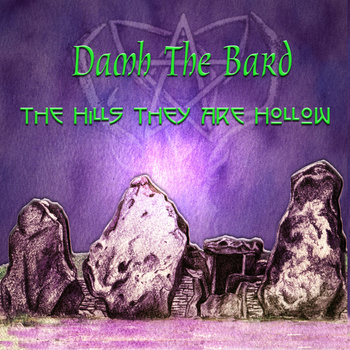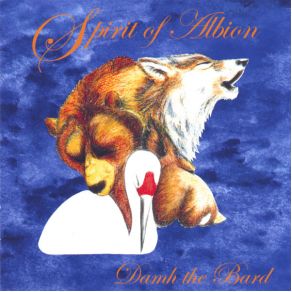 Herne's Apprentice 2002 - The Hills They Are Hollow 2003 - Spirt of Albion 2006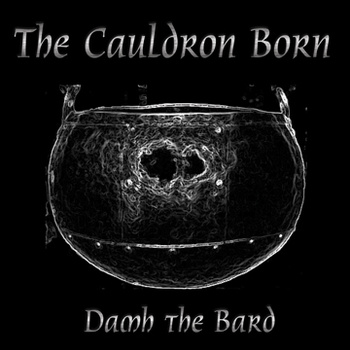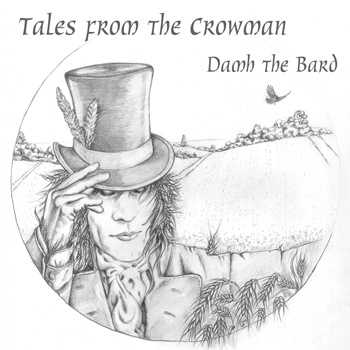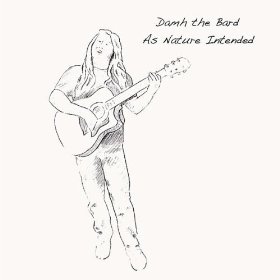 The Cauldron Born 2008 - Tales from the Crow Man 2009 - As Nature Intended 2010

Sources:
Private communication with Damh the Bard. My grateful thanks.
http://www.penton.co.za/?p=2437
http://www.paganmusic.co.uk/biography.htm
http://mysticjourneys.8m.com/intervieweb.html
http://www.histrionicdowns.com/spiralcastle.htm

http://www.thespiritofalbionthemovie.com/home
http://www.lugodoc.demon.co.uk/Druids/IOD.htm
http://www.coldspring.co.uk/discography/csr84cd.php
http://thepaganfriends.wordpress.com/tag/damh-the-bard/#Damh
http://voices.yahoo.com/exclusive-interview-damh-bard-gather-round-382920.html?cat=38
http://meadmuse.com/damh-the-bard-28-pagan-musicians-in-28-days-series-2012/
First published on the 06th August 2012 © George Knowles

Best wishes and Blessed Be

Site Contents - Links to all Pages
A Universal Message:
Let there be peace in the world - Where have all the flowers gone?
About me:
My Personal Page / My Place in England, UK / My Family Tree (Ancestry)
Wicca & Witchcraft
Wicca/Witchcraft / What is Wicca / What is Magick
Traditional Writings:
Wiccan Rede / Charge of the Goddess / Charge of the God / The Three-Fold Law (includes The Law of Power and The Four Powers of the Magus) / The Witches Chant / The Witches Creed / Descent of the Goddess / Drawing Down the Moon / The Great Rite Invocation / Invocation of the Horned God / The 13 Principles of Wiccan Belief / The Witches Rede of Chivalry / A Pledge to Pagan Spirituality
Correspondence Tables:
Incense / Candles / Colours / Magickal Days / Stones and Gems / Elements and Elementals
Traditions:
Traditions Part 1 - Alexandrian Wicca / Aquarian Tabernacle Church (ATC) / Ár Ndraíocht Féin (ADF) / Blue Star Wicca / British Traditional (Druidic Witchcraft) / Celtic Wicca / Ceremonial Magic / Chaos Magic / Church and School of Wicca / Circle Sanctuary / Covenant of the Goddess (COG) / Covenant of Unitarian Universalist Pagans (CUUPS) / Cyber Wicca / Dianic Wicca / Eclectic Wicca / Feri Wicca /
Traditions Part 2 - Gardnerian Wicca / Georgian Tradition / Henge of Keltria / Hereditary Witchcraft / Hermetic Order of the Golden Dawn (H.O.G.D.) / Kitchen Witch (Hedge Witch) / Minoan Brotherhood and Minoan Sisterhood Tradition / Nordic Paganism / Pagan Federation / Pectic-Wita / Seax-Wica / Shamanism / Solitary / Strega / Sylvan Tradition / Vodoun or Voodoo / Witches League of Public Awareness (WLPA) /
Other things of interest:
Gods and Goddesses (Greek Mythology) / Esbats & Full Moons / Links to Personal Friends & Resources / Wicca/Witchcraft Resources / What's a spell? / Circle Casting and Sacred Space / Pentagram - Pentacle / Marks of a Witch / The Witches Power / The Witches Hat / An esoteric guide to visiting London / Satanism / Pow-wow / The Unitarian Universalist Association / Numerology: Part 1 / Part 2 / Part 3 / A history of the Malleus Maleficarum: includes: Pope Innocent VIII / The papal Bull / The Malleus Maleficarum / An extract from the Malleus Maleficarum / The letter of approbation / Johann Nider's Formicarius / Jacob Sprenger / Heinrich Kramer / Stefano Infessura / Montague Summers / The Waldenses / The Albigenses / The Hussites / The Sun Dance / Shielding (Occult and Psychic Protection) /

The History of Thanksgiving / I have a Dream, the 1963 speach by civil rights campaigner Martin Luther King / Auras by Graham Furnell - Part 1 and Part 2 /
Sabbats and Rituals:
Sabbats in History and Mythology / Samhain (October 31st) / Yule (December 21st) / Imbolc (February 2nd) / Ostara (March 21st) / Beltane (April 30th) / Litha (June 21st) / Lughnasadh (August 1st) / Mabon (September 21st)
Rituals contributed by Crone: Samhain / Yule / Imbolc / Ostara / Beltane / Litha / Lammas / Mabon
Tools:
Tools of a Witch / The Besom (Broom) / Poppets and Dolls / Pendulums / Cauldron Magick / Mirror Gazing
Animals:
Animals in Witchcraft (The Witches Familiar) / Antelope / Bats / Crow / Fox / Frog and Toads / Goat / Honeybee / Kangaroo / Lion / Owl / Phoenix / Rabbits and Hares / Raven / Robin Redbreast / Sheep / Spider / Squirrel / Swans / Wild Boar / Wolf / Serpent / Pig / Stag / Horse / Mouse / Cat
Trees:
In Worship of Trees - Myths, Lore and the Celtic Tree Calendar. For descriptions and correspondences of the thirteen sacred trees of Wicca/Witchcraft see the following: Birch / Rowan / Ash / Alder / Willow / Hawthorn / Oak / Holly / Hazel / Vine / Ivy / Reed / Elder. Also see: The Willow Tree (Folk Music)
Sacred Sites:
Mystical Sacred Sites - Stonehenge / Glastonbury Tor / Malta - The Hypogeum of Hal Saflieni / Avebury / Cerne Abbas - The Chalk Giant / Ireland - Newgrange /
Rocks and Stones:
Stones - History, Myths and Lore
Articles contributed by Patricia Jean Martin: / Apophyllite / Amber / Amethyst / Aquamarine / Aragonite / Aventurine / Black Tourmaline / Bloodstone / Calcite / Carnelian / Celestite / Citrine / Chrysanthemum Stone / Diamond / Emerald / Fluorite / Garnet / Hematite / Herkimer Diamond / Labradorite / Lapis Lazuli / Malachite / Moonstone / Obsidian / Opal / Pyrite / Quartz (Rock Crystal) / Rose Quartz / Ruby / Selenite / Seraphinite / Silver and Gold / Smoky Quartz / Sodalite / Sunstone / Thunderegg / Tree Agate / Zebra Marble
Wisdom:
Knowledge vs Wisdom by Ardriana Cahill / I Talk to the Trees / Awakening / The Witch in You / A Tale of the Woods
Articles and Stories about Witchcraft:
Murder by Witchcraft / The Fairy Witch of Clonmel / A Battleship, U-boat, and a Witch / The Troll-Tear (A story for Children) / Goody Hawkins - The Wise Goodwife / The Story of Jack-O-Lantern / The Murder of the Hammersmith Ghost / Josephine Gray (The Infamous Black Widow) / The Two Brothers - Light and Dark
Old Masters of Academia:
Pliny the Elder / Hesiod / Pythagoras
Biographies
(Ancient, Past and Present)
(Departed Pagan Pioneers, Founders, Elders and Others)

Abramelin the Mage / Agrippa / Aidan A. Kelly / Albertus Magnus "Albert the Great" / Aleister Crowley "The Great Beast" / Alex Sanders "the King of the Witches" / Alison Harlow / Amber K / Anna Franklin / Anodea Judith / Anton Szandor LaVey / Arnold Crowther / Arthur Edward Waite / Austin Osman Spare / Biddy Early / Bridget Cleary / Carl Llewellyn Weschcke / Cecil Hugh Williamson / Charles Godfrey Leland / Charles Walton / Christina Oakley Harrington / Damh the Bard (Dave Smith) / Dion Fortune / Dolores Aschroft-Nowicki / Dorothy Morrison / Doreen Valiente / Edward Fitch / Eleanor Ray Bone "Matriarch of British Witchcraft" / Dr. John Dee and Edward Kelly / Dr. Leo Louis Martello / Eliphas Levi / Ernest Thompson Seton / Ernest Westlake and the Order of Woodcraft Chivalry / Fiona Horne / Friedrich von Spee / Francis Barrett / Gerald B. Gardner / Gavin and Yvonne Frost and the School and Church of Wicca / Gwydion Pendderwen / Hans Holzer / Helen Duncan / Herman Slater "Horrible Herman" / Israel Regardie / James "Cunning" Murrell / Janet Farrar & Gavin Bone / Jessie Wicker Bell "Lady Sheba" / John Belham-Payne / John George Hohman / John Gerard / John Gordon Hargrave (the White Fox) / John Michael Greer / John Score / Johannes Junius the Burgomaster of Bamberg / Joseph John Campbell / Karl von Eckartshausen / Laurie Cabot "the Official Witch of Salem" / Lewis Spence / Margaret Alice Murray / Margot Adler / Marie Laveau the " Voodoo Queen of New Orleans" / Marion Weinstein / Matthew Hopkins "The Witch-Finder General" / Max Ehrmann and the Desiderata / Monique Wilson the "Queen of the Witches" / Montague Summers / Nicholas Culpeper / Nicholas Remy / M. R. Sellers / Mrs. Grieve "A Modern Herbal" / Oberon and Morning Glory Zell-Ravenheart / Old Dorothy Clutterbuck / Old George Pickingill / Paddy Slade / Pamela Colman-Smith / Paracelsus / Patricia Crowther / Patricia Monaghan / Patricia "Trish" Telesco / Philip Emmons Isaac Bonewits / Philip Heselton / Raymond Buckland / Reginald Scot / Robert Cochrane / Robert 'von Ranke' Graves and "The White Goddess" /

Rudolf Steiner / Rosaleen Norton "The Witch of Kings Cross" / Ross Nichols and T

he Order of Bards, Ovates & Druids

/ Sabrina - The Ink Witch / Scott Cunningham / Selena Fox / Silver Ravenwolf / Sir Francis Dashwood / Sir James George Frazer / S.L. MacGregor Mathers and the "Hermetic Order of the Golden Dawn" / Starhawk / Stewart Farrar / Sybil Leek / Ted Andrews / The Mather Family - includes: Richard Mather, Increase Mather, Cotton Mather / Thomas Ady / Vera Chapman / Victor Henry Anderson / Vivianne Crowley / Walter Brown Gibson / William Butler Yeats / Zsuzsanna Budapest

Many of the above biographies are brief and far from complete. If you know about any of these individuals and can help with aditional information, please cantact me privately at my email address below. Many thanks for reading :-)
"FAIR USE NOTICE"
While I have taken due care and dilligence to credit all sources where possible, this website may contain copyrighted material which has not been specifically authorized by the copyright owner. My use of making such material available here is done so in my efforts to advance our understanding of religious discrimination, the environmental and social justice issues etc. If you wish to use copyrighted material from this wedsite for purposes of your own then you must obtain permission from the relevant copyright owner yourself.


Email_Witches
My online email discussion group:
http://groups.yahoo.com/group/Email_Witches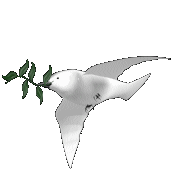 Dove of Peace
Help send a message of peace around the world! The Dove of Peace flies from site to site, through as many countries as possible. It does not belong to ANY belief system. Please help make a line around the globe by taking it with you to your site, by giving it to someone for their site, by passing it on to another continent or to the conflict areas of the world. May trouble and strife be vanquished in it's path.

Please take time to sign my Guest Book.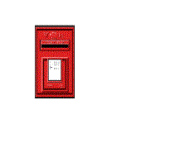 mailto:George@controverscial.com