Victor & Cora Anderson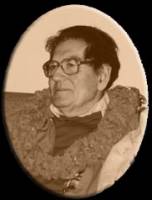 Written and compiled by George Knowles
Victor Henry Anderson is commonally regarded as the Grand Master and founder of the Feri Tradition of contemporary Witchcraft. A Shaman, Houngan, Kahuna and a Feri High Priest, he was also an accomplished poet and the author of 'Thorns of the Blood Rose', a classic book of Goddess poetry self published in 1970. As a writer he contributed numerous articles on the Feri Tradition and Huna beliefs to such popular publications as: Witch Eye, Green Egg and Nemeton.
Victor was born on the 21st May 1917 to Hilbert and Frances Anderson in Clayton, New Mexico, where without medical support and unassisted, his father delivered him "at home" on the ranch. While still a young boy the family moved to Bend, Oregon, and there because of an earlier accident that left him almost sightless, he was forced to attend a school for the blind. It was here that he first met a Priestess from Africa, a Mambo who had immigrated to Oregon, and who trained and initiated him into the mysteries of Voodoo practices.
During his youth Victor also had many native Hawaiian teachers and through his training with them, he grew up to become an expert in ancient Hawaiian beliefs, a Kahuna. A Kahuna is the Hawaiian name for a priest, expert, teacher and/or adviser, a term that is still used by native Hawaiians today. In times of old, Kahuna priests were recruited from the professional classes: master carpenters, boatbuilders, chanters, dancers, genealogists, physicians and healers. As priests they conducted religious ceremonies at the 'heiau', an Hawaiian temple used to house their sacred ceremonial drums and cult images representing their gods. There would also be an altar on which to offer sacrifices (plant, animal and human). The heiau was a sacred place and only the Kahuna and certain sacred ali'i (high chiefs) were allowed to enter it. Sadly since Christianity took over the old system of worship in Hawaii, all the heiau's were eventually abandoned and most have now been destroyed, broken up or plowed under to make way for sugar cane fields.
In 1926 while walking through some woods near his home, Victor chanced upon an old woman sat inside a circle surrounded with bowls filled with herbs. She claimed to be a Faerie Witch and that "he" was a Witch with special talents waiting to be called back into the Old Religion, she then beckoned him to join her in the circle. While they sat inside the circle Victor had a visionary experience in which despite his near blindness, he clearly saw an image of the Horned God gradually transmogrify into an image of the Goddess. After communicating with the deities, he returned to the present inside the circle. After teaching him the ritual use of herbs and tea infusions from the bowls around her, the old woman anointed him with butter, oil and salt, and initiated him into the ways of the Faerie Folk.
Largely self-educated due to his near blindness, Victor never the less had a keen interest in academic subjects, including: physics, chemistry and literature. Most particularly his interests focused on the world of Spiritual traditions. He was an avid reader, storyteller and brilliant linguist who spoke numerous languages, among them: Hawaiian, Spanish, Creole, Greek, Italian, Gaelic and Dahomean. He was also gifted with a beautiful voice; he loved to sing and was adept on the drum. During his adult life he earned a living as a musician, playing the accordion at public and private parties, events and dances.
In his late teens, Victor was introduced to the Harpy coven, a pre-Gardnerian coven in southern Oregon that met and practised a form of witchcraft throughout the 1930's. Members of the coven recognized his early talents and introduced him to their rituals. Their form of witchcraft was not so much a religion, but more a devotional science emphasizing harmony with nature through celebration, magic, music and ecstatic dancing. They revered Pagan deities and called them "The Old Gods" or "The Old Powers", but didn't have the developed theologies of later contemporary Traditions. The coven disbanded in the early 1940's, since when Victor lost all further contact with the original members.
It was in 1944 that Victor first met with Cora Ann Cremeans, who had just arrived in Oregon from Alabama. As soon as they met their attraction was instant, and both knew they had met before. They soon realized their previous meetings had occurred on the astral plane, where they had travelled together and made love many times. Without hesitation three days later on the 03rd May 1944 they were married, and one of the first things they did together was build an altar to the Old Gods. A year later in 1945 they were blessed with a son Victor Elon Anderson. The name "Elon" means "Oak" in Hebrew, and was a named Cora received in a dream.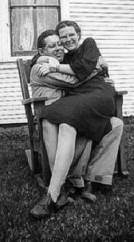 Victor and Cora as a newly married couple
Cora Ann Anderson (nee Cremeans).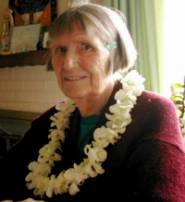 Cora Ann Cremeans was the daughter of a coal minor, and born on the 26th January 1915 in a rural area of Blount County, Alabama. Sadly just a year after her birth her mother died from tuberculosis. Her father however, with the help of other close family members raised Cora together with an older brother and sister in the family tradition. Her grandfather was a Druid who had immigrated to the States from Ireland, and was known locally as a "root doctor" (someone skilled in the use of healing herbs). He had used his skills to cured Cora of an illness during her youth, and later in place of her mother, passed on to her his knowledge herb-craft, as was their family tradition.
Cora grew up to be a natural psychic and an authentic kitchen Witch, the skills of which she learned from a maternal aunt. Educationally, she graduated from Blountsville Agricultural High School, and later received a two-year diploma in children's education from Jacksonville State Teacher's College in Alabama. She also took a course in writing at the Chabot College in Hayward, California, for which she received a certificate in autobiographical writing. After finishing her education, Cora took employment as a hospital cook, where she would secretly infuse healing energies into her food for needy patients. In the early 1940's she relocated to Oregon and soon after met Victor Henry Anderson. There days after meeting him, they were married, "and not until death did they part".
Victor, Cora and the Feri Tradition
In 1948 Victor moved the family to Niles, California where they eventually purchased a home and settled for good in nearby San Leandro. In the mid-1950's after reading Witchcraft Today (1954) a book by Gerald Gardner, it appeared to Victor and Cora that the Craft as they knew it, seemed to be going public, and this inspired them to start their own coven based on the knowledge they already shared. In 1960 they also received a letter from Leo Martello and several other Italian witches who encouraged them to start teaching the Craft in California. As a result they formed a coven known as "Mahealani", the Hawaiian name for "Full Moon".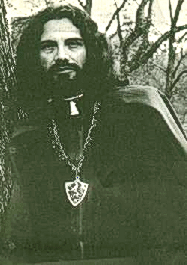 Dr. Leo Louis Martello
In the early 1960's the Andersons broke up a fistfight between their only son Victor Elon and a neighbour's boy called Thomas deLong. The boy who later changed his name to "Gwydion Pendderwen" soon became a good family friend. He spent a lot of his spare time at the Andersons home and regularly studied with Victor who he considered to be his primary teacher and mentor. Gwydion become a major contributor to the Andersons developing practice, and together co-wrote with Victor most of their rituals, to which he added some of the Celtic influences and lore that he liked so much. Over time, both Victor and Gwydion began to initiate others, and as they branched off to form their own covens, their joint teachings became known as 'The Feri Tradition', named after the Faerie witch Victor had met as a child.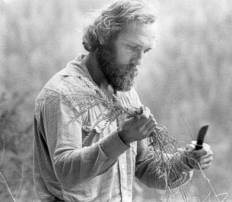 Gwydion Pendderwen
In the 1970's, the Andersons formed a new coven together with Gwydion and Alison Harlow (an early initiate), but the group disbanded a few years later and each went their separate ways. Gwydion continued to teach and initiate Feri Witches; he also began teaching what he called "Faery Shamanism" based on his preference for Irish and Welsh "Faery lore". As he initiated more and more people, his group or lineage became known as the "Watchmaker". This group however remains rather reclusive and not much is known about them outside their own circles.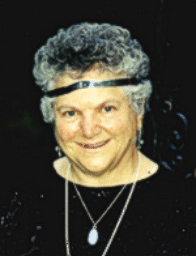 Alison Harlow
Alison Harlow went on to co-found a Feri coven called "Wings of Vanthi", which is still meeting and teaching today. The Vanthi line is unique in that it combines Feri practices with ritual elements taken from Gardenerian witchcraft, and is considered to be a form of Wicca. They adhere to the common Wicca rule of the "Three-Fold Law of Return", but do not necessarily work with the same deities and spirits. It should be noted however, that most other Feri traditions do not consider themselves to be Wicca in any way.
The Andersons in the meantime continued to teach and initiated a variety of individuals, both in their own coven "Nostos" and outside of it. One initiate was Starhawk, who popularised such Feri concepts as the Three Souls and the Iron and Pearl Pentacles in her book: The Spiral Dance. Her own coven Compost served as the basis for Reclaiming, a separate tradition combining the spirituality of the Craft with political awareness and action. Reclaiming draws much of its core material from Feri teachings and while not all their members are Feri, there still exists an initiatory linage of Feri within their tradition.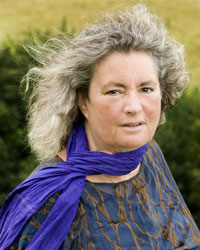 Starhawk
Today the Feri Tradition has evolved into an initiatory mystery tradition, in which strong emphasis is placed on sensual experiences and awareness, including sexual mysticism, which is not limited to gender specific heterosexual or homosexual preferences. They believe that much of reality is unseen, or at least has uncertain boundaries and hold a deep respect for the wisdom of Nature, a love of beauty and an appreciation of bardic and mantic creativity. So from early beginnings the Craft teachings of the Andersons continue to spread as the Feri Tradition continues to grow and develop.
Victor was also an associate of Max Freedom Long (1890 - 1971), founder of the Huna Research Associates in 1945, later called the Huna International Fellowship, to which he became an early long-standing member and supporter. Huna is an Hawaiian word, and was first used by Long in 1936 to describe what he called "the secret science behind the miracles" the magic that ancient Hawaiian kahuna's used and performed. Now known and trademarked as the Huna Research Inc., its a none profit organization that coordinates the teaching, research and practice of ancient Hawaiian beliefs.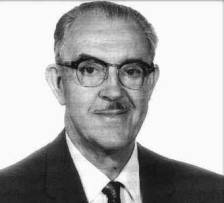 Max Freedom Long
As well as teaching Feri Witchcraft and running his own coven 'Nostos', Victor was also long time member of the Alameda Lodge of the Fraternal Order of Eagles. This Order was founded on the 6th February 1898 in Seattle, Washington, by a group of six theater owners. Originally it was founded to aid those people engaged in the performing arts profession, but as the Order grew it became quite influencial and can claim credit for establishing the "Mother's Day" holiday in the United States, as well as being the early impetus for Social Security reforms.
Final Years
Sadly on the 20th September 2001, Victor Anderson collapsed at his home, and after a number of attempts to revive him en route to the hospital; he finally passed on to Fairyland. The cause of his collapse has never been determined, but his passing was thought to have been swift and painless. After his departure he was sorely missed by all who knew him, and most particularly by his beloved wife of 57 years Cora.
After he was gone, Cora tried vainly to carry on as normal, but already 86 years old, her own health gradually began to deteriorate. As time passed she became bedridden, but determinedly wanted to stay in her own home where all her memories of Victor lay. However, due to the Social Services lack of "day care facilities for the elderly", and despite all the help she received from her Feri coven friends, Cora was eventually hospitalised. Sadly on the 01st May 2008 at the age of 93, Cora Ann Anderson crossed over the divide and re-joined with the spirit of her long missed husband. It was just two days before what would have been their 64th wedding anniversary.
Bibliography:
Over the years Victor and Cora Anderson produced a number of books, most of which they self-published they include:
Thorns of the Bloodrose by Victor Anderson (self-published in 1970) is a collection of his poetry. Many of the poems it contains have since found their way into the rituals of many lines of the Feri tradition.
Lilith's Garden by Victor Anderson (?????) is another collection of Victor's poetry, and includes some that were considered too scandalous for inclusion in the original volume.
Etheric Anatomy by Victor Anderson (?????) is a look at the psychic structure of the human being, with intuitive insights into some of the practices of Feri magick.
Fifty Years in the Feri Tradition by Cora Anderson (self-published in 1994) is a book of musings about the Feri tradition and its community. Written by Cora to honour their 50th wedding anniversary in 1984.
End.

Sources:
So many, as yet to be posted
First published on the 03 April 2007, updated on the 05th December 2009 © George Knowles

Best wishes and Blessed Be

Site Contents - Links to all Pages
A Universal Message:
Let there be peace in the world - Where have all the flowers gone?
About me:
My Personal Page / My Place in England, UK / My Family Tree (Ancestry)
Wicca & Witchcraft
Wicca/Witchcraft / What is Wicca / What is Magick
Traditional Writings:
Wiccan Rede / Charge of the Goddess / Charge of the God / The Three-Fold Law (includes The Law of Power and The Four Powers of the Magus) / The Witches Chant / The Witches Creed / Descent of the Goddess / Drawing Down the Moon / The Great Rite Invocation / Invocation of the Horned God / The 13 Principles of Wiccan Belief / The Witches Rede of Chivalry / A Pledge to Pagan Spirituality
Correspondence Tables:
Incense / Candles / Colours / Magickal Days / Stones and Gems / Elements and Elementals
Traditions:
Traditions Part 1 - Alexandrian Wicca / Aquarian Tabernacle Church (ATC) / Ár Ndraíocht Féin (ADF) / Blue Star Wicca / British Traditional (Druidic Witchcraft) / Celtic Wicca / Ceremonial Magic / Chaos Magic / Church and School of Wicca / Circle Sanctuary / Covenant of the Goddess (COG) / Covenant of Unitarian Universalist Pagans (CUUPS) / Cyber Wicca / Dianic Wicca / Eclectic Wicca / Feri Wicca /
Traditions Part 2 - Gardnerian Wicca / Georgian Tradition / Henge of Keltria / Hereditary Witchcraft / Hermetic Order of the Golden Dawn (H.O.G.D.) / Kitchen Witch (Hedge Witch) / Minoan Brotherhood and Minoan Sisterhood Tradition / Nordic Paganism / Pagan Federation / Pectic-Wita / Seax-Wica / Shamanism / Solitary / Strega / Sylvan Tradition / Vodoun or Voodoo / Witches League of Public Awareness (WLPA) /
Other things of interest:
Gods and Goddesses (Greek Mythology) / Esbats & Full Moons / Links to Personal Friends & Resources / Wicca/Witchcraft Resources / What's a spell? / Circle Casting and Sacred Space / Pentagram - Pentacle / Marks of a Witch / The Witches Power / The Witches Hat / An esoteric guide to visiting London / Satanism / Pow-wow / The Unitarian Universalist Association / Numerology: Part 1 / Part 2 / Part 3 / A history of the Malleus Maleficarum: includes: Pope Innocent VIII / The papal Bull / The Malleus Maleficarum / An extract from the Malleus Maleficarum / The letter of approbation / Johann Nider's Formicarius / Jacob Sprenger / Heinrich Kramer / Stefano Infessura / Montague Summers / The Waldenses / The Albigenses / The Hussites / The Sun Dance / Shielding (Occult and Psychic Protection) /

The History of Thanksgiving / I have a Dream, the 1963 speach by civil rights campaigner Martin Luther King / Auras by Graham Furnell - Part 1 and Part 2 /
Sabbats and Rituals:
Sabbats in History and Mythology / Samhain (October 31st) / Yule (December 21st) / Imbolc (February 2nd) / Ostara (March 21st) / Beltane (April 30th) / Litha (June 21st) / Lughnasadh (August 1st) / Mabon (September 21st)
Rituals contributed by Crone: Samhain / Yule / Imbolc / Ostara / Beltane / Litha / Lammas / Mabon
Tools:
Tools of a Witch / The Besom (Broom) / Poppets and Dolls / Pendulums / Cauldron Magick / Mirror Gazing
Animals:
Animals in Witchcraft (The Witches Familiar) / Antelope / Bats / Crow / Fox / Frog and Toads / Goat / Honeybee / Kangaroo / Lion / Owl / Phoenix / Rabbits and Hares / Raven / Robin Redbreast / Sheep / Spider / Squirrel / Swans / Wild Boar / Wolf / Serpent / Pig / Stag / Horse / Mouse / Cat
Trees:
In Worship of Trees - Myths, Lore and the Celtic Tree Calendar. For descriptions and correspondences of the thirteen sacred trees of Wicca/Witchcraft see the following: Birch / Rowan / Ash / Alder / Willow / Hawthorn / Oak / Holly / Hazel / Vine / Ivy / Reed / Elder. Also see: The Willow Tree (Folk Music)
Sacred Sites:
Mystical Sacred Sites - Stonehenge / Glastonbury Tor / Malta - The Hypogeum of Hal Saflieni / Avebury / Cerne Abbas - The Chalk Giant / Ireland - Newgrange /
Rocks and Stones:
Stones - History, Myths and Lore
Articles contributed by Patricia Jean Martin: / Apophyllite / Amber / Amethyst / Aquamarine / Aragonite / Aventurine / Black Tourmaline / Bloodstone / Calcite / Carnelian / Celestite / Citrine / Chrysanthemum Stone / Diamond / Emerald / Fluorite / Garnet / Hematite / Herkimer Diamond / Labradorite / Lapis Lazuli / Malachite / Moonstone / Obsidian / Opal / Pyrite / Quartz (Rock Crystal) / Rose Quartz / Ruby / Selenite / Seraphinite / Silver and Gold / Smoky Quartz / Sodalite / Sunstone / Thunderegg / Tree Agate / Zebra Marble
Wisdom:
Knowledge vs Wisdom by Ardriana Cahill / I Talk to the Trees / Awakening / The Witch in You / A Tale of the Woods
Articles and Stories about Witchcraft:
Murder by Witchcraft / The Fairy Witch of Clonmel / A Battleship, U-boat, and a Witch / The Troll-Tear (A story for Children) / Goody Hawkins - The Wise Goodwife / The Story of Jack-O-Lantern / The Murder of the Hammersmith Ghost / Josephine Gray (The Infamous Black Widow) / The Two Brothers - Light and Dark
Old Masters of Academia:
Pliny the Elder / Hesiod / Pythagoras
Biographies
(Ancient, Past and Present)
(Departed Pagan Pioneers, Founders, Elders and Others)

Abramelin the Mage / Agrippa / Aidan A. Kelly / Albertus Magnus "Albert the Great" / Aleister Crowley "The Great Beast" / Alex Sanders "the King of the Witches" / Alison Harlow / Amber K / Anna Franklin / Anodea Judith / Anton Szandor LaVey / Arnold Crowther / Arthur Edward Waite / Austin Osman Spare / Biddy Early / Bridget Cleary / Carl Llewellyn Weschcke / Cecil Hugh Williamson / Charles Godfrey Leland / Charles Walton / Christina Oakley Harrington / Damh the Bard (Dave Smith) / Dion Fortune / Dolores Aschroft-Nowicki / Dorothy Morrison / Doreen Valiente / Edward Fitch / Eleanor Ray Bone "Matriarch of British Witchcraft" / Dr. John Dee and Edward Kelly / Dr. Leo Louis Martello / Eliphas Levi / Ernest Thompson Seton / Ernest Westlake and the Order of Woodcraft Chivalry / Fiona Horne / Friedrich von Spee / Francis Barrett / Gerald B. Gardner / Gavin and Yvonne Frost and the School and Church of Wicca / Gwydion Pendderwen / Hans Holzer / Helen Duncan / Herman Slater "Horrible Herman" / Israel Regardie / James "Cunning" Murrell / Janet Farrar & Gavin Bone / Jessie Wicker Bell "Lady Sheba" / John Belham-Payne / John George Hohman / John Gerard / John Gordon Hargrave (the White Fox) / John Michael Greer / John Score / Johannes Junius the Burgomaster of Bamberg / Joseph John Campbell / Karl von Eckartshausen / Laurie Cabot "the Official Witch of Salem" / Lewis Spence / Margaret Alice Murray / Margot Adler / Marie Laveau the " Voodoo Queen of New Orleans" / Marion Weinstein / Matthew Hopkins "The Witch-Finder General" / Max Ehrmann and the Desiderata / Monique Wilson the "Queen of the Witches" / Montague Summers / Nicholas Culpeper / Nicholas Remy / M. R. Sellers / Mrs. Grieve "A Modern Herbal" / Oberon and Morning Glory Zell-Ravenheart / Old Dorothy Clutterbuck / Old George Pickingill / Paddy Slade / Pamela Colman-Smith / Paracelsus / Patricia Crowther / Patricia Monaghan / Patricia "Trish" Telesco / Philip Emmons Isaac Bonewits / Philip Heselton / Raymond Buckland / Reginald Scot / Robert Cochrane / Robert 'von Ranke' Graves and "The White Goddess" /

Rudolf Steiner / Rosaleen Norton "The Witch of Kings Cross" / Ross Nichols and T

he Order of Bards, Ovates & Druids

/ Sabrina - The Ink Witch / Scott Cunningham / Selena Fox / Silver Ravenwolf / Sir Francis Dashwood / Sir James George Frazer / S.L. MacGregor Mathers and the "Hermetic Order of the Golden Dawn" / Starhawk / Stewart Farrar / Sybil Leek / Ted Andrews / The Mather Family - includes: Richard Mather, Increase Mather, Cotton Mather / Thomas Ady / Vera Chapman / Victor Henry Anderson / Vivianne Crowley / Walter Brown Gibson / William Butler Yeats / Zsuzsanna Budapest

Many of the above biographies are brief and far from complete. If you know about any of these individuals and can help with aditional information, please cantact me privately at my email address below. Many thanks for reading :-)
"FAIR USE NOTICE"
While I have taken due care and dilligence to credit all sources where possible, this website may contain copyrighted material which has not been specifically authorized by the copyright owner. My use of making such material available here is done so in my efforts to advance our understanding of religious discrimination, the environmental and social justice issues etc. If you wish to use copyrighted material from this wedsite for purposes of your own then you must obtain permission from the relevant copyright owner yourself.


Email_Witches
My online email discussion group:
http://groups.yahoo.com/group/Email_Witches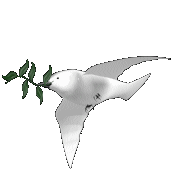 Dove of Peace
Help send a message of peace around the world! The Dove of Peace flies from site to site, through as many countries as possible. It does not belong to ANY belief system. Please help make a line around the globe by taking it with you to your site, by giving it to someone for their site, by passing it on to another continent or to the conflict areas of the world. May trouble and strife be vanquished in it's path.

Please take time to sign my Guest Book.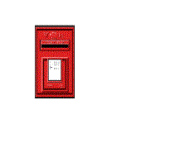 mailto:George@controverscial.com