Tools of a Witch
The Besom (Broom)


by George Knowles
The besom, or broom, is one of the main ritual tools of the witch and is sacred to both the Goddess and God. The God - through its symbolic phallic shape, the Goddess - through its three-piece make up, the shaft, the bristles and the binding cord, three being the triform aspect of the Goddess. While besom and broom are two names used interchangeably, there is a small difference in their definition. The brush of a besom is usually made of twigs and is therefore more rounded in shape, whereas the brush of a broom is primarily made of straw, which is flatter in shape.
Traditionally a besom was made from three different woods, Ash for the shaft, Birch twigs for the bristles and Willow strands for the binding cord. Ash is protective and has command over the four elements, Birch is purifying and draws spirits to one's service, while Willow is sacred to the Goddess and binds them all together. In modern witchcraft today, while the traditional besom still takes pride of place, other woods are used for special purposes: Oak for added power and protection, Pine for luck and health, Redwood for longevity, Maple for love and money, Walnut for health and wisdom, and Cinnamon for spirituality.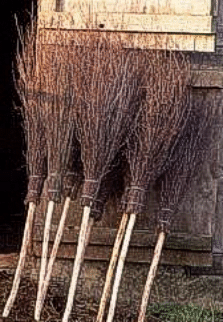 Magically, a besom is used for a variety of purposes, but more generally they are used to purify and protect. In ritual they are used to cleanse sacred space before magick is performed by visually sweeping away negative energies and astral build up. Before casting the circle, the Priest or Priestess will walk clockwise (deosil) around the circle space, and holding the besom a few inches off the ground sweep outward from the centre while chanting the Besom Chant:
Besom Chant
"Besom, besom, sacred broom
Sweep out darkness, sweep out gloom
Rid this sacred hallowed ground
Of demons, imps and hell bent hounds;
Then set ye down on Her green earth
By running stream or Mistress' hearth,
Till called once more on Sabbath night
To cleanse once more this sacred site."
(Author unknown)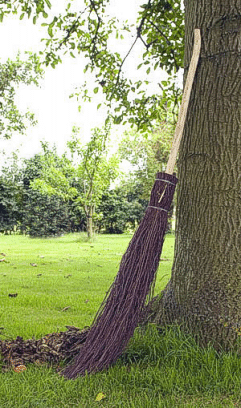 Sweeping the area with a besom can be done in addition to or in place of incense, to purify ritual space, and is often used for such when rituals are conducted in smoke-free areas. When not being used in ritual, place your magical besom by the door to protect the home from evil spirits and negative energies. When standing a besom, always place the bristles up, with the shaft on the floor. This not only makes the bristles last longer, it will also bring you good luck. Another old custom was to place a besom outside the door, this as an indication to other witches that the occupants are out, or working, and didn't wish to be disturbed.
To make your own traditional besom you will need the following:
A length of Ash approximately 4ft long and about 1in
thick for the shaft.
Birch twigs (about 1-2 ft. in length) to act as the bristles.
Several strands of Willow for binding the bristles to the
end of the shaft.
A pair of Scissors.
Water and salt.
Soak the Birch twigs and Willow strands overnight in warm lightly salted water (to make them pliable) and allow them to dry slightly before using. They need to be damp and pliable before binding them to the Ash shaft. Arrange the twigs alongside the shaft about 3-6 inches from the bottom, larger twigs form the centre of the brush with shorter ones around the outside, then bind them with the Willow strands. Be sure to tie them very securely. Use as many layers of twigs as you like depending on how full you want the brush to be. Leave overnight to dry.

Whether you make your own besom in the traditional way "as above," or purchase a ready made one, you may then wish to decorate is it with a magickal name or other meaningful symbols or sigils. Once decorated, the besom should then be consecrated ready for use in your magickal workings. To do this anoint the besom with oil while reciting the following chant:
Consecration Chant
"Besom of birch and willow tied,
Be my companion and my guide.
On ashen shaft by moonlight pale
My spirit rides the windy gale
To magickal realms beyond both space and time.
To magickal lands my soul will sail.
In the company of the crone I'll ride
This besom of birch with willow tied
So do I consecrate this magickal tree.
As I will it, so mote it be."
(Author unknown)
Once consecrated for use in the magick circle, it should not be use for any other purpose. When making a besom for normal household usage, it can still be magically charged for that use. On one side of the shaft (from the bristles travelling upwards) carve the following words while visualising your intent: "I sweep out evil and poverty." On the opposite side of the shaft (from the top travelling down to the bristles, carve "I sweep in money and luck." When sweeping, visualise the same intent, but sweep towards the fireplace if you have one. If not sweep in any direction except towards the front door, so as not sweep out and lose your good luck.
Myths and Folklore

Most people identify the besom with the old wedding ceremonies performed by Gypsies and early American slaves, when couples "Jumped the Broom" to cross the threshold of their new homes ensuring fertility, domestic harmony and longevity. This custom continues today in modern hand-fasting rituals, when as part of the ceremony, the bridal couple will jump across a decorated besom as conformation of their commitment to each other. Should the marriage not work, or end in divorce, jumping the broom backwards will break that commitment.
The age-old image of witches flying around on broomsticks casting baneful spells is believed to have come from old fertility rites associated with nature and agricultural. As part of the seasonal Spring rites to aid the growth of newly planted crops, women from local villages would gather around fields with their besoms. Placed between their legs as they circled the field, much like riding on a hobby horse, the idea was the higher they leapt, the higher the crop would grow.
In renaissance times, according to the demonologists, the Devil himself presented brooms and flying ointment to newly initiated witches so they could fly to the Sabbats. Often they carried with them familiars in the shape of demons or animals. They were also said to fly across fields blasting their neighbour's crops, or ride out to sea in order to rise up storms. However, such concocted myths were generally forced from the poor tortured victims of the persecutions, and should not be taken seriously.
Other Magickal Uses
Placing a broom across a doorway allows your departed friends and family to speak to you if they so choose. As long as the broom remains, they can communicate freely. To bring rain, stand outside and swing a broom in the air over your head. If lightening blows your way put a broom on your porch to act as a lightening rod. Electricity and lightening are thought to be attracted to brooms. Another way to safeguard a house against lightning strikes is to cross a spade and a broom outside the main entrance.
A besom placed under the bed or beneath the pillows at night, will protect the sleeper from nightmares and ensure a peacefully sleep. Similarly, it is not wise to leave a bed empty for too long. If you are going away for any length of time, place a besom in your bed, laying the bristles on the pillow. This will guard the bed against evil spirits until you return.
Two crossed besoms hung on a wall or the back of a door will protect the house from unwanted influences. With the exception of those used exclusively for magickal purposes, moving an old besom into a new house will result in bad luck.
End.
Written and compiled on the 16

th

February 2009 © George Knowles

Best wishes and Blessed Be

Site Contents - Links to all Pages
A Universal Message:
Let there be peace in the world - Where have all the flowers gone?
About me:
My Personal Page / My Place in England, UK / My Family Tree (Ancestry)
Wicca & Witchcraft
Wicca/Witchcraft / What is Wicca / What is Magick
Traditional Writings:
Wiccan Rede / Charge of the Goddess / Charge of the God / The Three-Fold Law (includes The Law of Power and The Four Powers of the Magus) / The Witches Chant / The Witches Creed / Descent of the Goddess / Drawing Down the Moon / The Great Rite Invocation / Invocation of the Horned God / The 13 Principles of Wiccan Belief / The Witches Rede of Chivalry / A Pledge to Pagan Spirituality
Correspondence Tables:
Incense / Candles / Colours / Magickal Days / Stones and Gems / Elements and Elementals
Traditions:
Traditions Part 1 - Alexandrian Wicca / Aquarian Tabernacle Church (ATC) / Ár Ndraíocht Féin (ADF) / Blue Star Wicca / British Traditional (Druidic Witchcraft) / Celtic Wicca / Ceremonial Magic / Chaos Magic / Church and School of Wicca / Circle Sanctuary / Covenant of the Goddess (COG) / Covenant of Unitarian Universalist Pagans (CUUPS) / Cyber Wicca / Dianic Wicca / Eclectic Wicca / Feri Wicca /
Traditions Part 2 - Gardnerian Wicca / Georgian Tradition / Henge of Keltria / Hereditary Witchcraft / Hermetic Order of the Golden Dawn (H.O.G.D.) / Kitchen Witch (Hedge Witch) / Minoan Brotherhood and Minoan Sisterhood Tradition / Nordic Paganism / Pagan Federation / Pectic-Wita / Seax-Wica / Shamanism / Solitary / Strega / Sylvan Tradition / Vodoun or Voodoo / Witches League of Public Awareness (WLPA) /
Other things of interest:
Gods and Goddesses (Greek Mythology) / Esbats & Full Moons / Links to Personal Friends & Resources / Wicca/Witchcraft Resources / What's a spell? / Circle Casting and Sacred Space / Pentagram - Pentacle / Marks of a Witch / The Witches Power / The Witches Hat / An esoteric guide to visiting London / Satanism / Pow-wow / The Unitarian Universalist Association / Numerology: Part 1 / Part 2 / Part 3 / A history of the Malleus Maleficarum: includes: Pope Innocent VIII / The papal Bull / The Malleus Maleficarum / An extract from the Malleus Maleficarum / The letter of approbation / Johann Nider's Formicarius / Jacob Sprenger / Heinrich Kramer / Stefano Infessura / Montague Summers / The Waldenses / The Albigenses / The Hussites / The Sun Dance / Shielding (Occult and Psychic Protection) /

The History of Thanksgiving / I have a Dream, the 1963 speach by civil rights campaigner Martin Luther King / Auras by Graham Furnell - Part 1 and Part 2 /
Sabbats and Rituals:
Sabbats in History and Mythology / Samhain (October 31st) / Yule (December 21st) / Imbolc (February 2nd) / Ostara (March 21st) / Beltane (April 30th) / Litha (June 21st) / Lughnasadh (August 1st) / Mabon (September 21st)
Rituals contributed by Crone: Samhain / Yule / Imbolc / Ostara / Beltane / Litha / Lammas / Mabon
Tools:
Tools of a Witch / The Besom (Broom) / Poppets and Dolls / Pendulums / Cauldron Magick / Mirror Gazing
Animals:
Animals in Witchcraft (The Witches Familiar) / Antelope / Bats / Crow / Fox / Frog and Toads / Goat / Honeybee / Kangaroo / Lion / Owl / Phoenix / Rabbits and Hares / Raven / Robin Redbreast / Sheep / Spider / Squirrel / Swans / Wild Boar / Wolf / Serpent / Pig / Stag / Horse / Mouse / Cat
Trees:
In Worship of Trees - Myths, Lore and the Celtic Tree Calendar. For descriptions and correspondences of the thirteen sacred trees of Wicca/Witchcraft see the following: Birch / Rowan / Ash / Alder / Willow / Hawthorn / Oak / Holly / Hazel / Vine / Ivy / Reed / Elder. Also see: The Willow Tree (Folk Music)
Sacred Sites:
Mystical Sacred Sites - Stonehenge / Glastonbury Tor / Malta - The Hypogeum of Hal Saflieni / Avebury / Cerne Abbas - The Chalk Giant / Ireland - Newgrange /
Rocks and Stones:
Stones - History, Myths and Lore
Articles contributed by Patricia Jean Martin: / Apophyllite / Amber / Amethyst / Aquamarine / Aragonite / Aventurine / Black Tourmaline / Bloodstone / Calcite / Carnelian / Celestite / Citrine / Chrysanthemum Stone / Diamond / Emerald / Fluorite / Garnet / Hematite / Herkimer Diamond / Labradorite / Lapis Lazuli / Malachite / Moonstone / Obsidian / Opal / Pyrite / Quartz (Rock Crystal) / Rose Quartz / Ruby / Selenite / Seraphinite / Silver and Gold / Smoky Quartz / Sodalite / Sunstone / Thunderegg / Tree Agate / Zebra Marble
Wisdom:
Knowledge vs Wisdom by Ardriana Cahill / I Talk to the Trees / Awakening / The Witch in You / A Tale of the Woods
Articles and Stories about Witchcraft:
Murder by Witchcraft / The Fairy Witch of Clonmel / A Battleship, U-boat, and a Witch / The Troll-Tear (A story for Children) / Goody Hawkins - The Wise Goodwife / The Story of Jack-O-Lantern / The Murder of the Hammersmith Ghost / Josephine Gray (The Infamous Black Widow) / The Two Brothers - Light and Dark
Old Masters of Academia:
Pliny the Elder / Hesiod / Pythagoras
Biographies
(Ancient, Past and Present)
(Departed Pagan Pioneers, Founders, Elders and Others)

Abramelin the Mage / Agrippa / Aidan A. Kelly / Albertus Magnus "Albert the Great" / Aleister Crowley "The Great Beast" / Alex Sanders "the King of the Witches" / Alison Harlow / Amber K / Anna Franklin / Anodea Judith / Anton Szandor LaVey / Arnold Crowther / Arthur Edward Waite / Austin Osman Spare / Biddy Early / Bridget Cleary / Carl Llewellyn Weschcke / Cecil Hugh Williamson / Charles Godfrey Leland / Charles Walton / Christina Oakley Harrington / Damh the Bard (Dave Smith) / Dion Fortune / Dolores Aschroft-Nowicki / Dorothy Morrison / Doreen Valiente / Edward Fitch / Eleanor Ray Bone "Matriarch of British Witchcraft" / Dr. John Dee and Edward Kelly / Dr. Leo Louis Martello / Eliphas Levi / Ernest Thompson Seton / Ernest Westlake and the Order of Woodcraft Chivalry / Fiona Horne / Friedrich von Spee / Francis Barrett / Gerald B. Gardner / Gavin and Yvonne Frost and the School and Church of Wicca / Gwydion Pendderwen / Hans Holzer / Helen Duncan / Herman Slater "Horrible Herman" / Israel Regardie / James "Cunning" Murrell / Janet Farrar & Gavin Bone / Jessie Wicker Bell "Lady Sheba" / John Belham-Payne / John George Hohman / John Gerard / John Gordon Hargrave (the White Fox) / John Michael Greer / John Score / Johannes Junius the Burgomaster of Bamberg / Joseph John Campbell / Karl von Eckartshausen / Laurie Cabot "the Official Witch of Salem" / Lewis Spence / Margaret Alice Murray / Margot Adler / Marie Laveau the " Voodoo Queen of New Orleans" / Marion Weinstein / Matthew Hopkins "The Witch-Finder General" / Max Ehrmann and the Desiderata / Monique Wilson the "Queen of the Witches" / Montague Summers / Nicholas Culpeper / Nicholas Remy / M. R. Sellers / Mrs. Grieve "A Modern Herbal" / Oberon and Morning Glory Zell-Ravenheart / Old Dorothy Clutterbuck / Old George Pickingill / Paddy Slade / Pamela Colman-Smith / Paracelsus / Patricia Crowther / Patricia Monaghan / Patricia "Trish" Telesco / Philip Emmons Isaac Bonewits / Philip Heselton / Raymond Buckland / Reginald Scot / Robert Cochrane / Robert 'von Ranke' Graves and "The White Goddess" /

Rudolf Steiner / Rosaleen Norton "The Witch of Kings Cross" / Ross Nichols and T

he Order of Bards, Ovates & Druids

/ Sabrina - The Ink Witch / Scott Cunningham / Selena Fox / Silver Ravenwolf / Sir Francis Dashwood / Sir James George Frazer / S.L. MacGregor Mathers and the "Hermetic Order of the Golden Dawn" / Starhawk / Stewart Farrar / Sybil Leek / Ted Andrews / The Mather Family - includes: Richard Mather, Increase Mather, Cotton Mather / Thomas Ady / Vera Chapman / Victor Henry Anderson / Vivianne Crowley / Walter Brown Gibson / William Butler Yeats / Zsuzsanna Budapest

Many of the above biographies are brief and far from complete. If you know about any of these individuals and can help with aditional information, please cantact me privately at my email address below. Many thanks for reading :-)
"FAIR USE NOTICE"
While I have taken due care and dilligence to credit all sources where possible, this website may contain copyrighted material which has not been specifically authorized by the copyright owner. My use of making such material available here is done so in my efforts to advance our understanding of religious discrimination, the environmental and social justice issues etc. If you wish to use copyrighted material from this wedsite for purposes of your own then you must obtain permission from the relevant copyright owner yourself.


Email_Witches
My online email discussion group:
http://groups.yahoo.com/group/Email_Witches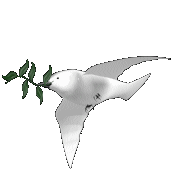 Dove of Peace
Help send a message of peace around the world! The Dove of Peace flies from site to site, through as many countries as possible. It does not belong to ANY belief system. Please help make a line around the globe by taking it with you to your site, by giving it to someone for their site, by passing it on to another continent or to the conflict areas of the world. May trouble and strife be vanquished in it's path.

Please take time to sign my Guest Book.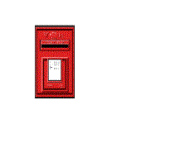 mailto:George@controverscial.com