Pagan Pioneers: Founders, Elders, Leaders and Others
Old Dorothy Clutterbuck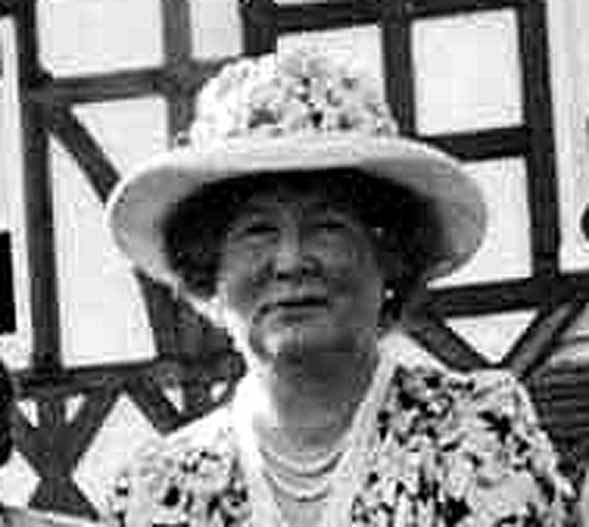 Written and compiled by George Knowles
Dorothy Clutterbuck is perhaps the most elusive and secretive of the witches to have figured in the rise of the modern era of witchcraft. She is also perhaps the most intriguing. Old Dorothy as she was affectionately known, was the witch who initiated Gerald B. Gardner into the Old Religion during September 1939. She was then the head of an old time witches coven, the last remains of a coven directly descendant from one of the famed "Nine Covens" founded by Old George Pickingill.
So little was known about Old Dorothy that for many years skeptics and historians had believed that Gardner, through a figment of his imagination had invented her solely to justify his belief that there was still in existence practicing witches of the Old Religion. In 1980 Doreen Valiente a great friend and colleague of Gardner's, set out to disprove these allegations. After two years of research she succeeded, and was able to prove through birth and death records that Old Dorothy was indeed a real person.
Through ecclesiastical records held at India House, London. Doreen was able to establish Dorothy's parents, and to find a record of Dorothy's birth. It began in India were one Capt. Thomas St Quintin Clutterbuck, aged 38, was married to Ellen Anne Morgan, aged 20, at Lahore, India, in 1877. Three years later they had a child and Dorothy was born, in India, in Bengal on the 19th January 1880. She was later baptized in the church of St Paul's, Umbala, on the 21st February 1880.
Her father must have been a man of means to hold a commission in the Colonial Forces, most officers of that time where. At the time of Dorothy's birth he was still a Captain, and serving with the 14th Sikhs Regiment, Indian Local Forces. Later that same year he was promoted to Major and from Dorothy's death certificate, we know he reached the rank of Lieutenant Colonel. From this we can surmise that Dorothy was brought up with all the privileges and prestige that go along with wealth and position.
Nothing further is known of Dorothy until 1933. Doreen through the aid of a Reference Librarian at the Bournemouth County Library was able to locate her as living at "Mill House", Lymington Road, Highcliffe. Highcliffe being in the Borough of Christchurch. Curiously though, listed at the same address was a Rupert Fordham? Further research using the Register of Electors at the Christchurch Town Hall, revealed that Miss Clutterbuck became Mrs. Fordham in the 1937/38 list.
This prompt's me to speculate about the intervening years between 1933 and 1937? Who was Rupert Fordham? Why was he listed at the same address some four years before they married? Was he a lodger, or were they living in sin? The later seems a little unlikely given the strict moral and social standards prevalent in those times. At the time Dorothy was a wealthy and respected member of the community. She would also have been 53 years old in 1933, and 57 when they married, but then? Perhaps we shall never know?
Through her researches, Doreen was able to corroborated most of Gardner's claims of the events leading up to his initiation. She had collated records showing that Gardner and his wife Donna lived in the same area of Highcliffe, as did Dorothy. His official biography, (Gerald Gardner: Witch. – By Jack Bracelin, The Octagon Press, London. 1960.), states that the initiation took place in Old Dorothy's home "a big house in the neighborhood", Dorothy's "Mill House", was also a big house in the neighborhood!
Doreen also obtained press cuttings proving the existence of the "Rosicrucian Theatre". This was situated in Somerford a village near to Christchurch, and had opened in June 1938. A Mrs. Mabel Besant-Scott also lived nearby and had been associated with it. In Gerald Gardner's account, it was a Mrs. Mabel Besant-Scott who first introduced him to Dorothy.
In his biography Gardner also describes Dorothy as, "A lady of note in the district/county, and very well to do. She invariable wore a pearl necklace, worth some £5,000 at that time". Doreen had been able to trace a copy of Dorothy's will, the gross value of her estate after her death had been well over £60,000, a small fortune in 1951. It also stated that she owned some valuable pearls. She was certainly "well to do"!
Dorothy's death certificate stated that: "Dorothy St Quintin Fordham died at Highcliffe in the registration district of Christchurch on the 12 January 1951, the primary cause of death being "cerebral thrombosis", a stroke". It also described her as "Spinster of independent means, daughter of Thomas St Quintin Clutterbuck, Lieutenant Colonel, Indian Army (deceased).
The existence of Old Dorothy having been proven, thanks to the diligence of Doreen Valiente. The skeptics and historians now changed their tune, claiming she had not been a practicing witch. After her death and upon an examination of her personal effects, no evidence could be found to indicate her involvement in witchcraft.
Once again Doreen Valiente steps in to refute these claims. During her research she had come across an old pamphlet entitled "The Museum of Magic and Witchcraft: "The story of Famous Witches" Mill at Castletown, Isle of Man. This was a guidebook of the famous museum, written and published by Gerald Gardner during his tenure as its director. Describing one of the exhibits, it states: "Case No. 1. – A large number of objects belonging to a witch, who had died in 1951, lent by her relatives who wish to remain anonymous". Had these objects once belonged to Old Dorothy, who had also died in 1951? While its not proof positive, I find it hard to disbelieve.
We can surmise from the time era and from many of Gardner's writings, that Old Dorothy was a witch of the old school, and to her secrecy was paramount. During her time witchcraft was still illegal and disclosure of its practice fraught with difficulty and danger. Indeed it was she who restricted Gardner from going public. Not until near her end, did she relent with misgivings, and allow him to write about the craft, but then only in fictional form (High Magic's Aid – published in 1949.). In death it would seem her secrecy still prevailed, and she had all traces of her witchcraft past removed.

Sources
A Witches Bible - By Janet and Stewart Farrar
(This book by the Farrar's contains an article written by Doreen Valiente entitled – The Search for Old Dorothy.)
An ABC of Witchcraft Past and Present - By Doreen Valiente
Encyclopedia of Wicca & Witchcraft - Raven Grimassi
First published on the 02nd February 2001, 20:09:10 © George Knowles

Best wishes and Blessed Be