The Magic of Rocks and Stones

Aragonite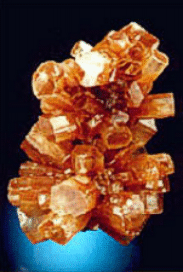 Written and compiled by - Patricia Jean Martin
Aragon, Spain is where Aragonite was first discovered and from where the mineral gets its name. Aragonite, also called Tchazar Crystal, is a common carbonate mineral. It is unfortunately often thought of as the poor cousin to calcite. But aragonite is an interesting and attractive mineral in its own right. It forms interesting habits and can have a soft pretty color. Its modes of formation and relationship to calcite are both curious and intriguing.
Aragonite is a polymorph of calcite, which means that it has the same chemistry as Calcite but it has a different structure, and more importantly, different symmetry and crystal shapes. Aragonite's more compact structure is composed of triangular carbonate ion groups (CO3), with a carbon at the center of the triangle and the three oxygen's at each corner. Unlike in Calcite, the carbonate ions do not lie in a single plane pointing in the same direction. Instead they lie in two planes that point in opposite directions; destroying the trigonal symmetry that is characteristic of Calcite's structure.
Aragonite's most famous crystal habit is the twinned pseudo-hexagonal prismatic crystals that it produces. Twinning is the result of an error during the growth of the crystal. It occurs when the atomic layer stacking, in a sequence such as ABCABCABCABCABCABC etc, makes a mistake and a C layer instead of a B layer is place next to an A layer. The result is an ABCABCABCACBACBACBA stacking sequence (can you pick out the mistake?). Where the mistake occurs, a mirror plane is produced that was not there before (the left side is the mirror image of the right side). This has the effect of increasing the apparent symmetry of the crystal. The "error" in Aragonite's structure causes a bend in the crystal of exactly 120 degrees. If three bends or twins occur, then a 360 degree crystal, called a cyclic twin or trilling, can form. In this case, Aragonite can appear hexagonal (six sided). These crystals can be thought of as a "triple Siamese twin" where one crystal takes up one third (or 120 degrees) of a hexagon.
Aragonite is also a constituent of many sea creatures' shell structures; a curious development since Calcite is the more stable form of calcium carbonate. Most bivalve animals and corals secrete Aragonite for their shells and pearls are composed of mostly Aragonite. The pearlization and iridescent colors in sea-shells such as Abalone and Mother of Pearl are made possible by several minute layers of Aragonite. Other environments of formation include hot springs deposits, cavities in volcanic rocks, caves and mines.
General Information:
*Chemistry: CaCO3, Calcium Carbonate
*Class: Carbonates
*Group: Aragonite
*Color: Can be white or colorless or with subdued shades of yellow, orange, gold, brown, green and even blue.
*Luster: Vitreous to dull.
*Crystal System: Orthorhombic, 2/m 2/m 2/m
*Crystal Habit: Columnar or fibrous. Twinned pseudo-hexagonal prismatic crystals. Twinning is the result of an "error" during the growth of the crystal. Instead of a "normal" single crystal, twins will often appear doubled where two appear to be growing out of or into each other. Can also include a diverse assortment of thin elongated prismatic, curved bladed, steep pyramidal (spiked) and chisel shaped crystals. A branching tree, coral or worm-like delicate form is called "flos ferri". Can also be compact, granular, radially fibrous and massive. Its massive forms can be layered, coralloid, pisolitic, oolitic, globular, stalachtitic and encrusting. Aragonite is a constituent of many species' shell structures. A layered sedimentary marble like formation is called Mexican Onyx and is used for carvings and ornamental purposes. Calcite pseudomorphs of aragonite crystals and formations are common.
*Cleavage: Distinct in one direction - pinacoidal.
*Fracture: Subconchoidal
*Hardness: 3.5 - 4
*Specific Gravity: 2.9+ (average for non-metallic minerals)
*Streak: White
*Other Characteristics: Transparent to translucent. Aragonite effervesces easily in cold dilute hydrochloric acid, is strongly birefringent, is fluorescent and its refractive index is 1.7
*Notable Occurrences: Aragon, Spain (its type locality and from where it gets its name); Karlsbad, Czechoslovakia; Morocco; Bastennes, France; Girgenti, Sicily; Alston Moor and Cleator Moor, Cumberland, England; Baja California, Mexico (Mexican Onyx); Tsumeb, Namibia; Carinthia, Austria; Leadhills, Scotland; Harz Mountains, Germany and in several localities in the Southwestern United States.
*Best Field Indicators: Crystal habits, single plane of cleavage and reaction to acid.
*Uses: Minor constituent of Limestone which is used in cement and in steel production, ornamental carvings and as mineral specimens.
Myths and Lore:
Aragonite enhances ones patience and helps one to "maintain" comfortably during conditions requiring the acceptance of an abundance of responsibilities. When consciously directed, it can help one to achieve a stricter discipline, strengthening reliability and practicality. It can provide insight into the basis of a problem on the physical plane along with stimulating communication on the higher planes. Aragonite centers and is popular in its use for meditation.
A reliable earth-healer, Aragonite is attuned to Gaia. This stone transforms geopathic stress and clears blockages even at a distance. It stabilizes the Sacral and Solar Plexus Chakras, deepening the connection between Earth and Self.
Metaphysical Properties:
Astrological Sign: Capricorn, Cancer.
Sacral, Solar Plexus, Brow Chakras.
Astral Travel.
Meditation.
Centering.
Energy enhancing.
Uplifting.
Spiritual growth.
Self worth.
Calms and soothes.
*Gives physical aid in treating: Depression. Chronic fatigue. Hair loss; skin disorders. Helps with deficiencies in Vitamins A and D. Combats chills and outer limb aches and pains.
*NOTE: Stone therapy should NOT take the place of medical evaluation and procedures, and should be used merely to enhance one's health and well-being.
My own thoughts and experiences:
When I'm feeling any sort of stress or anxiety, one of my favorite stone pendants to reach for is my heart-shaped Aragonite. A soft, light creamy yellow stone (actually one of my very favorite colors) that lends its ability to calm whatever is bothering you and inevitably tempers your mood. Reminiscent of that soft yet bright morning glow in the East when all is still quiet and yet on the verge of awakening, Aragonite brings that same bright and vivid glow into the pit of your being. It also, within moments of use, will bring that very soft, quiet smile.
Using the darker orange-brown hexagonal crystal variety of Aragonite, you may find that it raises your vibration, making you more physically aware of your Higher Self, while at the same time helping you to stay in tune with the Earth Spirits so that you may better connect the two. Use this form of the stone to bring encounters with the Fey, especially those of woodland type.
While sitting in a favorite spot of the garden or walking gently through the woods in an area that seems especially quiet and somehow more vivid to you, hold your Aragonite crystal in the palm of your projective hand and chant these words (or words of your own), letting your breath sweep through and past the stone's facets:
Good faerie, sprite and woodland gnome,
I beckon you come from your home,
Come dance for me and show your face,
In this fair serene protected space.

Sources:
"Stones Alive!" ~ Marilyn & Tohmas Twintreess
"Love Is In the Earth" ~ Melody
http://www.mineralminers.com/html/aquminfo.htm - physprop
http://www.galleries.com/minerals/gemstone/aquamari/aquamari.htm
http://en.wikipedia.org/wiki/Aquamarine

© 2006 Patricia J. Martin

Best wishes and Blessed Be