Pagan Pioneers: Founders, Elders, Leaders and Others
Arnold Crowther (1909-1974)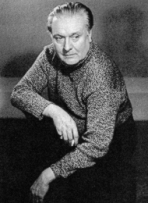 Written and compiled by George Knowles.
Arnold Crowther was a skilled stage magician and ventriloquist with an interest in the Occult, Buddhism, Paganism and Witchcraft. He co-authored with his wife Patricia two books: The Witches Speak (1965) and The Secrets of Ancient Witchcraft (1974), and together produced the UK's first radio series about witchcraft called: A Spell of Witchcraft, first broadcast on the 06th January 1971 for B.B.C. Radio Sheffield. The Crowthers also wrote numerous articles for various popular magazines and national Newspapers. A personal friend of Gerald B Gardner, through his connections with London's occult elite, Crowther was influential in introducing Gardner to Aleister Crowley.
Born in Chatham, Kent, on the 6th October 1909, Crowther was one side of twin brothers. His mother was Scottish and his father, an optician came from Yorkshire. Crowther from an early age was fascinated with sleight-of-hand magic, ventriloquism, and puppeteering. From the age of eight he began practicing tricks and perfecting his technique in the secrecy of his bedroom. By the time he was twenty he was a professional magic act, working in cabaret, touring around the country and overseas.
His career peaked in 1938-39 when he was invited to entertain Princesses Elizabeth and Margaret at Buckingham Palace. This led him to numerous like engagements entertaining the landed gentry of England, and also into contact with many of the days leading occultists and magicians. At this time Crowther was a Freemason with interests in Buddhism, he didn't enter the craft until very much later in 1960.
Crowther was a founder member and President of the Puppet Guild, and as a master puppeteer he made over 500 puppets during his career, mainly for use in his ventriloquism act. He also collected unusual puppets and oddities, regularly giving lectures at his Masons Hall, and to other interested societies, on curios from around the world.
Before the start of World War II, Crowther met Gerald Gardner and his wife Donna after they had been to view one of his lectures on curios. He and Gardner became good friends, sharing many similar interests. Crowther soon became a frequent visitor at the Gardner's London flat, and from there they would venture out together and browse the many antique stalls at the nearby Caledonian Market. Rubbing shoulders with Gardner, Crowther soon became interested in the craft, however Gardner's coven was still wary of adverse publicity. They felt that Crowther might use craft information in his act, and refused to accept him. Gardner predicted that "a very special person with fair hair" would initiate him when the time was right.
During the war years Crowther joined the Forces Entertainment's Corps, and entertained troops all over Europe with his show "Black Magic", the show also included an African Basuto choir. Crowther would perform where and whenever he was required, like on the 10th November 1943 while en-route from Tripoli to Malta, he performed aboard a DC 3 airplane flying at 4,000 feet.
For a time during the war Crowther was stationed in Paris, and there he first learned of his past life as a Tibetan beggar monk. He and an officer went to visit palmist, "Madame Brux", who invited them to a séance. After introductions the medium went into a trance and began to communicate with a masculine spirit. The spirit claimed to have been Crowthers teacher in a previous life, and was his guide in this present one. The spirit reported that Crowther had been a student in a Tibetan lamasery, he mentioned the name "Younghusband" and that he had been killed in a battle. "Your possessions will be returned to you," said the medium, and an object fell onto the séance table. It was a Tibetan prayer wheel inscribed with "OM MA NI PAD ME HUNG" (see Translation below).
After the war had ended other Tibetan objects came into his possession, they included: a butter lamp, a trumpet made from a human thighbone, a drum made of a human skull, and a small rattle hand-drum. An expert explained to Crowther that the "Zi-jed-pa" (The Mild Doer), a homeless mendicant class of Yogi regarded as saints, used such items. They believed they would attain Nirvana after death and not have to be reborn again.
That being so, why then had he been reincarnated as Crowther he reasoned? The expert explained that if he, as the monk, had killed someone, then he would have to be reincarnated to balance the karma. Later at an exhibition of Tibetan curios in London, Crowther discovered that a Colonel "Younghusband" had led a military attack against Tibet in 1904. During the attack "Younghusband" had killed another soldier, before he himself was killed.
Crowther returned to the public stage after the war, and continued to tour about the country. During his travels he met and made the acquaintance of Aleister Crowley. It wasn't long before he introduced his friend Gardner to Crowley on the 1st May 1947. An entry in Crowther's dairy for that date reads: "Dr. G. B. Gardner Ph.D. Singapore and Aleister Crowley Prof, a magician, came to tea…"
In 1958 while travelling to perform on the Isle of White, Crowther met a lady "with fair hair", Patricia Dawson. She was performing in the same show as he, and they soon discovered a mutual interest in witchcraft. Crowther offered to introduce her to his friend Gardner. Over the following two years and after regularly meeting with him, Gardner initiated Patricia on the 6th June 1960 at his home in Castletown, Isle of Man. Patricia in turn initiated Crowther, and the prediction Gardner had made to Crowther many years earlier, came true.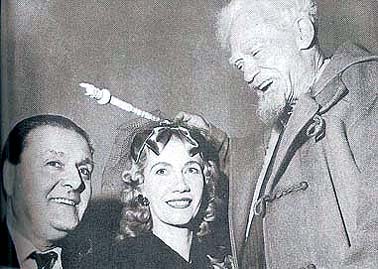 Arnold and Patricia Crowther with Gerald Gardner
Later that same year on the 8th November 1960, Arnold Crowther and Patricia Dawson where married in a private handfasting ceremony, officiated by Gerald Gardner. The following day on the 9th November they married again in a civil ceremony, this attracted the attention of the media and was heavily publicized. The Crowthers settled in Sheffield and used the media publicity to spread the word about witchcraft, and started many new covens throughout the country.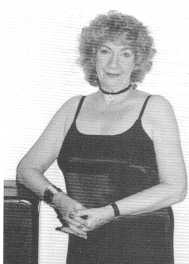 Patricia Crowther (nee Dawson)
Crowther passed into the next world on the 1st May 1974. "Or did he"? If from his past life as "Colonel Younghusband", he revisited as "Arnold Crowther", has not his karma been corrected? One wonders if he has finally achieved Nirvana?
In addition to Crowther's collaborated works with his wife Patricia, his other published credits include: "Let's Put On A Show" (1964), a book of "how-to-do" magic, illustrated by himself. "Linda and the Lollipop Man" (1973), a road safety book for children, and "Hex Certificate" (Late 1970's), a collection of cartoons he drew on witchcraft themes. His autobiography "Hand in Glove", has not been published, but was serialized on BBC Radio in Bristol, Sheffield, Medway and Leeds between 1975 and 1977.

Translation of "OM MA NI PAD ME HUNG":
Many thanks to "Moon Witch" an informative e-mail friend for her translation and detailed explanation of this inscription:
Literal translation "Hail to jewel in the lotus", this was a mantra, chant or prayer written in Sanskrit.
"Buddha Amitabha instructed, "If you want to relieve the suffering of the six realms, you must propagate the Six-Syllable Mantra "OM MA NI PAD ME HUNG" which will stop the rebirth and sufferings of the beings of the six realms. Each of the syllables will eliminate the cause and condition to be reborn in one of the respective six realms. "OM" will eliminate the cause and condition to be borne in the gods' realm. "MA" will eliminate the cause and condition to be borne in the demi-gods realm. "NI" will eliminate the cause and condition to be borne in the human realm. "PAD" will eliminate the cause and condition to be borne in the animal realm; "ME" will eliminate the cause and condition to be borne in the hungry ghost realm. "HUNG" will eliminate the cause and condition to be borne in the hell realm. You must engage, keep, recite and absorb this mantra to empty the six realms."
The merits of the Six-Syllable Mantra are immeasurable and cannot be fully described even by the Buddha's of the three times. Some of these benefits are: Whoever keeps this mantra, his body will transform into the vajra body, his bones will transform into the relics of the Buddha and his ordinary mind will transform into the wisdom of the Buddha's. Whoever recites the mantra for even one time will obtain immeasurable wisdom. He will eventually develop compassion and perfect the six paramitas. He will be born as a universal monarch. He will achieve the irreversible stage of the Bodhisattva and finally attain Enlightenment."

Sources

The Encyclopedia of Witches &Witchcraft - by Rosemary Ellen Guiley.

Encyclopedia of Wicca & Witchcraft - By Raven Grimassi

Websites

www.themystica.com/themystica.html

www.spiraltree.demon.co.uk/index.htm

First published on the 04th May 2001, 21:12:38 © George Knowles

Best wishes and Blessed Be