Pagan Pioneers: Founders, Elders, Leaders and Others
Herman Slater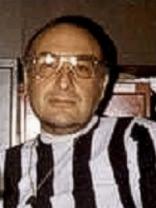 (Horrible Herman)
Written and compiled by George Knowles
During the early 1970's at a time when the revival of contemporary Witchcraft in America was still in it's infancy, Herman Slater was a Wiccan High Priest and proprietor of two well-known occult bookstores in New York, "The Warlock Shop" in Brooklyn Heights and later "The Magickal Childe" in Chelsea, Manhattan. Both shops became central hubs for information about the occult, and the latter a meeting place for many newly emerging traditions of contemporary Witchcraft. Slater was an out-spoken and flamboyant man who attracted both critics and admirers. He was also an author, editor and publisher of a number of books and did much to advance the growth of contemporary Witchcraft particularly in the New York area of America.
Slater was born of Jewish parents on the 06th February 1935 and raised in a lower middle class neighborhood of New York. From an early age he became aware of anti-Semitic prejudices directed against Jews. In the first instance it came from the Roman Catholic Church, for it was not until the Second Vatican Council of 1962-1965 that the Church formally repudiated the charge that all Jews were responsible for the death of Christ and condemned genocide and racism as un-Christian. A second instance was on the part of the American government who prior to 1945 had excluded all Jews from taking academic posts in universities. As a result, during his teens Slater became politically active in equal rights movements.
Educationally, after leaving high school Slater studied Business Administration at New York University, followed by Liberal Arts at Hunter Collage, New York and then Traffic Management at the Traffic Management Institute also in New York. Later he completed a full-time course at the US Navy Personnel School in Bainbridge, Maryland. From 1958 through to 1969 he held down a number of managerial positions ranging from business management, to traffic control (as a Manpower dispatcher) and insurance claims investigations, but in 1969 he was forced to stop working for health reasons. He was diagnosed and found to be suffering from tuberculosis of the bone, the treatment of which cost him a hipbone replacement and required three years of recuperation.
During his convalescence and with nothing else better to do, Slater began to read about and experiment with the Occult Psychic Sciences. He learned about Tarot divination, Clairvoyance and the mystical art of Levitation. On one occasion during his recuperation he experienced levitation first-hand. He had been forced to lay in bed for a year wearing a body cast with a weight of some 300 pounds, when one morning he awoke to find himself in his cast stretched across a chair on the other side of the room?? This experience caused him to delve deeper into such phenomena and eventually led him to discover Witchcraft.
After leaving hospital Slater joined a New York coven of Welsh Traditional Witches led by High Priest Edmund M. Buczynski (Lord Gywddion), into which he was initiated in 1972 and given the craft name Lord Govannon. The two men soon became lovers and formed a partnership to promote Witchcraft. Together they opened a small bookstore called "The Warlock Shop" on Henry St in Brooklyn Heights, New York. Buczynski being the more magical and spiritual part of the relationship left much of the business side of the shop to Slater, under whose guidance it soon became a profitable venture. More importantly the shop quickly established itself as the central information hub for local Witches and the newly emerging Neo-Pagan communities.
Ed Buczynski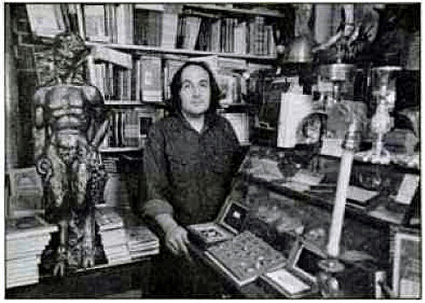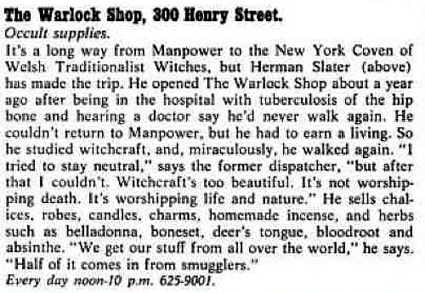 Slater at The Warlock Shop
With the business established and in order to further promote Witchcraft, Slater set-up a publishing company from which they published their own magazine, a periodical named "Earth Religion News". The magazine was an immediate success, but quickly gained notoriety for its explicit contents and cover designs. Slater devoted much of his time to educating others and was a frequent guest speaker at many of New York's colleges. He also starred in a video called "An Introduction to Witchcraft and Satanism", in it he appears dressed in his ceremonial robe and antler headdress, together with his familiar animal, a pet boa constrictor he called Herman.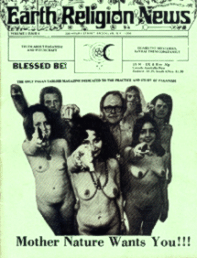 Earth Religion News magazine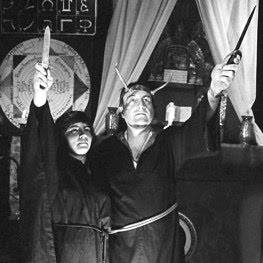 Slater dressed in his ceremonial robe and antler headdress
By this time Slater had become a minor local celebrity and in his efforts to promote Witchcraft hosted a weekly cable television show from Manhattan called "The Magickal Mystery Tour". The show featured interviews, rituals, music, occult practises and magic, but not without controversy. In public Slater professed himself to be a conservative and was vehemently opposed to drugs, promiscuity and sex magic. As such he was often vocal in his condemnation of other Witches and Pagans (most notably Gavin and Yvonne Frost and their book 'The Witch's Bible' - Nash Publishing, Los Angeles 1972), for their moral conduct and stating that people should stay in monogamous relationships. Yet privately he didn't practice what he preached, for he was known to keep a steady stream of gay lovers outside of his relationship with Buczynski.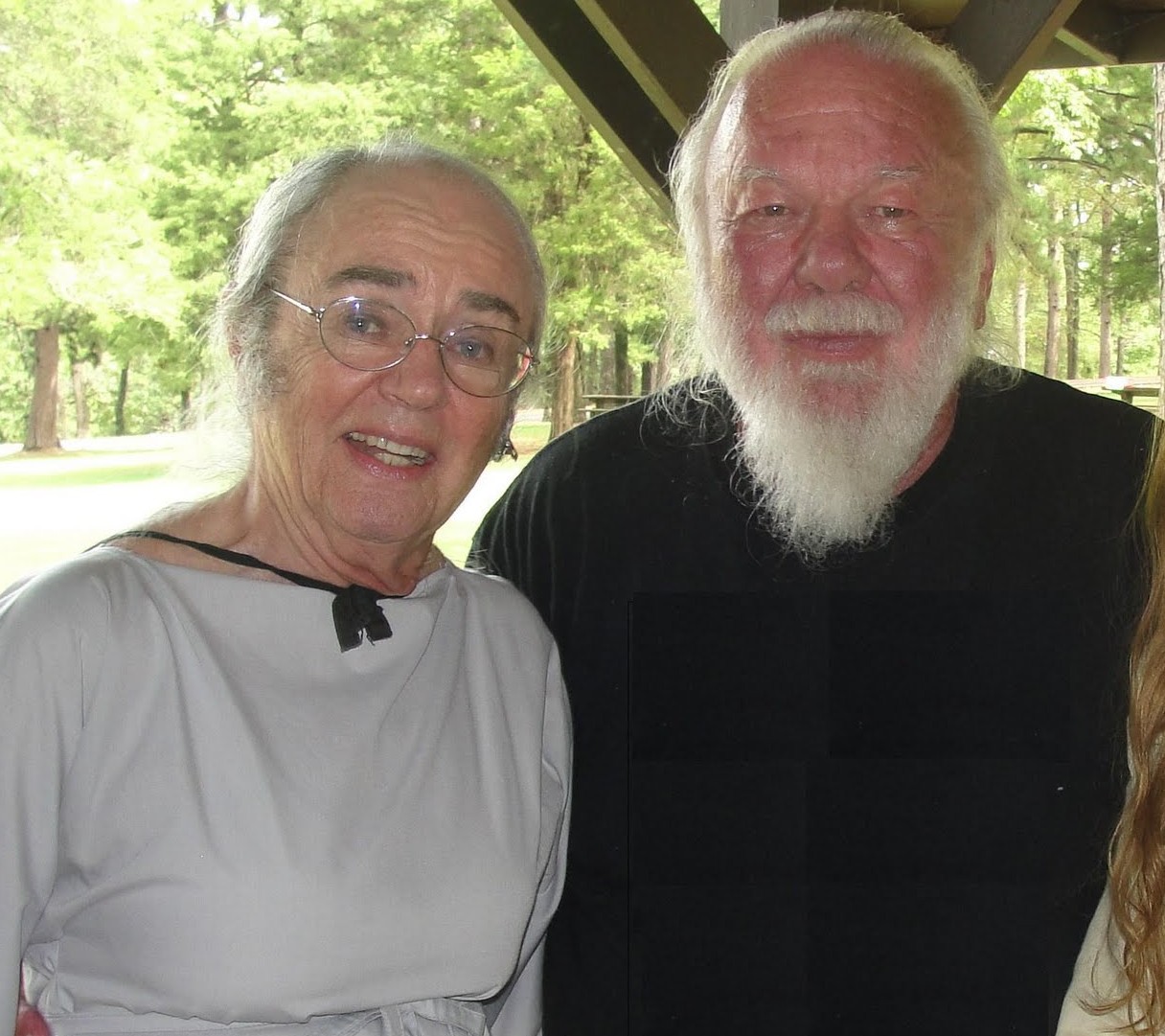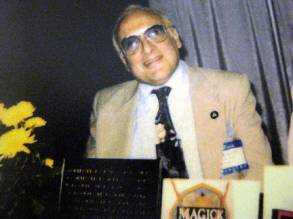 Gavin and Yvonne Frost

-

Horrible Herman
This contradictory side to Slater's nature would show itself time and again throughout his life, and in local media earned him the title "Horrible Herman". Indeed sometimes he seems to have enjoyed cultivating such a persona. On one memorable occasion during a guest appearance on the "Today Show" in 1972, he presented an award called the "Inquisitional Bigot of the Year" to NBC for an episode of their "Macmillan and Wife" series. In it they had taken an innocent Witchcraft ritual and portrayed it as Devil worship. The Today crew were outraged and physically remove Slater from the set live on TV (hence the title Horrible Herman).
In 1974 Slater was initiated into a Gardnerian coven and a few years later assumed its leadership as High Priest. The coven was renamed the "Earthstar Temple" and practised a mixed blend of Welsh and Gardnerian witchcraft. Also in 1974, through their publishing company, Slater published his first book, "A Book of Pagan Rituals", and again controversy came calling bringing with it serious repercussions that turned many in the Pagan community against him. The book itself is excellent and contains many examples of basic, simple and meaningful rituals, which is a must have for any Pagan library.
However the book was not altogether authored by Slater, but was a compilation of rituals authored by others without crediting his sources. The rituals were almost entirely taken from the "Outer Court Book of Rituals" belonging to the "Pagan Way Tradition" founded in 1970, much of which had been written by Ed Fitch with contributions from many of the Pagan Way founders, including: Joseph B. Wilson, John Hansen, Tony Kelly and Herman Enderle. While many of the original rituals were placed in the public domain and published in numerous magazines, among them "The Waxing Moon" and "The Crystal Well", they were freely distributed to be used by one and all, but this does not detract from the fact that the original authors should have been credited. That said by compiling the rituals into one volume means that many people still benefit from them when otherwise they may have been lost over time.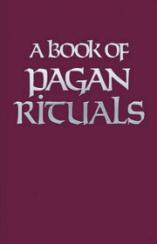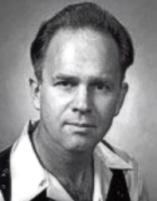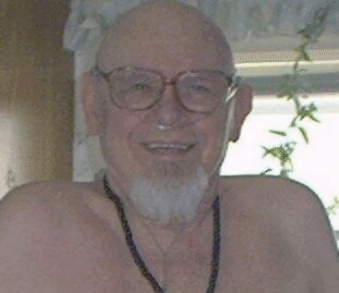 Pagan Rituals book cover - Ed Fitch - Joseph B. Wilson
In this way it's only fair to add that Slater acted no differently from other great leaders of the revival before him, for example: Alex Sanders in the early 1960's allegedly copied Gerald B. Gardner's original "Book of Shadows", and Jessie Wicker Bell (Lady Sheba) in 1971 published "Lady Sheba's Book of Shadows", which according to Michael Howard contained ritual elements gained from the Regency Coven (a spin-off coven from the Clan of Tubal Cain), Robert Cochrane's original coven and based on his practices and writings). But perhaps even more famously was the earlier book by Israel Regardie who in 1937 published the ritual workings of the Hermetic Order of the Golden Dawn, called simply "The Golden Dawn". Where would we be today had they not done so?? Slater later sold the book's publishing rights to Donald Weiser of Weiser's Books for a mere $500.00, so he hardly made a fortune out of it.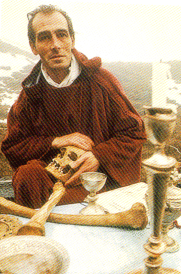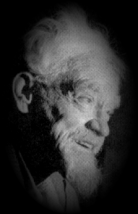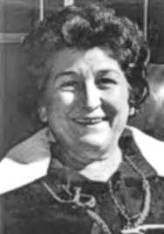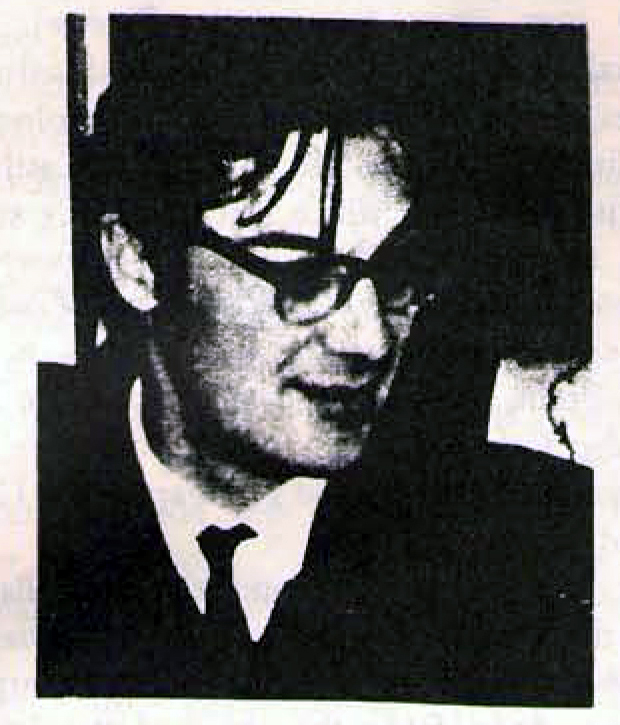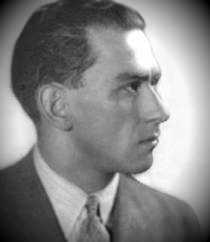 Alex Sanders

-

Gerald B. Gardner -

Lady Sheba
-

Robert Cochrane

-

Israel Regardie

In 1976, Slater and Buczynski decided they had out-grown The Warlock Shop in Brooklyn's Henry St and move into new premises at 35 West 19th Street in Chelsea, Manhattan. Due to the negative connotations of the word "Warlock", they renamed the shop "The Magickal Childe". Slater now had enough space to dramatically increase the shop's merchandising. The new shop soon became the premier occult store in New York, and for a time operated as one of the largest occult mail-order businesses in the country. In addition to herbs, oils, candles, books, robes, swords and other accoutrements of the Craft, there was also an array of human skulls, dried bats, mummified cat's paws and a wide variety of unusual jewellery. A back room in the store served as a temple and classroom for a variety of evolving traditions of Wicca, Witchcraft and Neo-Paganism, and was made available for them to use as a place for private meetings and ritual. It also served as the centre from which the growth of Aleister Crowley's "Ordo Templi Orientis" (OTO) began in New York during the late 1970's early 80's.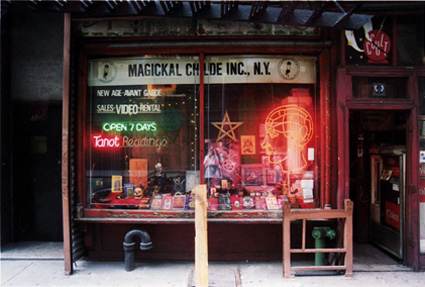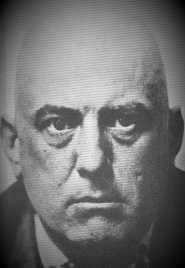 The Magickal Childe storefront - Aleister Crowley
In 1977, his partner Edmund (Ed) Buczynski founded the Minoan Brotherhood, a tradition designed exclusively for Gay men to enable them to explore and perform traditional Witchcraft rituals without the conventional constraints normally imposed on gender, and to enjoy the same sexual mysticism and sense of empowerment as did other traditional forms of Wicca and Witchcraft. As a Gardnerian initiate, Buczynski created the Minoan rituals based roughly on those of the Gardnerian tradition, but with changes to its core mythology and ritual customs. They used the imagery and deities of Ancient Crete and Mycenae, but their working tools and uses were similar to those of British traditional Wicca.
With Slater's help through contacts gained from The Magickal Childe, they assisted Carol Bulzone (Lady Miw) of the Enchantments Occult shop in New York and Lady Rhea of the Magickal Realms Occult shop in the Bronx, to established the Minoan Sisterhood, a similar but Gay Woman's tradition, providing a means for women to celebrate their own Mysteries, again without the traditional constraints of gender. Today the Minoan tradition consists of three branches, the Minoan Brotherhood (gay men) the Minoan Sisterhood (gay women) and the Cult of the Double Axe/Cult of Rhea (gay men and women together).
Throughout the 1980's Slater continued to run the Magickal Childe as the oldest occult store in New York, but every now and again rummours would cirulate that he had problems with the IRS due to unpaid sales taxes, at which point he would threaten to close and sell the shop, but he never did. He also continued to write and compile books, the most popular being his: Magickal Formulary Spellbook Book I & II and The Hoodoo Bible.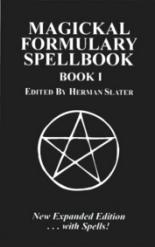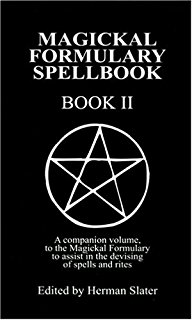 Magickal Formulary books I & II
On the 16th March 1989 Slater's long time lover and partner Edmund Buczynski passed away and entered the Summerland after complications brought on through the dreaded HIV/AIDS disease (Human Immunodeficiency Virus and Acquired Immunodeficiency Syndrome). Thereafter Slater divided his time between "The Magickal Childe" in Manhatten where he lived with 3 dogs, a cat and his pet boa constrictor called Herman, and a second holiday home in Fort Lauderdale, Florida. Then on the 09th July 1992 having contracted the same HIV/AIDS disease as Buczynski, Herman Slater followed him into the Summerland.
During his time Herman Slater was a colourful and charismatic man who inspired the people he was associated with, but he was also a businessman first, who took every opportunity to raise a few more bucks. Raymond Buckland on one occasion presented him with a "cast cross-hilt and pommel for a Gardnerian Wiccan Sword (made by Gerald B. Gardner) on the strict understanding that it was for his own personal use and not for commercial use", but within a week or so of receiving it, his shop catalogue of "Sale Items" contained replicas made from the original. Such was his way; he was either loved or hated by the community at large.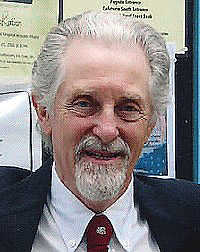 Raymond Buckland
Herman Slater made a considerable contribution to the revival of contemporary witchcraft in America, particularly in the capital New York were his dedication was rewarded after his death when friends and ex-employees banded together in order to keep his legacy "The Magickal Childe" open. After his death and despite a huge debt in unpaid sales taxes, they managed to keep the shop operating for a number of years before finally closing its doors in 1999. All that remains today is the shop's official website: http://www.magickalchilde.com/, which continues to be run by his friends and supporters as a tribute to the man who had so inspired them.
End

Sources:
Books:
Encyclopedia of Wicca & Witchcraft - By Raven Grimassi
The Encyclopedia of Witches &Witchcraft - By Rosemary Ellen Guiley
The Witch Book - The Encyclopedia of Witchcraft, Wicca, and Neo-paganism - By Raymond Buckland
Microsoft ® Encarta ® 2006. © 1993-2005 Microsoft Corporation. All rights reserved.
Websites:
http://www.magickalrealms.com/EdmundBuczynskiEdwardian.html
http://www.greenfaeriegrove.org/member-articles/ed-buczynski/#
http://rigorousintuition.blogspot.com/2005/11/weird-tales.html
http://www.nypress.com/print.cfm?content_id=8374
http://www.magickalchilde.com/herman.html
http://www.necfiles.org/necfile.html

Written and compiled on the 23rd February 2008, updated on the 08th May 2017 © George Knowles.

Best wishes and Blessed Be