The Magic of Rocks and Stones

Silver & Gold
For Beltane, I chose to concentrate on two very precious metals with which we have had an ongoing love affair throughout time. And while they each compliment the other, each are entwined in our most ancient psyche as true representations of the masculine and feminine ~ Gold and Silver. It is no wonder our ancestors chose these two long-lasting, valuable and highly-prized precious metals to associate with the Lord and Lady. They are the Lord and Lady of the metallic mineral kingdom!
As I unmask and entwine these two even further within this text, for their full effect please allow their essences to permeate and meld with your own, for this is merely a glimpse into their world.

For purity, riches and divine courtship, I call upon the powers of Gold, Au, born with untarnished boldness and vitality everlasting, and who cleaves unto none other than his most beloved.
~
And to whom he does adore for her gifts of insight, magick and mystical wisdom, I call upon the powers of Silver, Ag, born to sensuous expression and curvaceous form, through which she invokes the attention of her consort.
Yes, Gold has long been associated with the projective solar masculine and its properties connected to the attributes of the God and the life-giving Sun. Its Element is Fire, and it is connected to the astrological sign of Leo. Chemically, Gold is a Native Element - meaning it is one of the 118 found in the Periodic Table of Elements where its symbol is "Au", and one of only a very few solid minerals found in a native state - making it highly attractive, valuable and the most prized of all metals. A rich, golden-yellow color, these dazzlers occur in nugget, grain, flake, massive, or occasionally octahedral or dodecahedral form, but often in veins within Quartz. Gold is extremely soft and malleable (registering only 2.5 on the Mohs Scale) and is remarkably pure, along with being remarkably inert; this means it does not react nor bond with most other chemicals and thus will not tarnish or rust. Because of this, in alchemy, Gold is called a "noble" metal. But to increase Gold's hardness, it is alloyed with Silver (transforming Gold to White Gold), Copper (to Pink or Rose Gold) or other metals so that it may become the adornments we so desire. Here, the percentage of alloy is measured in karats (K, Kt); 24 karats equals 100% gold (no jewelry is made of 24 K gold), whereas 14 karat gold is 14 parts out of 24 (or 58%) pure gold.
Also a Native Element and highly prized, Silver occurs in wiry, curvy form, or dendritic, scaly or massive habits and occasionally, but rarely, in octahedrals or dodecahedrals. It is also a very soft metal, registering only 2.5-3.0 on the Mohs Scale - and like Gold, too soft to be able to be worn well so it too enjoys commingling with another. (Sterling Silver is 92.5% Silver with the other 7.5 usually Copper.) As a beautiful silvery-white metal, Silver has long been associated with the Moon and the sacred receptive lunar feminine, its properties connected with the same attributes of the Goddess - divine inner wisdom, magick, mystery, insight, psychic powers and perception, and of course, connection with Deity. Its Element is Water, and it is associated to the astrological sign of Cancer. Silver's symbol "Ag" derives from the Latin word "argentum" which in turn derives from the Sanskrit word meaning "white and shining". But when oxidized, Silver will tarnish.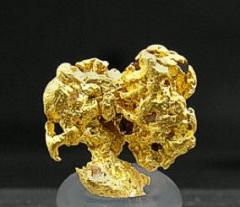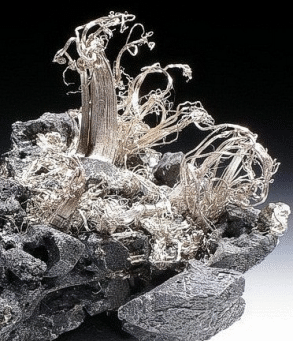 Both Gold and Silver stand for purify and have the ability to purify, and both provide a direct channel to Deity. Hot, fiery Gold is known to attract wealth, success and power, so much so that it also comes with a warning against greed. The term "gold fever" did not enter our vocabulary for no reason and is indicative of just how much power Gold has and of how much feverish fire it can bestow. Those working with Gold do best by adding Silver to their studies and use for its Water Element essence, for Silver's greatest role is in its gifts of insight, intuition and wisdom which will balance and bring awareness to the strength of Gold and counteract any ensuing leanings toward greed. Silver opens a strong connection to the spirit world, from deity to the elementals to the fae, and promotes all things spiritual. It is a mirror to the soul. It enhances Astral travel or tapping into the subconscious along with offering its protection. Many believe there is a "silver cord" or "life thread" that is connected to the etheric and physical body that guides us back from dream state and ethereal journeys.
Behold Au! He who has scattered his desirous golden seed over the lands on and within every forest, mountain and hillside. We rejoice in your presence!
Heal us! Purify us! Shower us in your warmth and bathe us in your light.
Rise up and attend - the Goddess awaits you.
~
Behold Ag! She who brings forth every bud, leaf and blossom of insight, over every forest, mountain and hillside, with electrifying allure. We rejoice in your presence!
Nurture us! Guide us! Plant and grant us your deep wisdom.
Open all hearts - Receive your lover.
Who first discovered Gold remains a mystery, as there is much myth and legend surrounding this royal metal. What we do know is that Gold has been mined for at least 6000 years. Ancient sources of Gold were in the Upper Nile region of Egypt and Nubia ("Nub" being the Egyptian word for "gold") and the lands of ancient Mesopotamia, but during the Middle Ages the main sources were the mines of Saxony and Austria. Today, half the world's Gold comes out of South Africa, with other notable sources being Australia, Russia, Canada and the U.S.. Rare small crystals of Gold have been found in California, U.S., while giant nuggets over 200 pounds have been discovered in Australia. In the past, most Gold was recovered from river and stream gravels, called "placer deposits" where small flakes or particles of the mineral concentrated after being weathered away from its host rock. The ancients also mined veins of Gold by using tools of the day - bone picks, stone hammers, wooden trowels, and some say even a melting process where they would set the vein aflame. Later in time came the use of special pans for panning for Gold near alluvial deposits, a process where extraneous gravels are slowly washed away through the swirling and shaking of the pan in the water, leaving the gold flakes, scales or nuggets in the bottom of the pan since Gold is heavier than most other minerals. Other forms of mining include dredging, sluicing and the typical hard rock mining where Gold is extracted from hydrothermal veins within Quartz or even Pyrite. Pyrite has being nicknamed "Fool's Gold" because of its similar color and for the fact that it's been often mistaken for Gold even though Pyrite is generally a more silvery-gold hue.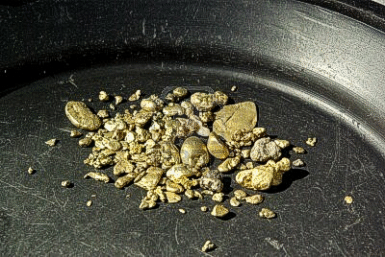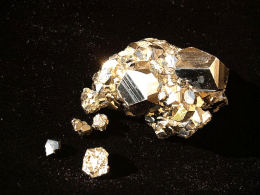 Silver is widely distributed throughout the world and yet is considered rare compared to other metals. Most Silver comes from Mexico, U.S., Canada, Australia, Peru and Russia, and while native Silver can be found, most of it is mined as a byproduct in the refining of lead, copper and zinc. And oddly, or maybe not so oddly, Silver and Gold are often found nestled together within certain deposits. As if added proof of Silver and Gold's love for each other, a naturally occurring gold-silver alloy called "Electrum" exists, and it is thought that the earliest coins in history were made from this amalgam in the ancient kingdom of Lydia (modern day Turkey) c. 600 BC. The lands of Lydia and nearby Ionia were rich and prosperous and noted for their wealth which could be attributed to Lydia's King Alyattes' minting of these Electrum coins. They are often considered the first true commercial currency whose earliest issues featured a roaring lion.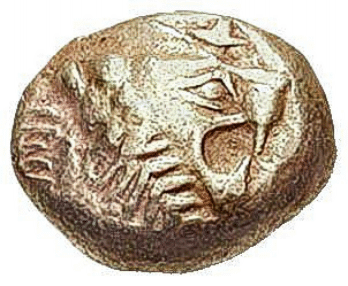 Throughout history in both fact and legend, a whole host of sacred images, icons, amulets, jewelry, adornments and artifacts were fashioned out of either Gold or Silver and many an altar has been adorned with them. There are so many beautiful and interesting things these precious metals were used for, that I will only name a few of the most notable here - for instance, the burial effigy mask and coffin of the Egyptian child-king Tutankhamen. Early Egyptians were enamored of Gold and the royal blue stone Lapis Lazuli and emerald green Malachite. They constructed elaborate burial adornments with these minerals to signify wealth or to denote the nobility of the deceased. The ancient Mayans and Aztecs prized Silver as highly as they did Gold and used it to mold images of their gods. In legend, it is said the Druids collected mistletoe with sickles made of Gold. And in Irish myth, when King Nuada lost his arm in battle, the god of healing, Dian Cécht, made him an artificial arm of Silver so that he would be able to return to his throne. Within Hinduism, the ancient Vedas expound upon the virtues of Silver and other pure metals for healing. Tibetan Bonpo shamanism tell of the waters of "a river filled with silver sands that will make anyone who drinks from it as lovely as a peacock". Yes, the love affair goes on and on. And as Gold is indestructible, it is a fact that all the Gold ever mined is nearly equal to all the Gold in use today, so it is not inconceivable that what Gold we wear today may have once belonged to some ancient King, Queen or nobleman...perhaps even our own ancestors!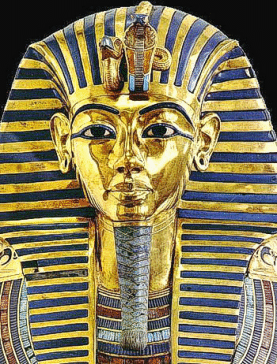 Gold has been nicknamed "The Master Healer" and is noted for its aid in purification of the physical body, whereas Silver is our "Master Conductor" and opens the channels of our mind and spirit. Silver's conductivity of heat and electricity is second to none; it is used extensively in electrical applications. The largest single use of Silver was in the pre-digital photographic industry, and without which it would have made early photography impossible. Silver is highly reactive to light. And with Gold as the Sun, need I say more? ;)
In the realm of healing, Silver and Gold can be very helpful. Use Gold as an aid in purification of all forms, for added vitality, in combating depression, rejuvenating the Nervous System, enhancing mental faculties, improving digestion, circulation or heart disease...just to name a few. It truly is a versatile mineral. And use Silver as an aid for emotional distress, anxiety, sleep disorders, to eliminate toxins at a cellular level, reduce fevers, balance hormones, or help rectify poor vision. A fine elixir can be made from either of our sparkling beauties. To make the elixir, take 3 Gold or Silver coins, cleanse them well and then place them into a lidded glass container to which you have added fresh spring water. Place it in full sunlight and moonlight for a full 24-72 hours (the longer the stronger) and the resulting mineral water may then be consumed. For additional amplification, surround the glass container with 7 Quartz crystal points - the terminated ends facing the water and coins throughout the process. Gold has a warming and rejuvenating tendency, whereas Silver has a cooling and soothing tendency. Together they create a balancing effect. In magick, both Gold and Silver can be used with great accuracy in money spells. But no matter what you use them for, they both assist greatly in the bending of energies and the directing of magick's flow. Silver is excellent for use in any Moon magick; Gold is excellent for use in any Sun magick. Combine the two and you have a dynamite powerhouse effect!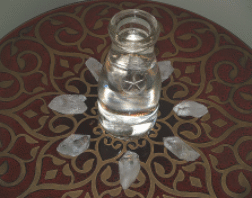 Although there is much, much more to say about Gold and Silver, and even though I could go on and on about these two lofty lovers - more than I could ever put down within this small article - I cannot close without simply adding a few words about two other all-important aspects of Gold and Silver - their intense sexuality and sensuality. With Gold projective and Silver receptive, we have both virile strength and tender submission. We have passionate movement and sensuous abandon. We have assertive love and inserted sentience. Our own love of Gold and Silver has transcended Time. From Mount Olympus to modern day Olympics, they are the metals of the gods and the medals of our heroes, both signifying royalty, honor, success, spirituality, life and love.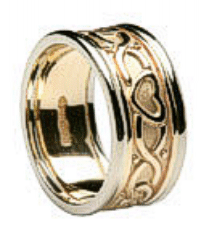 As the veil now is thin as it is at high Samhain,
grant us your gold visions and silvery tongue
that we may see through your eyes and speak of your glory
and dance to the songs our ancestors once sung.
We will revel this night and bask in love's story,
as the fire grows high and the silver bell's rung.
<bows to the Two who are One>
Happy Beltane!

Sources:
Smithsonian Rock & Gem, R.L. Bonewitz. 2005.
Cunningham's Encyclopedia of Crystal, Gem & Metal Magic, Scott Cunningham. 1988.
Love Is In the Earth, Melody. 2008
http://www.galleries.com/minerals/elements/class.htm
http://rjohara.net/coins/lydia-electrum
http://rg.ancients.info/lion/article.html
http://www.silvermedicine.org/history.html
Gold himself & Silver herself.

© Patricia J. Martin, April, 2010

Best wishes and Blessed Be