Pagan Pioneers: Founders, Elders, Leaders and Others
Raven Grimassi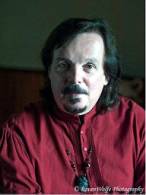 Written and compiled by George Knowles
Raven Grimassi (not his real name but a pseudonym used to protect his family's privacy) is a first generation Italian/American author best known for his books on Paganism, Witchcraft and related Occult subjects. He is a recognized expert on the works of folklorist Charles Godfrey Leland, and while only three of his own twenty books in print relate specifically to Italian witchcraft, he is credited with popularising the Stregheria tradition of Italy's Old Religion.
Grimassi was formerly the Director and Elder of the Aridian Tradition (his own system of Italian witchcraft founded in 1980). He is currently the Co-Director and Co-Elder of the Ash, Birch and Willow tradition, a non-cultural system of Witchcraft rooted in the commonality of old European systems. In the past, Raven was also an initiate of various other traditions including: Brittic Wicca, Celtic Traditionalist Wicca, a Pictish-Gaelic Tradition, and a system that at the time presented itself as Gardnerian. It was later discovered by Raven that the system had no lineage through the Gardnerian Craft. He is a member of the Grey Council, an on-line mystery school for Wizards called The Grey School of Wizardry (founded by Oberon Zell-Ravenheart in 2004), and was formerly a member of the American Folklore Society. In 2006 Raven, together with his wife Stephanie Taylor, created The Fellowship of the Pentacle, a group of likeminded individuals devoted to preserving and advancing the mystical and transformative elements of ancient knowledge and wisdom. This has now been merged with the Ash, Birch and Willow system.
Raven Grimassi was born on the 12th April 1951 to an American father and Italian mother. His father was of German/Scottish descent and as a Paratrooper in an elite Airborne Unit during WWII, served in Africa, Sicily and finally Italy. While serving in Italy he met and fell in love with a native Italian woman, later to become his wife. According to Raven his mother was descended from a Neapolitan witch named Calenda di Tavani (or Caliente di Tavani) who going back several generations had been a well-known practitioner of Italy's Old Religion. The family tradition of Strega (Italian witchcraft) was then passed down through a family lineage of successive generations. Eventually seeking liberation from the finite constraints of one tradition's perspective, Raven left his personal practice of Italian Witchcraft in 2006 to expand and evolve his sense of being a Witch.
His mother was originally from Pagani, Italy, a small town near the capital City of Naples, before her family settled in the main city. In December 1942 to avoid Allied bombings on Naples, the family moved to Gragnano, a small hill town located to the southeast of the city, during which time they lost their home in the city in a bombing raid. While living in Gragnano, Raven's mother and father (who was serving nearby) met and began dating then at the end of the war in 1944 were formally married. After the war his mother's family returned to Naples to rebuild and start life over again, while at the same time arrangements were made for her to immigrate to the United States and join his father's family in Pennsylvania. In the late Fall of 1951 they moved to San Diego, California, and there started to raise their own family. Raven was the youngest of their three children, but was the only one to take up and embrace the Old Religion of Italy. His father passed way in 2005, and his mother followed in 2011 shortly before her 96th birthday.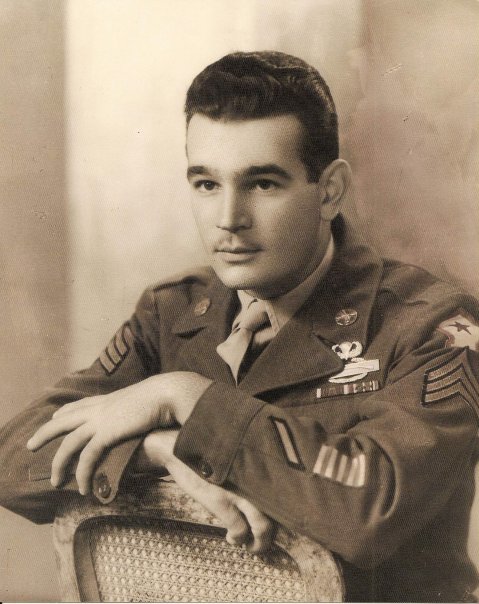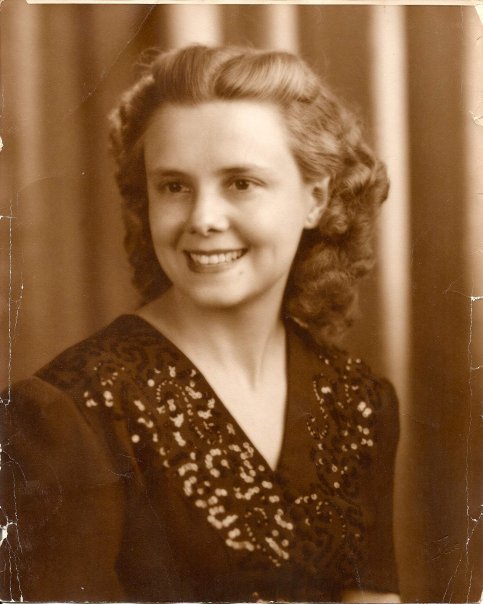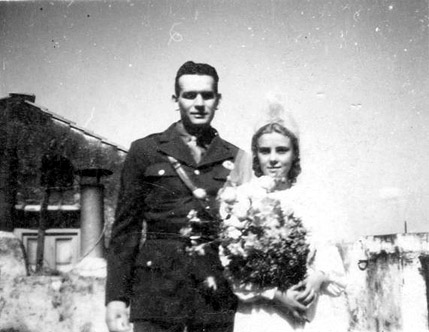 (Photos courtesy of Raven Grimassi)
Father and Mother circa. 1945
Growing up over the years, Raven's mother had a particular influence on him, which certainly helped to shape his future. He grew up fascinated by Italian Fairy Tales as well as learning the magical practices of his family lineage passed on to him from aunts, uncles and cousins who visited from Italy. From them he learned what he calls "Peasant Witchcraft", the Old Ways, and the folkloric elements passed down by tradition to his mother.
Like most other people with such a background, Raven was raised in the Catholic Church (an old protective practice of veiling witchcraft under the guise of Catholicism). His father worked for the General Dynamics Astronautics Program and was involved in the underground installation of missile silos in the 1960s. This required the family to move to a different State in the U.S. each year from the time Raven was nine years old until he was sixteen. This situation allowed him to avoid becoming too well-known by temporary friends who otherwise may have discovered his non-Catholic practices.
For his early formal education Raven attended the James Madison High School in San Diego. Earlier in Elementary School, Raven showed an aptitude for writing, and by the age of 12 was writing short stories to amuse his friends. Later he wrote for the school newspaper in Rochester NY, and eventually wrote a collection of poetry. After graduation from Madison High School, he attended the Mira Mesa Community College with a focus on the Sciences; this led him to attend courses at the San Diego City College where he entered a special program offered by the State to become certified as a Psychiatric Technician.
On completion of his College courses he worked for several years within the San Diego County Mental Health Service, initially in a locked-up psychiatric unit, then later in a live-in centre for abused children. Later still he worked for the San Diego County Drug & Alcohol Centre where he served as a counsellor. Given the stress involved in that career, he then changed direction and quit working for the County, and instead took courses at a Cosmetology School. He then worked as a hair stylist for many years about which he states: "It was nice to work on the outside of people's heads for a change". After that career he changed again and went to work at a Law University as a financial aid counsellor, then later as the liaison for the University to the Federal Student Aid Program.
Aside from his mundane everyday work living, by the time he was 18, Raven had shaken off any pretence of Catholicism and determined to deepen his study of Italy's Old Religion. That in mind, he began a detailed study of the folklorist "Charles Godfrey Leland", particularly his works pertaining to Italian Witchcraft and his now famous book "Aradia", or the "Gospel of the Witches". This he believes to be a Christianised distorted version of the original story of Aradia (whom he believes to have been a mortal woman named Aradia di Toscano), although he also notes that there are genuine elements within Leland's Aradia material, such as the inclusion of a full moon ritual and a sacred meal at the Tregenda (Sabbat), along with a pantheon of Goddess and God figures.
In the meantime his researches led him to the newly evolving Wicca/Witchcraft movement then sweeping through America, and intrigued by similarities between Wicca and the old practices he had been taught by his mother, decided to seek out more information. During the summer of 1969 he had a chance meeting with a woman named Elizabeth who managed an Herb Shop called Pooh's Pantry in Old Town, San Diego, and through this meeting she eventually introduced him to others. This ultimately led to Raven being introduced to a lady named Miranda who claimed to be a Gardnerian High Priestess. She went by the title "Lady Heather". After being initiated into her form of Wicca, it was later discovered that her claims to Gardnerian lineage were untrue. Never-the-less Raven believes her teachings were sound and that only her false claim of lineage was without merit.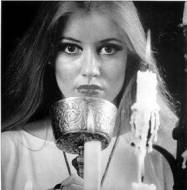 Photo courtesy of Raven Grimassi
Lady Heather circa. Early 1970's
Like all teenagers growing up through the swinging 60's, Raven had a passion for the popular music of his time. His favourites bands in those days were the likes of: the Beatles, the Moody Blues, Buffalo Springfield, Led Zeppelin, Crosby, Stills, Nash and Young, and Seals and Croft. He also played the drums and in his spare time was a drummer in various rock bands, one such was called Whiskey Slide (formerly known as Brat) in San Diego.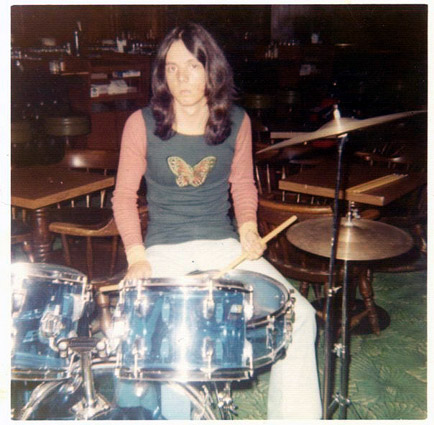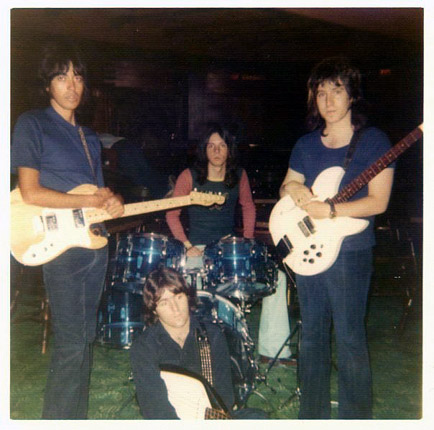 Photos courtesy of Raven Grimassi
A rock and roll drummer, c
In 1974 Raven next studied Wicca under "Lady Sara Cunningham" and did the traditional "year and a day" with her. He then developed his own system of practice, which was a blend of Lady Heather and Lady Sara's teachings mixed together with elements of Italian witchcraft as taught by his mother. Later he formed a small coven group known as the Coven of Sothis. A year later in 1975 to advance his esoteric and occult knowledge he joined the First Temple of Tiphareth (founded earlier by Lady Sara Cunningham combining elements of Western ritual magick with old Egyptian practices and Wicca), he also began a serious study of the Kabbalah, which led him to take initiation into the Rosicrucian Order in San Jose, CA.

Photo courtesy of Raven Grimassi
Lady Sara Cunningham
At around the same time in the mid-to-late 1970's, Raven began studying with a teaching couple that practiced a tradition called Brittic Wicca (a system of Basque Witchcraft and English Wicca) into which he also took initiation. However, shortly after the couple moved overseas and without them the tradition discontinued. In the meantime feeling that his exploration into Wicca was complete, Raven returned to his own private practice and in the autumn/fall of 1979 began teaching classes at the Ye Olde Enchantment Shoppe in San Diego. It was from here that he founded his own Aridian Tradition of Italian witchcraft.
Two early members of the Aridian Tradition that attended his classes in San Diego later become prominent authors and teachers themselves. The first was "Donald Michael Kraig" (author of Modern Magick (1988) and Modern Sex Magick (1998). The other was "Scott Cunningham" (the best selling author of A Guide for the Solitary Practitioner, among others). Cunningham remained a first-degree initiate during his three years of study with Grimassi, but then moved on in favour of his own self-styled view of modern solitary practice.
Both Donald Kraig and Scott Cunningham had been studying at the San Diego State University when they first joined Raven's Aridian Tradition. Kraig, who had already earned a BA degree in Philosophy at the University of California, Los Angeles, later received a fellowship grant to study 3D graphics, computer animation and web design at San Diego State for a teaching certificate in multimedia studies. Cunningham had enrolled in 1978 to study Creative Writing. While both attended Raven's classes independently, by coincidence they also ended up as roommates sharing a 2-bedroom apartment for the following six years. As each moved on in their own separate careers, they each remained life-long friends with Raven. Sadly Scott Cunningham passed away on the 28th March 1993, he was just 37 years old, while Donald Kraig passed away on the 17th March 2014 aged 63.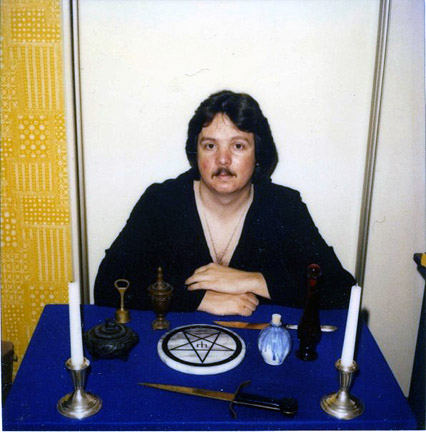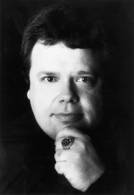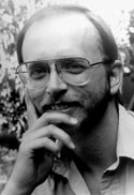 Raven Grimassi circa 1980
-

Donald Michael Kraig

-

Scott Cunningham

In 1981 Raven began his own writing career as the editor of a magazine he created called The Shadow's Edge, with a focus on both Wicca and Italian Witchcraft. This later evolved into two more magazines called Moon Shadows and Raven's Call (a journal of modern Wicca, Witchcraft and Magick). This last was finally put to rest in August 2001, mainly to allow him more time to concentrate on book writing. That same year in 1981 he wrote and self-published two booklets: The Book of the Holy Strega, and a two volume set entitled The Book of Ways.

In 1983 Raven accepted a 3rd degree initiation into a Pictish-Gaelic tradition foregoing the 1st & 2nd degrees due to his experience. According to Raven his initiator and close friend (the late Mel Fuller) while serving in the Navy was being deployed into a war zone. Concerned about his Book of Shadows he asked Raven to become its guardian, which required initiation. While some in that tradition complained at the time, Raven claims he was there simply to help preserve their teachings and serve as a guardian of their material rather than act as a full participant. During the rest of the 1980's, Raven committed to and began an academic study of classical literature based on the great mystery traditions of ancient times. He also studied the magickal Orders of the late 19th century and works from such as: Madam Blavatsky's Theosophical Society, Rudolf Steiner's School of Spiritual Science called Anthroposophy, and then of course the huge volume of influential works by members associated with the Hermetic Order of the Golden Dawn.

By this time Raven had been married and started his own family raising three daughters. He had also moved out of San Diego to Escondido, California, where he made his home at Crow Haven Ranch. There he created a spiritual retreat, which he shared with members of his Aridian Tradition. He also opened a physical occult shop in Escondido called Raven's Loft, which from 1998 he co-owned with his future wife Stephanie Taylor (they were married in October 2005).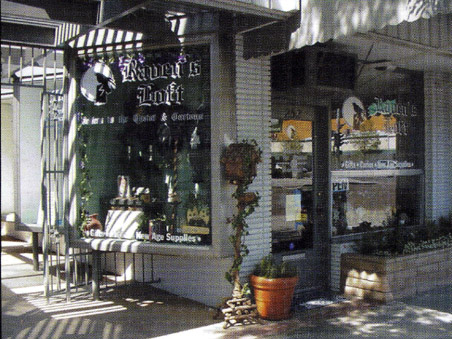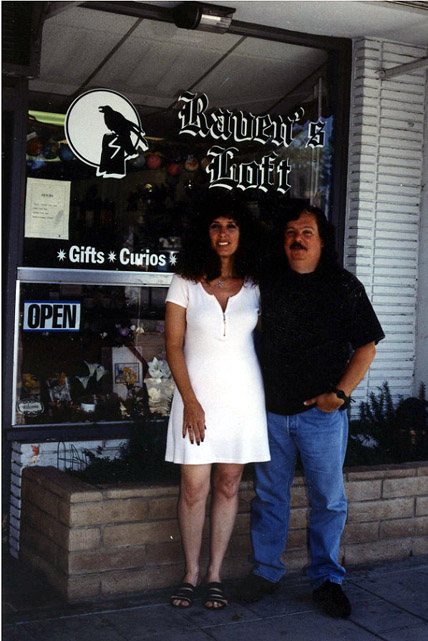 Photos courtesy of Raven Grimassi
Raven's Loft physical shop in Escondido
In 1994 Raven had his first professional book published by Llewellyn Worldwide Ltd called "The Ways of the Strega". This was a re-write of his previous self-published books above, containing a mixture of Italian Witchcraft with modern Wicca elements as he had taught in his Aridian tradition. However, sales of this first book didn't go as well as Llewellyn had expected, and so a year later their marketing team changed the title to "Italian Witchcraft" (the term "Strega" was not so well-known in 1994 and they needed something more obvious to catch public attention), they also changed the book cover to support the new title, after which sales dramatically improved and Raven's professional career as an author really took off. Since then he has gone on to produce more and more popular books each year.
In 2001 Raven received a 3rd degree initiation into Celtic Traditionalist Wicca and is a legally ordained clergy in their Church, the First Celtic Wiccan Church Inc. located in Escondido, CA. Later in 2009 he also received clergy ordination into the Trinacrian Rose Church, in Salem, Massachusetts (a church organization under the leadership of Lori Bruno, a well-known Sicilian witch who once trained with Dr Leo Martello (a hereditary Sicilian witch), and was the administrator of his estate when he passed away on the 29th June 2000). Raven resigned from the Trinacrian Rose Church in 2017.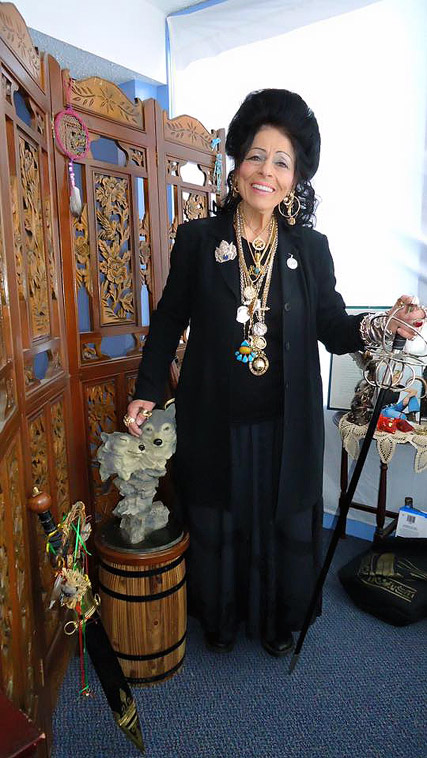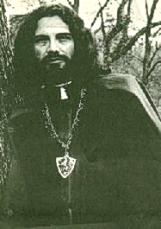 Lori Bruno
-

Dr Leo Martello

Over the years as a professional author with a speciality on Italian Witchcraft, Raven has come under criticism questioning his claim to a hereditary Italian Witch linage and the continuance of Italian folk-magic as passed down through the generations of their family tradition. In 2001 the well-known and respected Anthropologist Professor Sabina Magliocco wrote an article in the popular "Pomegranate Magazine", issue #13, entitled "Spells, Saints, and Streghe: Witchcraft, Folk Magic, and Healing in Italy", which was critical of his claims. After the article appeared Raven invited Magliocco to an interview with himself and his mother in person. After which she wrote a letter to the Pomegranate Reader's Forum that appeared in issue # 16, 2001 stating: "I had the pleasure of meeting Raven Grimassi during the summer of 2001, unfortunately after the final draft of my article had already been submitted to The Pom. He was very gracious and helpful to me. From information he revealed during our interview, I can say with reasonable certainty that I believe him to have been initiated into a domestic tradition of folk magic and healing such as I describe in my article".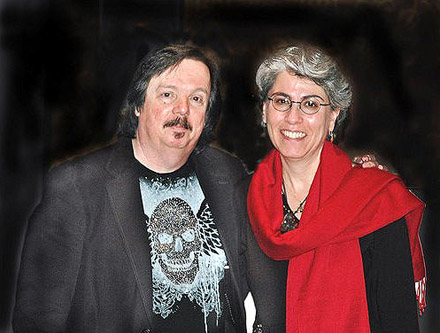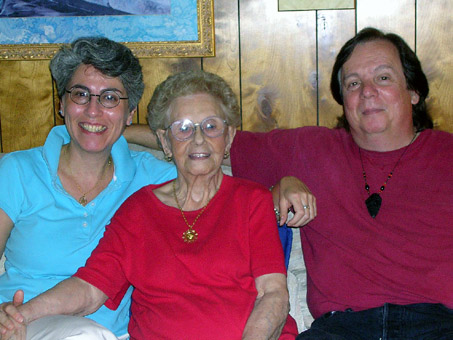 Photos courtesy of Raven Grimassi
Raven and Professor Sabina Magliocco - Professor Sabina Magliocco with Mum and Raven
In 2006, Raven founded the Ash, Birch and Willow tradition of Witchcraft as a non-cultural system rooted in our distant ancestors. As well as being a full-time author, when he's not writing he works as co-director of the Ash, Birch and Willow tradition. Raven also operates several Home Study Courses that are available through the Raven's Loft online store. He has appeared on television and radio interviews nationwide, in several short films on Witchcraft, and was a consultant for the pilot movie film called "Mind Forest". He also travels regularly and is a popular lecturer and guest speaker at festivals and conventions nationwide.
Raven currently lives in Springfield, Massachusetts with his second wife Stephanie Taylor. Stephanie is the co-author and creator with Raven of the "Well Worn Path Oracle kit" (2005) and "The Hidden Path Oracle Kit" (2007)" divination systems, she has co-owned and operated their physical shop "Raven's Loft" since 1998, first as a brick and mortar shop and now as an online web store.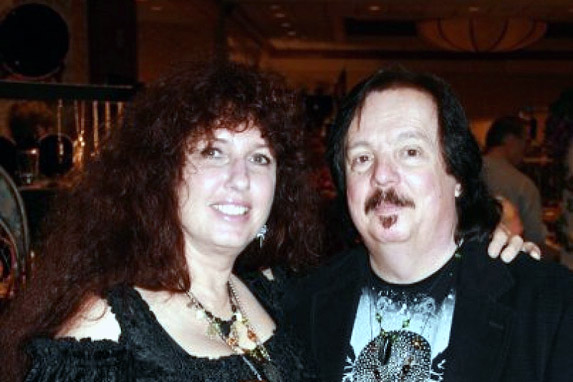 Photo courtesy of Raven Grimassi
Raven and Stephanie
Health concerns and disaster
In January of 2016, Raven was diagnosed with pancreatic cancer, terminal stage four, and was given 1 to 3 months to live if he did nothing, or 6 months to live if he under went chemotherapy treatments. In March that year he started the chemo treatments, which landed him in the hospital in a critical condition. At the time, during Easter 2016, doctors did not believe his condition could be turned around, but a year later as Raven relates: "Here it is a year later this day on Easter Sunday. Not only am I still alive, but my last two CT-Scans showed no visible traces of any tumors or signs of cancer anywhere in my body. All my blood work is completely normal".
Having survived that traumatic event in 2016, on the 27th of June 2017 lightning during a freak thunderstorm struck their house in Springfield, Massachusetts, causing a fire in the attic. The fire quickly spread through the third floor of their house until fire fighters were able to contain it. Sadly however, water from fighting the fire also severely damaged the rest of the house rendering it inhabitable. While the house was properly insured and is now in the process of being restored, it is expected to take up to a year to complete. In the meantime, Raven and Stephanie have settled into a rental property where he continues to write while Stephanie has restarted their website business Raven's Loft.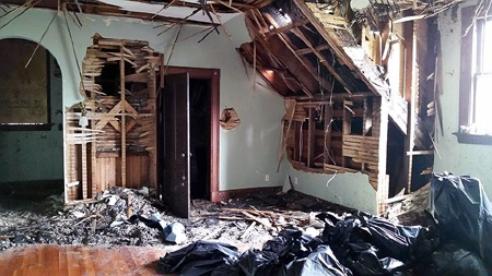 Photos courtesy of Raven Grimassi
Third floor fire damage
Having just come through and survived a near death cancer scare with all its additional medical expenses, and now to suffer the loss of their home and most of their possessions must have been a devastating experience. Their home was also the centre of their business Raven's Loft and their main source of income providing for their monthly living expenses (mortgage fees, travel expenses etc.). Raven's other source of income as an author, public speaker and teacher is also sure to be disrupted further reducing their already stretched finances. As such friends within the Pagan community have come together and created a fundraiser to help them cover initial immediate expenses like mortgage fees and other monthly bills, as well to replace some essentials like clothing and personal items until they can get back on their feet. It can be found here: https://www.gofundme.com/grimassi-postfire-support-fund where all donations will be gratefully appreciated.
Throughout his recent difficulties, Raven believes he has been supported by his belief in the Old God's, and that to persevere through adversity and not give up, good will eventually come from it (albeit with help from friends).
News Up-date:
Sadly today on the 11th March 2019 I was informed that Raven Grimassi had finally succumbed to his earlier illness 'pancreatic cancer' and died yesterday on the 10th March 2019. This from his wife Stephanie Taylor Grimassi:
"With great sadness I must announce that Raven Grimassi passed peacefully from this world on March 10th, 2019, and began his journey to the ancestors. After a long struggle with pancreatic cancer and the complications from its treatment, he stopped all treatment in December and chose to spend his last days at home, on his work, and visiting with family and friends.
Service will be at Hafey Funeral Service in Springfield, MA, where flowers of white and red roses can be sent or, in lieu of flowers, a donation in Raven's name can be made to the Temple of Witchcraft at templeofwitchcraft.org. Calling hours will be on Saturday, March 23rd, 2019 from 4:00 pm to 7:00 pm, followed by a memorial service at 7:00 pm to celebrate Raven's life and legacy.
Blessed be,
Stephanie Taylor Grimassi
May he rest in peace
Bibliography:
1981: The Book of the Holy Strega
1981: The Book of Ways Volume I and II
1994: Ways of the Strega /reprinted as Italian Witchcraft: The Old Religion of Southern Europe in 1995
1998: Wiccan Magick
1999: Hereditary Witchcraft: Secrets of the Old Religion
2000: The Encyclopedia of Wicca and Witchcraft
2001: Beltane: Springtime Rituals, Lore and Celebration
2002: The Wiccan Mysteries
2002: The Witches' Craft: The Roots of Witchcraft & Magical Transformation
2003: Spirit of the Witch
2003: The Witch's Familiar: Spiritual Partnership for Successful Magic
2004: Witchcraft: A Mystery Tradition
2005: Well Worn Path: Divination Kit (with Stephanie Taylor)
2005: Exploring the Pagan Path: Wisdom from the Elders
2007: Hidden Path: Divination Kit (with Stephanie Taylor)
2008: Crafting Wiccan Traditions
2009: The Cauldron of Memory: Retrieving Ancestral Knowledge & Wisdom
2011: Old World Witchcraft: Ancient Ways for Modern Days
2012: The Cimaruta and Other Magical Charms From Old Italy
2013: Horns Of Honor: Regaining the Spirit of the Pagan Horned God
2014: Grimoire of the Thorn-Blooded Witch
2016: Communing with the Ancestors
Sources:
http://raven-grimassi.blogspot.com/
http://wildhunt.org/tag/raven-grimassi
http://www.realmagick.com/articles/40/2240.html
http://www.witchcraftandwitches.com/witches_grimassi.html
http://www.llewellyn.com/encyclopedia/index.php
https://www.facebook.com/raven.grimassi/about?lst=100000916311130%3A1360389684%3A1519066793&section=bio&pnref=about
https://www.facebook.com/stephanie.taylor.79025
https://www.gofundme.com/grimassi-postfire-support-fund
My sincere thanks to Raven Grimassi for his help and co-operation in completing this bio-brief.
First published on the 09th March 2018 @ George Knowles


Best wishes and Blessed Be