The Magic of Rocks and Stones

Labradorite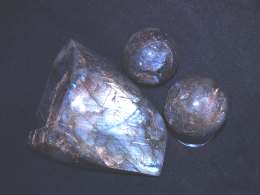 Written and compiled by - Patricia Jean Martin
Labradorite is a Plagioclase Feldspar found in magmatic igneous and metamorphic rock. Feldspars are extremely abundant in the Earth's crust, the most common varieties falling into two groups - the Alkali Feldspars and the Plagioclase Feldspars.
Plagioclase Feldspars (also called Soda-Lime Feldspars) form in a series from "pure sodium to pure calcium end members as follows: Albite - Oligoclase - Andesine - Labradorite - Bytownite - Anorthite." The first to crystalize from high temperature molten rock are the calcium rich Plagioclase Feldspars. As a molten mass cools, the sodium becomes concentrated, and the final Plagioclase Feldspar (Albite) then forms. Labradorite lies somewhat in the middle of this series.
Discovered in 1770 on St. Paul Island, Labrador, Canada, Labradorite was named for this site - a locale famous for producing the variety of stone containing the iridescent schiller effect - in this instance called "labradorescence".
Typically gray to black in color, Labradorite often reveals its iridescent display in either violet, blue, green, gold, orange, yellow or red color, or a combination of these. Like its sister the Moonstone, the iridescence, or labradoresence, of Labradorite is caused by thin parallel layers (called lamellae) within the stone. These lamellae result from the separation and layering that takes place when chemistries change as high temperatures cool. The layers formed then reflect the light that enters the stone but before doing so will refract it back and forth through the various layers, scattering it, until it emerges from the stone at a different wavelength than what it originally entered at; this is called diffraction. The new wavelength will be the wavelength of a different color. If layers are too thick or too thin, or if not viewed from the precise angle that will diffract the light, then no labradorescence will be visible.
High-grade specimens of Labradorite containing various colors of the spectrum, originally discovered in Finland in the 1940s, share the name Spectrolite.
General Information:
Chemistry: (Ca,Na)(Si,Al)4 O8 - Calcium Sodium Aluminum Silicate.
Class: Silicates.
Subclass: Tectosilicates.
Group: Feldspars - Plagioclase series.
Color: Usually gray to gray-black, but also gray-white, white, colorless, light green or yellow, and all often exhibiting a labradorescence (schiller) in shades of blue, violet, green, yellow, orange to gold, or brown, singly or in a combination of colors. Opaque to translucent; in rare cases transparent.
Luster: Dull to Vitreous (glassy).
Crystal System: Triclinic.
Crystal Habit: Cleavable masses. Rarer crystals occur as rough, well-formed, blocky crystals, often found embedded in igneous rocks with low silica content. Granular, typically occurring as irregular to euhedral crystals in matrix. Often striated on cleavage or crystal face. Twinning is common, anywhere from fractions of millimeters to several millimeters thick.
Cleavage: Perfect in one direction and good in another direction, forming near right angled prisms. Poor in a third direction.
Fracture: Conchoidal to uneven.
Hardness: 6.0 - 6.5
Specific Gravity: 2.5 - 2.9
Streak: White.
Other Characteristics: Labradorescence common in flashes of blue, violet, green, orange, gold or yellow. Index of refraction is 1.55 - 1.75.
Notable Occurrences: Labrador, Canada; Scandinavian Peninsula; Russia; Greenland; New South Wales, Australia; United States; Madagascar.
Best Field Indicators: Specific gravity, color and labradorescence, hardness, fracture.
Uses: Mineral specimens, ornamental stone, jewelry.
Myth & Lore:
In the myths of the northern people, Labradorite is thought to have fallen from the Aurora Borealis (the Northern Lights) and has been connected to ancient magickal practices by many from that region. Eskimos believed that the Northern Lights were once trapped in the rocks off the coast of Labrador, but were set free into the air by one of their ancestors who broke one of the rocks with his spear - some of the lights, however, remained trapped in the stone which we now call Labradorite. The Finnish often buried pieces of Labradorite in their fields as an offering to the spirits of the land. Artifacts found in Maine, and dating to around the year 1000, show the use of Labradorite by the Algonquin tribe of that time. One black iridescent variety of the stone, called Spectrolite and which hails from Finland, has been nicknamed "The Shaman's Stone". Labradorite has also been called "Black Moonstone".
Another common myth surrounding Labradorite says that those who are attracted to this stone have ancestral roots in Atlantis, whereas those who are attracted to the stone Angelite have ancestral roots in Lemuria.
It is said that to help one "hear the message of spirit guides," one should wear earrings made of Labradorite. To bring clearer and greater visions, the stone should be placed on one's Third Eye during meditation. Worn as a ring, it is said to better facilitate the "sending and receiving of magick". This stone is also said to assist in invoking the elementals. Perhaps its most important aid is that it is said to help one realize and achieve one's destiny.
Metaphysical Properties:
Astrological Sign's: Scorpio, Sagittarius, Leo
Element's: Water
Chakras: Brow (Third Eye)
Magick.
Self-discovery.
Inspiration.
Intuition.
Insight.
Clairvoyance.
Clarity of perception.
Ancient wisdom.
Transformation.
Shape shifting.
Knowledge.
Discovery.
Resourcefulness.
Courage.
Vitality.
Protection.
*Gives physical aid in treating: Immune deficiencies; metabolism; disorders of the brain; gout and rheumatism; improves night vision; relinquishes psychological co-dependency; stress.
*NOTE: Stone therapy should NOT take the place of medical evaluation and procedures, and should be used merely as an aid to enhance one's health and well-being.
My own thoughts and experiences:
Where airy Seraphinite is a new love of mine, Labradorite is an old watery love and has remained one of my very favorite stones. The beauty of its labradorescence is captivating, and, like a siren, will tantalize and call to you to come delve into its watery depths. Its true beauty lies within, just as it does in all of us. And just as one cannot (and should not) judge a book by its cover, so it is with this fantastic stone, where one moment you may be looking at a fairly nondescript blackish-gray rock, but in another a dazzling display of color and inner light.
This unique visual quality of the stone can be related to how we may at times view a problem or cope with boredom. At times things may look dark and dreary. But if we just step aside for a moment, shift our perspective and look deeply into the inner realm, there beneath the surface glows the true colors - the inner light. From here, we will invariably begin to see things in a new and exciting way as we awaken to the possibilities. And this is exactly what Labradorite does. It awakens you to all the possibilities, along with awakening you and coaxing you toward your fullest potential.
Said to bring both good luck and courage to the bearer, Labradorite enhances a person's insight, perception and ability to capture psychic wisdom, and then has the uncanny ability to help connect all that to the intellect. This can bring about the courage, as the wisdom is bolstered by the knowledge of what to do with it. The good luck comes as a result of being more aware, and thus making better decisions and having a finer focus on things. Labradorite can, and does, give you a clearer vision on which paths to take in order to blossom into the fullness you were meant to blossom into.
I can also see why this stone has been labeled "The Shaman's Stone". Trance work is very easy with Labradorite and it tends to take you on a journey. Peering into this stone is like diving deep into the ocean, where underwater you find a new world rich with form and color, alive with vivid corals and labyrinth kelp — a place teeming with odd and unfamiliar creatures, weirdly shimmering landscapes and shifting sands. It is a most enchanting place, although it can be both exciting and frightening at times, as now you realize it's become a journey of discovering the magick in you. But like the stingray lying in wait, hidden and camouflaged beneath a layer of sand that reflects the illusion of the water's wavering surface, the sudden and radiant gift of awakening prods the resting creature to swiftly uncover itself and swim into the light.
This is the gift of Labradorite. A beautiful stone, and one well worth looking into.

Sources:
"Love Is In the Earth" ~ Melody
"The Illustrated Directory of Healing Crystals" ~ Cassandra Eason
"The Book of Stones" ~ Robert Simmons & Naisha Ahsian
http://www.mineralminers.com/html/labminfo.htm
http://mineral.galleries.com/minerals/silicate/labrador/labrador.htm
http://webmineral.com/data/Labradorite.shtml
Photos by: Patricia J. Martin

© 2006 Patricia J. Martin

Best wishes and Blessed Be