The Magic of Rocks and Stones

Sodalite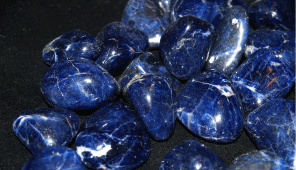 Written and compiled by - Patricia Jean Martin
The name Sodalite reflects this mineral's Sodium content and was named by a Glasgow chemist, Professor Thomas Thomson, who had been hired by the British to identify the stone after they had captured a shipment of it being sent from Greenland to Denmark during the Napoleonic Wars. Although first discovered and recorded in 1806 in Greenland, it took until 1891 for this attractive deep blue stone to become important in the world of ornamental stones. It was then that it was found in vast deposits in Ontario, Canada, by Frank D. Adams, during the Geological Survey of Canada. Later, as it was chosen as an interior decoration for the Marlborough House in England by Princess Patricia who had been visiting Ontario at the time and who had fallen in love with the stone, many began to refer to it as "Princess Blue". Sodalite has also been called "Canadian Blue Stone" or simply "Bluestone".
Sodalite is a beautiful deep royal blue color and usually contains white or grayish colored inclusions of Calcite. It has been likened to Lapis Lazuli and Lazurite, and in fact is called "the poor man's Lapis", but Sodalite is a slightly different color blue and rarely contains the Pyrite that is common in Lapis, making it easier to tell them apart. Another way to differentiate between the two stones is through the streak test. Where Lapis will streak blue, Sodalite will streak white. Both Sodalite and Lazurite may be common constituents of Lapis, though, and in that instance may be much harder to tell apart. While most often blue, Sodalite can also be found in gray, green, yellow or pink, and all frequently mottled with white Calcite veins. Its poor cleavage in six directions is apparent by the common occurrence of cracks seen running through the stone. A rare and highly sought after transparent variety of Sodalite is found in Namibia and in the lava beds of Mt. Vesuvius, Italy.
An unusual variety of Sodalite, called Hackmanite, when first quarried is a violet to red color that will gradually fade in sunlight to a white or green. This is called tenebrescence. Tenebrescence is a reversible photochromism, meaning the mineral exhibits the ability to turn a different color when exposed to the Sun and may be brought back to its original color when kept in the dark - behaving similarly to the self-adjusting sunglass lens that darkens in sunlight. Hackmanite will return to its violet or red color if placed in the dark for a period of time. The most notable occurrence of Hackmanite is in Greenland which produces a green variety nicknamed "Chameleon Sodalite".
Typically occurring in massive or granular form, Sodalite is found in veins in dry plutonic igneous rocks such as nepheline syenites pegmatites, phonolites, or related rock types. Isometric Sodalite structures rarely produce crystals.
General Information:
Chemistry: Na8Al6Si6O24Cl2 - Sodium Aluminum Silicate Chloride.
Class: Silicates.
Subclass: Tectosilicates.
Group: Sodalite and feldspathoid groups.
Color: Rich royal blue with white or gray veins, patches or streaks common. Also colorless, white, gray, green, yellow, pink or violet.
Luster: Vitreous to greasy.
Crystal System: Isometric.
Crystal Habit: Massive; rarely dodecahedrons.
Cleavage: Poor, in six directions, but rarely seen.
Fracture: Uneven, brittle, conchoidal. Brittle fracture produces small, conchoidal fragments.
Hardness: 5.5 - 6.0.
Specific Gravity: 2.27 - 2.33
Streak: White.
Other Characteristics: Massive specimens are opaque, but rare crystals are transparent to translucent. Sodalite is the only feldspathoid to give a positive chlorine test when dissolved in a HNO2 dilute solution.
Notable Occurrences: British Columbia and Ontario, Canada; Maine, U.S.; Italy; Brazil; Greenland; Namibia; Norway.
Best Field Indicators: Color, hardness, fracture.
Uses: Mineral specimens, ornamental stone, jewelry.
Myth & Lore:
Fairly new to the cataloging of stones, Sodalite does not have an abundance of myth or lore attached to it. What I have found, though, is that it has been labeled the "Stone of Truth", as it is said to make one speak the truth... not so much as in opposition to lying, but rather in its ability to help one clear any confusion and to distinctly get to the truth of a matter. Sodalite, like Lapis Lazuli, has also been called the "Wisdom Stone" as it is believed to foster wisdom, knowledge and communication thereof.
Sodalite is often used by athletes, as the stone is said to aid and prolong physical endurance. It is also said that it awakens the Third Eye, allowing for greater acknowledgement and usefulness of one's own intuition.
Known for enhancing communication skills, Sodalite is also an excellent stone for healing rifts in relationships, solving dilemmas and ending arguments, making it well-suited for mediators by creating a wider perspective. The stone is said to promote trust.
Metaphysical Properties of Sodalite:
Astrological Sign's: Sagittarius.
Element's: Air and Water.
Chakras: Throat and Brow.
Peaceful calming and stabilizing.
Calms fears.
Clearing.
Focus.
Meditation.
Logic.
Self-esteem.
Wisdom and intellect.
Balancing with a slight grounding.
Communication in group work.
Unifies toward a common purpose.
Enhances creativity.
Conscious living.
Awareness and perception.
Unites logical with spiritual.
*Gives physical aid in treating: Nervous System. Helps balance metabolism; aids in manufacturing insulin to stabilize diabetes. Boosts immune system and lymphatic system. Glandular problems; stabilizes thyroid. Eliminates confusion, anxiety, fear; relieves stress, aids in alleviating Attention Deficit Disorder, migraines and headaches, and sleep disorders. Useful for stomach disorders. PMS, cramps. Calcium deficiencies.
*NOTE: Stone therapy should NOT take the place of medical evaluation and procedures, and should be used merely as an aid to enhance one's health and well-being.
My own thoughts and experiences:
There are two things that I immediately feel whenever I come in contact with a piece of Sodalite. One is a sudden intense clarity, delivered like a bolt out of the blue (pardon the pun), but which is imparted with such an intense calmness (pardon the oxymoron) that it leaves me somewhat stunned. "How can one stone combine these two experiences that one would not think normally go hand-in-hand?," you may find yourself asking. It's almost a dichotomy - this jolting sense of crystal clarity amidst a bed of calm.
The second immediate feeling from Sodalite is that, from the calm crystal clarity, I'm left with the sense that my intuition has been strengthened and heightened. This bestows better ability to rationalize and understand the unseen, thus diminishing any fear or doubt one has been grappling with. There is also, thus, a gain of confidence on how to proceed with what has been sensed and perceived, as it brings together the conscious and subconscious mind. Sodalite does alleviate (and can even eliminate) fear. And for all of the above reasons and through experience, I've found this deep blue stone tremendously useful in meditation, for embarking on any shamanic journey, for dreamwork, or for working in the Astral realm.
Sodalite behaves very similarly to Lapis Lazuli - which is not surprising, as they both have very similar chemical makeups and as Lapis may often contain Sodalite - but there is a noticeable difference. Where the Lapis seems to hold a higher station or status leaving one with the impression that it is best used for the types of works associated with the Brow (Third Eye) and Crown Chakras, the Sodalite performs at a slightly lower level (meaning slightly more temporal than ethereal) and best suits the workings associated with the Throat and Brow Chakras.
For those not familiar with the 7 major Chakras of the body, here is a very brief description of what they are and a bit of information on each, starting with the highest 7th Chakra (Crown) and working downward toward the lowest 1st Chakra (Root), along with what color is associated with each, what their Hindu name is, what areas of the body they are located, and their symbol:
Chakra - from the Sanskrit word "cakra" meaning "wheel" or "circle", and defined as a wheel or vortex of energy according to yoga philosophy. Typically noted are seven of these energy centers (although there are said to be many more) in the body, in the form of spinning wheels. They actually do correspond to five main nerve centers of the spinal column and two main areas of the brain. "The Chakras are thought to vitalize the physical body and to be associated with interactions of a physical, emotional and mental nature. They are considered loci of life energy, or prana, (also called shakti, or chi), which is thought to flow among them along pathways called nadis. The function of the Chakras is to spin and draw in this Universal Life Force Energy to keep the spiritual, mental, emotional and physical health of the body in balance." (1)
7 - Crown - Violet (or White or Clear) - Sahasrara - Thought Element - Consciousness, connection to the divine, wisdom, knowledge. Located at the top of the head. Symbol: a lotus with a thousand petals.
6 - Brow (or Third Eye) - Indigo - Ajna - Light Element - Psychic and extrasensory perception, intuition, imagination. Located at the forehead; the Third Eye. Symbol: a lotus with two petals.
5 - Throat - Blue - Vishuddha - Sound Element - Communication, resonance, self-expression. Located at the throat. Symbol: a lotus with sixteen petals.
4 - Heart - Green (or Pink) - Anahata - Air Element - Unconditional love, compassion, devotion, balance, relationships, healing. Located at the heart. Symbol: a lotus with twelve petals.
3 - Solar Plexus - Yellow - Manipura - Fire Element - Personal power, vitality, self-esteem, purpose. Located at base of breastbone above the naval. Symbol: a lotus with ten petals.
2 - Sacral (or Navel) - Orange - Swadhisthana - Water Element - Sexuality, emotions, desires, creativity, earthly sensations. Located in the lower abdomen, sexual organs. Symbol: a lotus with six petals.
1 - Root - Red (or Black) - Muladhara - Earth Element - Instinct, survival, physicality, dynamic presence, stability, grounding. Located at the base of the spine; below sexual organs. Symbol: a lotus with four petals.
With Sodalite feeling well-placed on both the Throat and Brow Chakras and what they stand for, it lends its energies very well to bringing an ease of verbalization to what the mind conjures. For this reason, I imagine it would be an excellent stone for writers. With its ability to clarify, it also produces crisp, clear reasoning to issues that may have become clouded over time.
I think this stone is excellent for use in meditation, as it tends to not only clear your mind of those extraneous thoughts, but allows for clear mental visions. It is a very peaceful stone, but vibrantly clear in how it communicates. A true cool, calm, and widely collected stone.
For physical healing, at the time of this writing, I am using Sodalite along with my prescribed medication to assist in regulating my thyroid. Along with this, it's produced some very vivid and telling dreams.

Sources:
"Love Is In the Earth" ~ Melody
"The Crystal Bible" ~ Judy Hall
"Stones Alive!" ~ Twintreess
http://webmineral.com/data/Sodalite.shtml
http://www.llewellynencyclopedia.com/term/Sodalite
http://gwydir.demon.co.uk/jo/minerals/sodalite.htm
Photo by: Patricia J. Martin

© 2006 Patricia J. Martin

Best wishes and Blessed Be