A Samhain Ritual

By Crone
The altar should be set with a black cloth, a smoldering cauldron, black votives at the corners or at direction altars, with a single white taper at the center. Adorn the central altar and direction altars with arrangements of dark dried flowers, reeds, and grasses. A figure of the goddess as crone should be present. (This can easily be made from a black scarf or cloth.) Wear a dark robe with a hood. If a loved one or beloved pet has made the transition to the Summerland during the year, you may choose to include a small photograph on the altar. Near the cauldron, have a bowl with a few short sturdy twigs and dried leaves.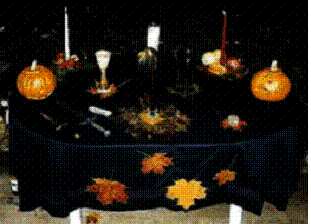 From: http://clubs.users.cnu.edu/peso/Holidays.htm
Grounding and Centering:
Focus on your altar and the meaning of this season with these words:
"Within the cycle of life, there comes a time when the light is dim and energy has retracted. It is a time to honor our dead and those in their declining years. It is a time to look forward to the life that grows ever out of death."
Cast the Circle deosil with athame or wand extended, repeating this chant:
"Crone and sage, crone and sage,
Wisdom is the gift of age.
Hoof and Horn, Hoof and Horn,
All that dies shall be reborn."
After returning to the altar, invoke the spirits of the directions, lighting the black votive on the direction altar or on that corner of your main altar with these words:
"Spirit of East I do invite
To join my circle in dark of night.
Your Air now brings me winds so chill.
My rushing life becomes quite still.
My thoughts and words in somber quest
Invoke you now with all the rest.
Spirit of South I need your light.
I need your warmth on this dark night.
I beg you, make the shadows go.
I seek creative passion so.
Be with me on this night so black
With fire and heat which now I lack.
Spirit of West, of water clear
Please join me; bring your presence near.
I need your insight as I strive
To reckon death, then be alive.
I need your feelings deep and strong
To move me like a sacred song.
Spirit of North, of sacred Earth
Be here through death and through rebirth.
Nurture me in this awesome task
Here in the dark, is what I ask.
As darkness deep within is found,
Please join me on your hallowed ground.
Goddess, Crone of the dying light, of the death of the year,
Be with me as I honor the close of a cycle.
Bless me with your wisdom as the end draws near.
I request your presence and your reassurance
That the end is but another beginning;
That as the light goes, yet it will come again;
That death brings with it the promise of life to come.
Guide me that I might know your gift for my loved ones,
That they will rest and be reborn, refreshed and renewed.
I am now in that place,
In that sacred space between the worlds.
I am where my ancestors have gone.
I am where my loved ones watch me.
I am in a world beyond time
Where the goddess guides me
Where I am one with the world
Where I open my heart and mind
Where I love and learn.
Blessed be."
Honoring those who have gone on to the Summerland:
If you have a photograph on your altar, hold it close, or hold in your heart a loved one who has made the final transition. If you have no one in your life who has made this transition, honor the many lives wasted in war and crime. Say these words:
"Do not stand at my grave and weep
I am not there, I do not sleep
I am a thousand winds that blow
I am the diamond glints on snow
I am the sunlight on ripened grain
I am the gentle autumn rain
When you awaken in the morning's hush
I am the swift uplifting rush
of quiet birds in circled flight
I am the soft stars that shine at night.
Do not stand at my grave and cry
I am not there. I did not die."
("I Am Not There" - This poem or elegy has been attributed to Mary Elizabeth Frye 1932).
Magickal Working:
Samhain marks the New Year. You have looked back at losses of the past. Now look ahead. As you look to the New Year, you must look within. Take a twig from the bowl and holding it in your hands focus on a strength you have which you would take with you into the New Year. Say these words as you drop the twig into the cauldron:
"I am strong and empowered by my ______. As this twig adds power to the flames I know my ______ adds to the strength of those I touch."
Take a dry leaf from the bowl, and holding it in your hands, focus on something of yourself you would leave behind with the passing year. Say these words as you drop the leaf into the cauldron:
"Be gone from me, ______. I have no use for you in my life. As this leaf turns to ash in the flame, so _______ burns and is gone."
Light the white candle while focusing on an attribute or skill you wish for yourself in the coming year. Look into the flame as you say these words:
"My wish is for ______. I know a wish alone will not bring this to me. I am empowering myself here and now to take steps in the new year to create for myself this ______.
I face the New Year with joy and love,
Things to keep, to acquire, to be free of.
To insure that the magick will come true,
I will help it happen in all that I do."
Opening the Circle:
"Thank you Goddess Crone for your presence here.
I ask you always to be near.
On this night and in this hour
I have felt your magick power.
I thank directions spirits all
For coming with my opening call.
You are of the goddess; go with her now.
My thanks for your presence during my vow.
Thanks for her sweet breath which is air,
And thanks for the fire, her spirit fair,
Thanks water which fills her place of birth,
And thanks for her body, our sacred Earth.
I go forth from this sacred space
Into the New Year
Empowered to be more
Than I have been.
So mote it be and blessed be."

© October 2009 Darkhairedcrone
First published in The Controversial Cauldron - the group newsletter of Email Witches
Crone is an active member of the UU (CUUP's) and has been a member of Email Witches since 2004

Best wishes and Blessed Be