The Magic of Rocks and Stones

Lapis Lazuli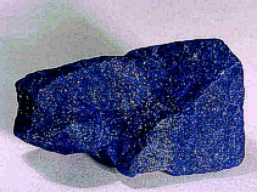 Written and compiled by - Patricia Jean Martin
Lapis Lazuli (or Lapis for short) is a rock and not a mineral because it is made up of various other minerals. It is composed of a mixture of several minerals including mostly Lazurite, Pyrite, Calcite and Diopside, along with possible inclusions of Sodalite, Huaynite, Noselite, Mica, Augite or Hornblende in small amounts. Lapis usually occurs in crystalline limestones as a result of contact metamorphism.
The name Lapis Lazuli comes from a variety of words meaning "blue" (azure) or "heaven": the Latin "lazulum", stemming from the Arabic "lazaward", and the Persian "lazhward" constitute the Lazuli part. The first part of the name, Lapis, is of Latin origin meaning simply "stone". And this stone was named after its likeness to the heavens and of course because of its color -- a brilliant deep blue (due to the sulfur content in the Lazurite) which is usually speckled or veined with small flecks of yellow-gold color from its most common mixture with Pyrite (Fool's Gold) or white streaks from its mixture with Calcite or other minerals.
Lapis Lazuli is a semi-precious stone valued for its deep blue color and durability. Though too many white streaks of Calcite will lower the value of the stone.
General Information:
Chemistry: (Na, Ca)8 Al6 Si6 (O,S)24 [(SO4),Cl2,(OH)2], Sodium
Calcium Aluminum Silicate Sulfur Sulfate (with usual inclusions of Pyrite and Calcite).
Class: Silicates
Subclass: Tectosilicates
Group: Both the Sodalite and Feldspathoid groups.
Color: Deep brilliant blue or violet-blue with golden flecks or veins, and occasionally white streaks.
Luster: Dull to greasy. Translucent to opaque.
Crystal System: Isometric; bar 4 3/m
Crystal Habit: Massive as a rock (Lapis Lazuli) forming mineral, but dodecahedral crystals have been found of Lazurite.
Cleavage: Poor. In six directions, but rarely seen.
Fracture: Uneven.
Hardness: 5.0 - 5.5
Specific Gravity: 2.3 - 2.4 (somewhat below average, but shows higher with increased Pyrite content).
Streak: Bright Blue.
Other Characteristics: Index of refraction is 1.5.
Notable Occurrences: Kokcha River Valley, Afghanistan; Ovalle, Cordillera, Chile; Lake Baikal, Russia; Mt. Vesuvius, Italy; Cascade Canyon, San Bernardino Mountains and Ontario Peak, California and in the Sawatch Mountains, Colorado, USA.
Best Field Indicators: Violet-blue color, Pyrite inclusions, locality and specific gravity.
Uses: Jewelry; Ornamental; Pigment; Mineral specimens.
Myth & Lore:
Mines, in what is known as the Badakshan area of Afghanistan today, were being worked for Lapis at least six thousand years ago. This source of Lapis may be the oldest continually worked set of mines in the world, as the same mines operating today supplied the sought-after stone to the pharaohs. Believed to have occult powers, Lapis Lazuli was often made into amulets and talismans. In Ur, kings were known to sharpen their swords on it, believing from this they would become invulnerable. The stone was also used by the Assyrians and Persians for making seals.
The Sumerians believed that Lapis Lazuli contained the spirits of the deities. In ancient Egypt it was often used as an inscription stone for various passages from "The Book of the Dead" wherein the 140th chapter it states that Lapis in the shape of an eye and set in gold was an amulet of great power. Egyptians regarded it as the stone of the gods, partly because it reminded them of the starry heavens, but also because, as shown in the Papyrus Ebers, it had medicinal properties that improved eyesight when worn in the form of the Eye of Horus amulet or when powdered around the eyes as many Egyptian did.
Lapis Lazuli was one of the stones in the "Breastplate of Judgement" of Aaron, as described in the Bible. In ancient times, Lapis Lazuli was known as Sapphire (not to be confused with today's blue corundum variety Sapphire). Ancient writers such as Pliny refer to "sapphirus" as a stone speckled with flecks of gold -- obviously a reference to Lapis Lazuli.
Long ago, Lapis was used to make the pigment called Ultramarine, which literally meant "beyond the sea". It was used by medieval artists for the blue cloak of the Virgin Mary. Due to its rarity and expense, today that color pigment is usually now synthetically made.
Metaphysical Properties:
Astrological Sign's: Sagittarius, Aquarius
Chakras: Brow and Crown
Opens the Third Eye.
Awakens the intuition.
Enhances insight and awareness.
Brings knowledge and wisdom.
Increases vibrational level.
Connects to Spirit.
Helps in meditations and dream work.
Promote peace.
Harmonizes and balances.
Protective.
Blocks psychic attack.
*Gives physical aid in treating: Fevers. Headaches and migraines. Alleviates pain. Depression and melancholy. Anxiety. Insomnia. Vision and hearing problems. Disorders of the throat, lungs and immune system.
*NOTE: Stone therapy should NOT take the place of medical evaluation and procedures, and should be used merely to enhance one's health and well-being.
My own thoughts and experiences:
Lapis Lazuli is my "Awareness" stone. Whenever I am not quite getting the whole picture on something that is remaining obscure to me for some reason...that's the time I grab the Lapis. And I had to make use of this stone just recently for that very reason.
Known for imparting ancient knowledge and (just as important) the wisdom on how to use that knowledge, Lapis is very helpful in bringing you into that state of awareness where you can better connect with your Higher Self or communicate with your Spirit Guides. Rich and highly stimulating, it's easy to quickly feel the intense and royal powers of the stone lift you to new heights of thought, consciousness and awareness.
I've used Lapis in ceremonial Ritual...during meditations...and sometimes I'll place a small piece inside my pillowcase at night if I'm having trouble remembering my dreams, or if I want to increase the amount of or vibrational level of my dreams. It is really useful when seeking particular knowledge in an area in which you feel befuddled or confused. The crisp, clear, stellar answers come to you like a beacon in the night.
Feeling that the stone was the best of the best when it came to spiritual stones, the "Sleeping Prophet", Edgar Cayce, recommending carrying a piece of Lapis Lazuli with you at all times wherever you go. I used to. And I think it's time I go back to doing just that.

Sources:
"The Illustrated Directory of Healing Crystals" ~ Cassandra Eason
http://mineral.galleries.com/minerals/silicate/lazurite/lazurite.htm
http://www.mineralminers.com/html/lapminfo.htm
http://en.wikipedia.org/wiki/Lapis_lazuli
http://gwydir.demon.co.uk/jo/minerals/lapis.htm

© 2006 Patricia J. Martin

Best wishes and Blessed Be