Pagan Pioneers: Founders, Elders, Leaders and Others
Margaret St Clair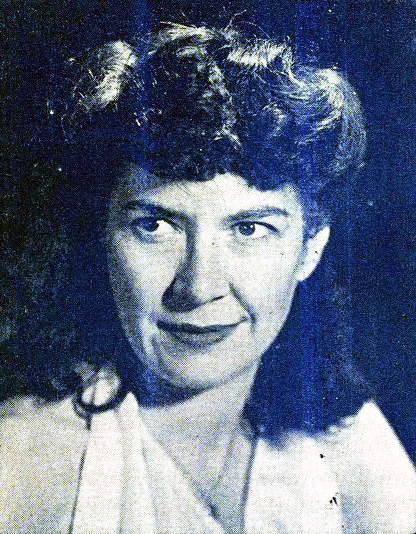 Written and compiled by George Knowles
Margaret St. Clair was an American science fiction writer and novelist who wrote using the pseudonyms Idris Seabright and Wilton Hazzard. Initially writing short detective stories for popular pulp magazines during the 1940's, St. Clair also penned nine science fiction novels, the most popular being the "Sign of the Labrys", which had an early influence on American contemporary Wicca/Witchcraft and Paganism.
Margaret St. Clair was born Eva Margaret Neeley in Hutchinson, Kansas, on the 17th February 1911. She was the second child born to George Arthur Neeley, a Kansas lawyer and politician, and Elvira "Eva" Margaret Hostetter, a Kansas schoolteacher. The Neeley's first-born child was George Newland Neeley, but sadly he only survived for 29 months (05th August 1905 – 22nd December 1907), cause of death is unknown. Just a year after her own birth, her father served two terms as a Democratic member of the U.S. House of Representatives (1912-1915). Raised as an only child in Kansas, Margaret later described her childhood as being "a rather lonely and bookish one".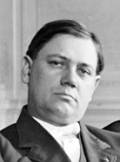 George Arthur Neeley
On the 01st January 1919 Margaret's father died, but left his family fairly well provided for, which in turn allowed her mother to afford her a decent education. At about the same time as her father passed, she began reading science fiction, beginning her life-long fascination with the genre. After finishing high school at the age of seventeen (1928), she and her mother moved to California and there she enrolled at Berkeley University to study the Classics. Graduating in 1932, she remained in Berkeley where she met and married her future long-time husband, the children's author Raymond Eric St. Clair. In 1934 she earned a Master of Arts in Greek Classics. The St. Clair's lived a comfortable life in a large house with an extensive library up in the hills with panoramic views over Richmond, California, and their Margaret enjoyed gardening and breeding dachshund puppies.
Raymond Eric St. Clair was born on the 30th July 1903 in Upland, California. Eight years older than his wife he had worked variously as a statistician, social worker, horticulturist, shop fitter and a laboratory assistant in the Berkeley University Physics Department; he also published numerous short stories and magazine articles and was perhaps the leading American writer of children's stories about "Bears", selling close to 100 of them. Sadly Eric St. Clair passed away on the 10th March 1986 in Mendocino County, California.
Margaret began writing in 1945, and in 1946 had her first science fiction story "Rocket to Limbo" published in the magazine Fantastic Adventures. From then on she began publishing in a variety of magazines, including Thrilling Adventure Stories and Startling Stories amongst others. Sometimes she wrote using the pseudonyms Idris Seabright and Wilton Hazzard. Her most creative short story period was during the 1950s, when she wrote such acclaimed stories as "The Man Who Sold Rope to the Gnoles" (1951), "Brightness Falls from the Air" (1951), "An Egg a Month from All Over" (1952) and "Horrer Howce" (1956).
For inspiration Margaret drew on her education in the Classics and her knowledge of Greek myths, as in "Mrs. Hawk" (1950), a modern update of the Circe myth, and "The Bird" (1951), about a modern man's fateful encounter with the mythical phoenix, also "The Goddess on the Street Corner" (1953), in which a down-on-his-luck wino meets an equally vulnerable Aphrodite. Three of her short stories were later adapted for television. "Mrs. Hawk" was filmed as "The Remarkable Mrs. Hawk" for a 1961 Thriller with Jo Van Fleet in the title role. "The Boy Who Predicted Earthquakes" (1950) and "Brenda" (1954) were filmed as segments of the 1971 season of Rod Serling's Night Gallery.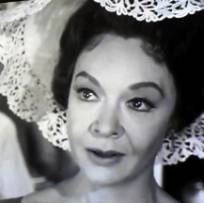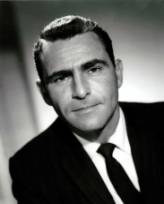 Jo Van Fleet as The Remarkable Mrs. Hawk
-

Rod Serling - American TV producer

Margaret is later quoted as saying: "I first tried my hand at detective and mystery stories before finding my niche writing fantasy and science fiction for pulp magazines. Unlike most pulp writers, I had no special ambitions to make the pages of the slick magazines. I feel that the pulps at their best touch a genuine folk tradition and bookhave a balladic quality which the slicks lack." She largely stopped writing short stories in the late 1950s (which by her own count then totalled over 130) to concentrate on writing novels.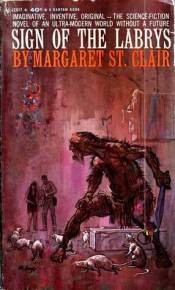 Margaret's forth novel -

"Sign of the Labrys"
Between 1956 and 1973 Margaret authored nine novels. One of her most highly regarded novels the "Sign of the Labrys" (initially published by Corgi in 1963) was notable for its early use of Wicca elements in fiction. Based on post-apocalyptic events that take place 10 years after 90% of humanity, animals and natural plant life had been wiped out as a result of toxic yeast released from a government research station. Those that survive the resulting plague live in large underground complexes initially built to withstand a nuclear war that never came.
As society breaks down and all government control is lost the main character of the book, a 25-year-old Sam Sewell appears. Sewell lives alone near the top of a multilevel subterranean cave complex along with thousands of other people (but since the plague most survivors can't stand being in close proximity to others and steer clear of each other), he only ventures to the surface to help dispose of dead bodies. One day he returns home to find a mystical ring and a note from someone called Despoina, believed to be the High Priestess of an old Witch Cult living in the lower levels of the cave complex. He soon finds that other people are interested in him when he sees the sign of a Labrys (a double-headed fighting axe) on the cave walls, and mysterious figures begin whispering "Blessed be" out to him from the darkness. He then receives a visit from an agent of the FBY (Federal Bureau of Yeasts? a menacing government agency that believes Despoina may have the ability to cure not just the lingering plague, but also to right the dysfunction it has brought on society). Sam therefore embarks on a journey into the lower levels of the cave complex in efforts to locate her and determine the truth.
On his way down to the next level of the complex, he encounters a mycologist named Kyra doing research on what remains of government laboratories in her sector. Kyra is also a practising Witch and begins to teach Sam some of the alleged powers of witchcraft. Through the use of mirror gazing and narcotics, she is able to help him into a past life regression where he has visions of a past Pagan lifestyle dancing around a fire celebrating nature through a Goddess and God. She's also able to lead him into the next level of the complex so to continue his journey. However, each successive level down becomes more dangerous and weird than the last as he encounters mad scientists, a herd of white rats and countless blind alleys filled with technological and human detritus. He also finds evidence of an older world, one that preserves the ancient teachings of Pagan Witchcraft. As he works his way through the complex, Sam finds himself not just seeking out Despoina, the High Priestess of the old Witch Cult, but also his own forgotten Pagan past that is the key to humanity's future revival.
Margaret later wrote that the book was: "primarily inspired by Gerald Gardner's books on witchcraft." Her researches into witchcraft led her into a friendship with Raymond Buckland, who three years after the book was published, in 1966 initiated both the St Clair's into contemporary Wicca then sweeping across America, Margaret taking the craft name "Froniga" and Eric taking the craft name "Weyland". Buckland later described them as "absolutely wonderful people, very warm and loving."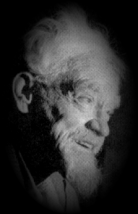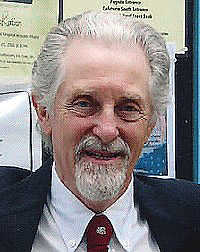 In her rare autobiographical writings, Margaret reveals few details of her personal life, but interviews with some of those who knew her indicate that she and her husband were well travelled (including a trip to China after their marriage) and were regular members of local nudist colonies. They had remained childless by choice.
Margaret St. Clair survived her husband by several years. A lifelong supporter of the Quaker inspired "American Friends Service Committee", and had spent her final years living in a Friends House at 684 Benicia Dr, Santa Rosa, California, CA 95409, where she died on the 22nd November 1995 at the age of eighty-four years. The Margaret St. Clair Papers are archived at the University of California, Riverside.
End

Bibliography
Short stories, to many to mention.
Novels
The Green Queen (1956)
Agent of the Unknown (1956)
The Games of Neith (1960)
Sign of the Labrys (1963)
Three Worlds of Futurity (1964)
Message from the Eocene (1964)
The Dolphins of Altair (1967)
The Shadow People (1969)
The Dancers of Noyo (1973)
Story collections
Three Worlds of Futurity (1964)
Change the Sky and Other Stories (1974)
The Best of Margaret St. Clair (1985)
Sources:
http://www.accessgenealogy.com/kansas/biography-of-hon-george-a-neeley.htm
Partners in Wonder: Women and the Birth of Science Fiction, 1926-1965 - by Eric Leif Davin (Lexington Books 2005).
http://en.wikipedia.org/wiki/Margaret_St._Clair
https://www.kirkusreviews.com/features/elusive-margaret-st-clair/
http://tellersofweirdtales.blogspot.co.uk/2013/06/more-authors-of-golden-age-of-science_25.html

First published on the 09th August 2020

©

George Knowles

Best wishes and Blessed Be