The Magic of Rocks and Stones

Chrysanthemum Stone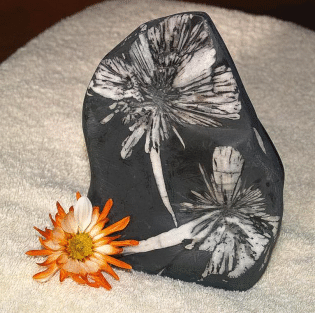 by Patricia J. Martin
A small flower seed sits silently in the cold, hard soil, listening to the creaks and snapping sounds of ice melting all around it ... and it senses that the thaw is near.
For Imbolc, I invite you to meet a stone that clearly relays the bright promise of that insightful seed ~ Chrysanthemum Stone!
Chrysanthemum Stone (a.k.a. Flower Stone) is an aggregate sedimentary rock composed most often of Limestone, Dolomite or Gypsum clay that holds a splay of radiant white crystals most often consisting of Celestite, Feldspar, Calcite or Andalusite. It is a stone that will begin to wake us up from our long winter's nap. It is a stone that can enliven and activate anything of importance that lies dormant within us and which is just waiting to bloom. It will feed our potential and expose our purpose.
Originally discovered in Japan but mainly found in China, Canada and the United States today, these rare and naturally occurring unique stones exhibit a duo of colors, the first of which ranges from black to gray to reddish-brown, and the second of which is a distinctive patterned display of white, making them easy to spot. The abstract white crystal designs, seemingly captured and frozen within the darker rock matrix, usually radiate outward making them resemble daisy-like flower petals similar to a chrysanthemum, and thus its name. These crystal "blooms" formed within ocean sediments over 200 million years ago. Their patterns have also been likened to snowflakes, which here in the North I can relate to, as real snowflakes are still falling and as the suspended seeds within the earth have just begun to have thoughts of germinating. Because of these unique patterns within this versatile rock, Chrysanthemum Stones symbolize both the beauty of Winter and the promise of Spring.
I call this beauty of a stone my "Ganesh Stone" for, like a magnet, Chrysanthemum Stone energetically pulls forth our courage and resolve, while increasing opportunities around us through a notable series of advantageous synchronicities which it helps provide. For this, Chrysanthemum Stone is well-known as a stone of "luck" and good fortune. By meditating or journeying with this stone, we are opened up to greater visionary prowess and made more aware of our natural abilities and all the opportunities that lay before us just ripe for the picking.
Called by others a "marvel of nature" and "rare and unparalleled", Chrysanthemum Stone is highly prized by collectors when the white "flower" is prominent. In being white, and through its birth by water, it symbolizes the presence of Goddess energy, purity and spiritual growth. It also adds a playfulness and a springy step to our walk as we heed its central beacon light. This stone will also help us walk with grace and confidence. It nurtures and enhances all feminine attributes of intuition, insight, psychic ability and more. It teaches us that we need not lose our youthful innocence and optimistic exuberance as we tread through any dark shadow time that may attempt to stymie us along the way.
For health and healing, Chrysanthemum Stone helps with problems related to the skeletal system, skin, teeth and nails, and eyesight. It has been used to assist in dissolving abnormal growths as well as dispelling toxins from the body. Mentally, it is excellent for raising one's spirits and bringing joy back into one's life.
Chrysanthemum Stone is a soft stone, registering between 3 and 4 on the Mohs Scale. I see this stone as a transforming seeker stone for, to me, it acts as a water stone who now seeks the Sun. It brings about harmonious change by gently breaking through any barriers or obstacles in our way. It is a stone of abundance, love and joy - its flowering pattern representing the budding of inspiration, the blossoming of new endeavors, and the blushing bloom of new relationships. In love, Chrysanthemum Stone banishes jealousy and fear as it enhances trust and stability, and it adds dimension and depth to any relationship. It is a start-and-stamina stone - one that draws unexpected opportunities our way and then supplies the starbursts of energy needed to bring them to fruition. It enables us to follow our dreams and attain our deepest desires.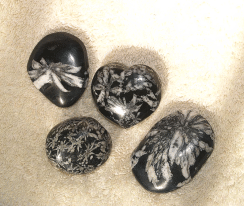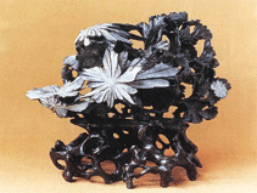 Inspiring and inventive, loving and generous Chrysanthemum Stone resonates with the astrological signs of Aquarius and Taurus. In the realm of Chakras it connects with all, but with its ability in helping us discover and manifest our soul's purpose, and with its encapsulated flower-like design not unlike a lotus, it is often associated with the Crown Chakra. To cleanse this stone, place it in a small bowl and then place that bowl into a shallow dish of water. (The splays of white crystals may be compromised and will continue transforming if left in water for extended periods of time.) Leave it for a full night and full day under the recharging rays of both the Moon and the Sun. And don't forget to program it to help do your bidding as you embark on a new journey or as you move from one aspect of your life to another. It is a wonderful turn-of-the-season stone!
As Winter slowly gives way to the blossoming buds of Spring, may we all rejoice in the essence of rebirth!

Sources:
Melody, Love Is In The Earth
R. Simmons & N. Ahsian, The Book of Stones, Who They Are and What They Teach
Chrysanthemum Stone, itself.

January 2010 © Patricia J. Martin

Best wishes and Blessed Be