The Magic of Rocks and Stones

Fluorite
(Fluorospar or Fluor Spar)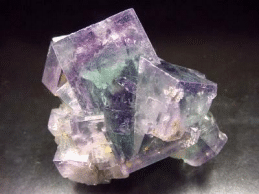 Written and compiled by - Patricia Jean Martin
Fluorite, a mineral that melts easily, derives its name from the Latin word "fluere" meaning "to flow" or "to flux" and refers to its use as a flux in the steel and aluminum smelting process. The word "fluorescent" comes from the word Fluorite, as Fluorite crystals were some of the first fluorescent specimens to be studied. Its fluorescence is thought to be due to Yttrium, Cerium or organic matter in the crystal structure.
Fluorite was originally known as Fluorospar or Fluor Spar and has been called "the most colorful mineral in the world" as its colors are many; the most common being purple, blue, green, yellow, pink or clear, but it is not uncommon to find specimens in white, red-orange, black, brown and every color and shade in between. It is also not uncommon to find multi-colored Fluorite (sometimes called Rainbow Fluorite) that possess several different bands of color (called "zones") that intermingle, producing a more highly sought after variation of the stone. One older locality that is the sole source of the well-known and well-loved banded purple-blue variety of Fluorite called "Blue John Fluorite" is found in Castleton in Derbyshire, England. This area has been mined since ancient Roman times and is now depleted. Other notable localities of Fluorite mines are found in Germany, Norway, Austria, Switzerland, Canada, China, Italy, and the United States.
Fluorite is calcium fluoride and forms at shallow depths in relatively cooler conditions than what many other types of crystals form at. It usually occurs as transparent or translucent cubic or octohedronal crystals and is most commonly found in metallic hydrothermal vein deposits, especially those pegmatite cavities containing Lead, Zinc, Silver, Galena or Sphalerite. Fluorite can also occur in sedimentary rocks, or may be found in Granites or Limestones or as a component of other metamorphic rock.
Fluorescent minerals are popular with collectors, and Fluorite tops the list there. Along with the crystal's magnificent color display under an ultra-violet (UV) light, many specimens are also thermoluminescent, meaning they will glow when heated. One particular variety, Chlorophane (meaning "to show green"), will exhibit this property when even simply held in one's hand, being activated by merely body heat. It will glow green to blue-green, once and only once, as the glow eventually fades away no longer able to be activated. Limited quantities of this type of Fluorite are found in Franklin, New Jersey; the Bluebird Mine, Arizona; Amelia Court House, Virginia; Mont Saint-Hilaire, Quebec, Canada, and Nerchinsk, Ural Mountains, Russia.
Minerals associated with Fluorite are Calcite, Quartz, Barite, Galena, Willemite and many more. Fluorite is second only to Quartz as being the most popular mineral for collectors, but is not popular as a gemstone for, unlike Quartz, it can be easily scratched or broken. Purple Fluorite can be hard to tell apart from Amethyst, but a simple hardness test will reveal which is which. Fluorite is much softer than Amethyst, being only a 4.0 on the Mohs Scale.
General Information:
Chemistry: CaF2, Calcium Fluoride
Class: Halides
Group: Halides
Color: Extremely variable, but most common being purples, blues, greens, pinks, yellows and colorless. Many specimens are multi-colored.
Luster: Vitreous; transparent to translucent.
Crystal System: Isometric; 4/m bar 3 2/m
Crystal Habit: Typically cubic crystals, but also octahedron as well as other isometric habits. Twinning may occur, producing penetration twins that appear as two cubes growing together.
Cleavage: Perfect in 4 directions forming octahedrons.
Fracture: Irregular and brittle.
Hardness: 4
Specific Gravity: 3.1+
Streak: White
Other Characteristics: Often fluoresces blue, although sometimes green, red, or violet may be thermoluminescent, phosphorescent or triboluminescent.
Notable Occurrences: England, Germany, Mexico, U.S., Canada, China.
Best Field Indicators: Cubic crystals, cleavage, hardness, color.
Uses: As a flux in iron smelting; optical lenses; source of fluoride; hydrofluoric acid; jewelry; mineral specimens.
Myth & Lore:
According to folklore, Fluorite was once thought to be the "home of the rainbow" due to the crystal's wide range of colors which many times grow intermingled or side by side. Throughout ancient history, it has been carved into statues, decorative art, amulets and talismans in many locales around the globe. The early Egyptians were known to carve scarabs from the stone along with using colorful specimens in many of their deity statues. The Chinese have been carving Fluorite for over 300 years. And, likened to Amethyst, the ancient Romans believed that a drinking vessel made of Fluorite would also prevent a person from getting drunk. Roman scholar and naturalist, Pliny (known as "The Elder"), thought Fluorite a very precious stone, as was witnessed in the valuable vase Augustus took from Alexandria. Six other vases of Fluorite were taken from Mithridates' treasures and brought to the temple of Jupiter.
In matters of health, in the 18th century, a mixture of water and powdered Fluorite was used to alleviate the symptoms of kidney disease. Today it is most often used metaphysically to enhance and clarify thought processes, and also as a protection stone.
Fluorite may require regular cleansing and is best recharged by wind or water, preferably outside on a clear breezy day or in a clear running stream or brook.
Metaphysical Properties of Fluorite:
Astrological Sign's: Pisces and Capricorn.
Element's: Air and Water
Chakras: Any, depending on the color of Fluorite specimen.
Clears the mind and aura.
Healing.
Heightens mental acumen.
Clears communications (good to have during Mercury Retrograde).
Heightens intuition.
Assists in meditation.
Helps release negative patterns.
Offers new awareness.
Brings order to chaos.
Protects from psychic manipulation.
Helps clear potentially harmful waves from computer and electronic areas.
Aids in cleansing other stones.
*Gives physical aid in treating: Infections; DNA, RNA and cell damage; Bone and tooth problems; Eye, ear, nose and throat problems; Intestinal problems; Disorganized thought or Attention Deficit Disorder.
*NOTE: Stone therapy should NOT take the place of medical evaluation and procedures, and should be used merely to enhance one's health and well-being.
My own thoughts and experiences:
Just as the meaning of its name denotes, Fluorite helps me to find 'the flow' and then to go with it. When you recognize the flow that this stone helps bring to fruition, though, it tends to hold a very discerning and precise purpose. By being a stone that helps one to know and to speak the truth, I've found it is also very good at bringing order to chaos (especially chaotic thought) and is extraordinary in helping with concentration and focus.
Depending on Fluorite's color, it can be used for many things...anywhere from helping in matters of the heart or with healing (pinks and greens), to intuitive and loftier ventures (blues and purples), to clarity and a renewed sense of joy (yellows to clear).
My favorites Fluorites are the banded or intermingled varieties, especially those containing the combination of light green and purple. I find the green very useful for clearing any negativity (within or without), and its soft, rejuvenating color opens the heart to accept a more positive and refreshing view (much like how Aquamarine works in this area). The purple, of course, is majestic and very spiritual, and helps move and retain both your thoughts and heart into the higher realms of Higher Self.
Fluorite also feels very protective. It is said that it will help shield you from negativity or psychic attack, if you are predisposed to accept those sort of things. Personally, and for the most part I don't accept them, but still I'm able to feel Fluorite's power to be able to shield and negate. Fluorite is also good for clarity in any form and will let you know what is in the offing. So when you have that fuzzy feeling, or a feeling that something is just not right but you can't quite put your finger on it...or when you feel someone or something may be attempting to interfere with your well-being (whether intentional or not), Fluorite will help nip those things in the bud. It manages to do this by sparking your intuition...by clarifying your thoughts sans emotional befuddlement while enhancing your receptivity...and by helping to enable you to embrace the truth of a matter, which in turn allows you to banish the chaos or to mirror back any intrusions.
This absolutely beautiful banded stone makes way for a more stable, aware, and impartial view... all of which will help you know and flow with greater ease toward your goals.

Sources:
"Stones Alive" ~ Twintreess
"Love Is In the Earth" ~ Melody
Photo: http://webmineral.com/data/Fluorite.shtml
http://mineral.galleries.com/minerals/halides/fluorite/fluorite.htm
http://www.davesdowntoearthrockshop.com/fluorite.htm

© 2006 Patricia J. Martin

Best wishes and Blessed Be