Pagan Pioneers: Founders, Elders, Leaders and Others
Pamela Colman-Smith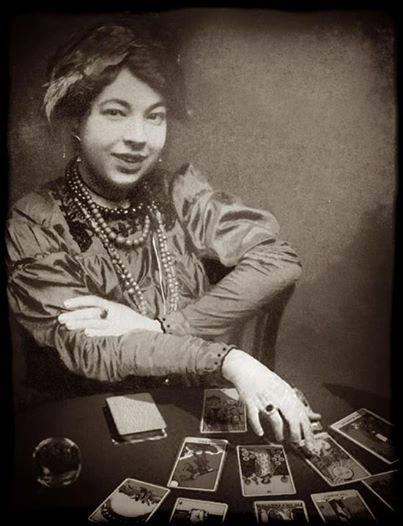 Written and compiled by George Knowles
Pamela Colman-Smith (affectionally known as Pixie) was a little known artist, illustrator and writer, and while most of her work has been regulated to obscurity, her lasting legacy was the design and illustration of the 20th century's most popular and best selling tarot deck, 'The original Rider-Waite Tarot Deck' (1909). The deck was commissioned under the direction of author and writer: Arthur Edward Waite.
Pamela was born in England on the 16th February 1878, at 28 Belgrave Rd in Pimlico, Middlesex. She was the daughter of an American merchant from Brooklyn, Charles Edward Smith and his Jamaican wife Corinne Colman, hence the hyphenated surname Colman-Smith. Her parents were followers of the philosophy of Emanuel Swedenborg, and both had artistic and literary families. Due to her father's job as an auditor for the West India Improvement Company, the family often moved spending time in London, Kingston in Jamaica and Brooklyn, New York.
Pamela's mother died when she was just 10 years old, and often separated from her father due to his work, she was taken under the wing of the Lyceum Theatre group in London led by Ellen Terry and Henry Irving. Her early teens years spent traveling around the country with the theatre group, did much to influence her later art work. By 1893, Pamela had moved to Brooklyn to be with her father, where at the aged of 15, she enrolled at the relatively new 'Pratt Institute' and studied art under the noted artist teacher Arthur Wesley Dow. She graduated four years later.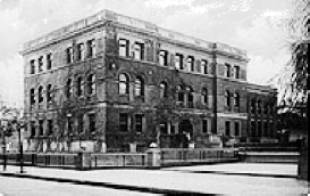 The Pratt Institute opened on the 17th October 1887
In June of 1899, Pamela returned to London, England and set about making a name for herself as a writer and illustrator. Her first published works were illustrated books based on Jamaican folk tales, including: Annancy Stories (1902), a story about the traditional African folk figure, Anansi the Spider. As a published writer and artist, Pamela gained access to the artistic and literary circles of London, and was introduced to the poet William Butler Yeats. In 1903, while illustrating some of his work, Yeats introduced her into the Hermetic Order of the Golden Dawn, just as the order was beginning to braking up. It was here she first came into contact with Arthur Edward Waite.
Pamela circa 1904
Shortly after her initiation into the Golden Dawn, the Order broke up into factions, those who remained loyal to S.L. MacGregor Mathers formed the "Order of the Alpha et Omega Temple", while Waite took over as the head of the original Isis-Urania Temple. Many of the remaining Golden Dawn members, including Pamela, stayed with Waite's group, now called the 'Order of the Independent and Rectified Rite'. By this time Waite had been working on a new tarot deck, which he asked Pamela to design and illustrate. Under his direction and working together, the deck was published in December 1909, and soon became very popular.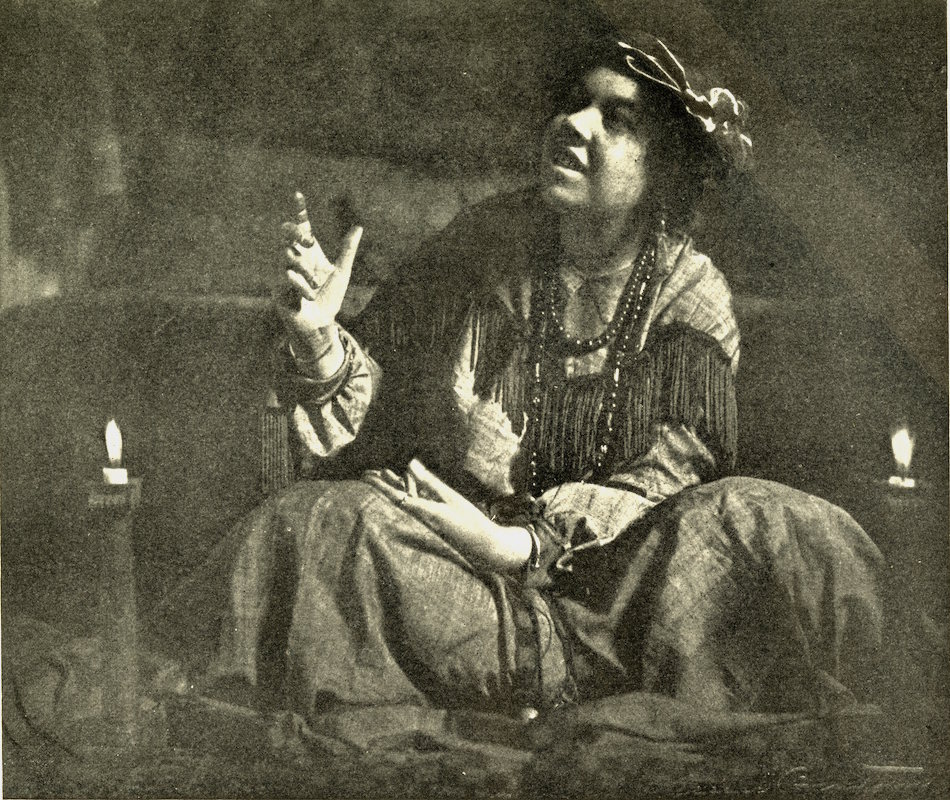 After the end of the first World War (1914-18), Pamela received an inheritance, which enabled her to rent a house called The Lizard in Cornwall, an area popular with artists. She remained there with a long time friend Mrs Nora Lake until 1939, before moving together to 2 Bencoolen House, in Bude Cornwall, were she died on the 18th September, 1951.
Pamela Colman-Smith during her lifetime was a women who didn't seek notoriety, nor did she seek fame, all she wanted was to be recognised for her talents as an artist. She never married. She had no known heirs or family except for the elderly long time female friend and companion who had shared her life for the past 40 years. When she died on the 18th September 1951, Pamela was penniless and her life's work obscure. There was no funeral procession to honour her life and no memorial service to evaluate the impact her work would have upon future generations. Her gravesite, if one exists, remains unknown.
She died disappointed that her paintings and writings had failed to achieve success, yet she never stopped believing in herself. After her demise, all of her personal effects were sold at auction, her books, manuscripts, prayer books, paintings, drawings, furniture, and even her personal letters were sold to satisfy her debts. Despite her last wishes, her long time companion was deprived of any inheritance and everything went to strangers who wouldn't appreciate what they had.
Except for a few art exhibitions during her early career, which were met with a small amount of success, much of her life's work has disappeared. Pamela Colman Smith would have been forgotten, except for the seventy-eight tarot card paintings known as the: Rider-Waite Tarot Deck. She would no doubt be amazed to know, that today through that tarot deck, her work reaches out and touches the hearts and emotions of millions of people.

Associations:
Emanuel Swedenborg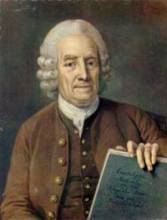 Emanuel Swedenborg was a Swedish mystic, scientist, philosopher, theologian and founder of sect called the Swedenborgians. Born Emanuel Swedberg in Stockholm on the 29th January 1688, he was educated at the University of Uppsala. From 1716 until 1747 he served as assessor for the Swedish mining board, during which time he experimented in the field of engineering. One practical application of his engineering skills occurred in 1718. During the Great Northern War (1700-21) at the Siege of Fredrikshald (now called Halden) in Norway, he devised a method of transporting boats overland, a feat for which he was honoured. In 1719, he was ennobled and given a seat in the Swedish house of peers.
Swedenborg was a man of huge intellectual potential, making some important contributions to mathematics, chemistry, physics and biology. In his Opera Philosophica et Mineralia/Philosophical and Logical Works (3 volumes, 1734) he attempts to explain his views on the origins of matter. His studies in physiology Economy of the Animal Kingdom (2 volumes, 1741), he considers the relationship of matter and the soul, and began formulating a `doctrine of correspondence' whereby all things in the material world have a spiritual foundation.
From 1744, Swedenborg began to study theology, devoting himself exclusively to religious speculation, even claiming to have experienced supernatural visions through which he gained access to God via Angels. In Heavenly Arcana (8 volumes, 1749-1756) he considers a new religious system based on an alleged interpretation of the Scriptures he claims to have received from God. He claimed that the 'Last Judgement' had taken place in his presence in 1757 and that a New Church; the Church of New Jerusalem as mentioned in the Book of Revelation, had been created by divine dispensation.
In his Divine Love and Wisdom (1763), Swedenborg concluded that the natural world derives its reality from the existence of God, whose divinity became human in Jesus Christ. The highest purpose is to achieve conjunction with God through love and wisdom. Swedenborg died in London on the 29th March 1772, after which his followers accepted his theological writings as being divinely inspired. In 1787, a British printer called Robert Hindmarsh organized his disciples in England into a separate sect now known as the Swedenborgians.
Last estimates reveal that in the United Kingdom, the Swedenborgians number about 5000 divided among 75 societies, and use his writings as the scriptures of the sect. In the United States they are divided into two organizations, known as the General Convention of the New Jerusalem and the General Church of the New Jerusalem. The first numbered about 2800 members in 47 societies, and the second about 2100 members in 33 societies.

Dame Ellen Alicia Terry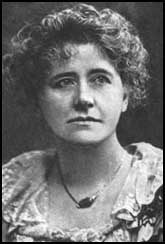 Dame Ellen Terry (she early dropped the use of Alicia) was an English actress who achieved great success as a Shakespearian actress, enjoying the peak of her career in 1882 playing Beatrice in: Much Ado about Nothing. Ellen was a leading lady to the noted actor Sir Henry Irving from 1878-1902.
Ellen was born into a line of family actors, her grandparents were actors as were her parents, indeed her mother and father Benjamin and Sarah Terry were among the best known provincial actors in England during their time.
Ellen was born in a theatrical boarding house situated in Coventry, England on the 27th February 1848. She had three sisters, Kate, Marion and Florence, and three brothers, George, Charles and Fred, all of whom gained success in the acting profession. Later her own children, Edith and Edward Gordon Craig, and her nieces, Beatrice, Olive and Minnie Terry, would continued the family tradition into a fourth generation.
From birth Ellen was brought up in the environs of the theatre, she never went to a regular school, and her only education was on the stage. Her own career as an actress began when she was just eight years old. Her debut appearance on stage was as a boy playing a minor role as Mammilius in Shakespear's The Winter's Tale at the Prince's Theatre in London. Three years later she won acclaim with her portrayal of Prince Arthur in another Shakespeare play King John.
After a brief marriage to the sculptor artist George Frederick Watts in 1864, Ellen established herself as Britain's leading Shakespearean actress in 1867 when she played opposite Henry Irving in The Taming of the Shrew. In 1868 she left the stage and became inactive for six years returning in 1874, and just a year later scored a major triumph playing Portia in the Merchant of Venice. In 1878 she joined in an acting partnership with Henry Irving, and together formed a theatre group based at the Lyceum Theatre in London, with Irving as the actor-manager. Working closely with Irving they dominated the English theatre for over twenty years, during which time they toured and performed in the United States and Canada.
Ellen partnership with Irving was terminated in 1902, but she continued acting and appeared in several works by her great friend and confidant George Bernard Shaw. In 1903, she went into theatre management with her son Edward Gordon Craig, who became a leading theatrical designer in his own right and helped to popularise the work of Henrik Ibsen. In 1908, Ellen's The Story of my life was published, and as her acting ability ceased she began touring giving lectures throughout England, the United States and Canada.
In 1925, her dedication to the theatre was recognized and she was made a Dame of the British Empire. During the last few years of her life, her health deteriorated as she slowly sank into blindness and insanity. Dame Ellen Terry died in 1928.

Sir Henry Irving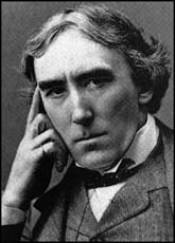 Stage name of John Brodribb
Henry Irving was born in a little village called Keinton-Mandeville in Somerset, England in 1838. Not much about his early years is known except as a youth he worked for a time as a clerk in London. It was not until he was 18 years old that he turned to acting for a career. Irving made his first stage appearance at the Lyceum Theatre, Sunderland in 1856. He then spent three seasons acting in Edinburgh (1857-60), four seasons in Manchester (1860-1865) and one season in Liverpool (1865) horning his skills, before settling and making his debut appearance on a London stage in 1866.
In 1871, Irving made his first appearance at London's premiere Lyceum Theatre, and after performances of Hamlet (1874), Macbeth (1875) and Othello (1876), he gained the reputation as one of the greatest Shakespearean actors of his time. After a number of successful performances with leading actress Ellen Terry, in 1878 they joined together in an acting partnership at the Lyceum, where Irving became lessee of the theatre and actor-manager of the theatrical group they formed. Their partnership together was so successful it last over 20 years, during which time they brought up, trained and inspired two generations of budding actors, actress, artists, set designers and producers. One such artist in 1888 was a young and impressionable ten-year-old girl called: Pamela Colman-Smith.
Irving was particularly successful with his Shakespearean productions. He was responsible for restoring much of the text that had been excised from the plays by earlier producers and actors. While he mainly specialised in Shakespearean plays, he was not averse to experimenting and occasionally performed in and produced contemporary melodramas and verse plays. As a manager, Irving was famous for the visual opulence of his productions, and as an actor he was highly mannered and hugely magnetic.
Between 1883 and 1904, Irving and his theatre group, made several successful tours of the United States and Canada. He also wrote a number of books, most notable of which was: The Drama (1893). In his later years as his acting career and charisma started to diminish with age, he frequently lectured on acting and the theatre. He was an intelligent and articulate advocate of historical accuracy in performance, and regarded as one of the most influential figure in the English theatre of the Victorian era. As such in 1895, he became the first actor to be knighted, fulfilling his personal lifelong ambition of raising the acting profession to respectability.
In 1905, Sir Henry Irving died, and was given the honour of being buried in Westminster Abbey, London. He left behind two sons, the elder: Henry Brodribb Irving became a successful actor, and his youngest son Laurence Sidney Irving became an actor and playwright, both carrying on his example.

Sources
To be added later
First published on the 04 March 2007, 18:22:06 © George Knowles

Best wishes and Blessed Be