Auras
(Part 2)
Article by Graham Furnell
In Part 1 of this article, we considered various perspectives on the origin and nature of auras, followed by a detailed account of their characteristics and interpretations as conveyed by the ancient teachings of Yoga. In this, the second and final part of this article, we will continue the discussion by considering ways to sense, cleanse and enhance auras.
Auras are all around us, but the most powerful aura influencing our life is actually our own. The type of aura we project not only exposes us to its very characteristics and feeds back on us, but those living things and environments that we come into contact with will also be exposed to it - as we will be exposed to their auras. This is why it is important to try to maintain and strengthen a positive aura about ourselves, so that we and everything around us will be benefited, and also so that we will be better able to overcome the effects of the negative auras that may come our way.
So how can we sense an aura? Let's consider some basic ways in which this can be done…
Perhaps the simplest way to do this is as follows. Choose a quiet moment to be seated and take a few deep breaths. In a relaxed and receptive manner, hold both hands out in front of you, with fingers extended straight and held together so that both hands are flat with palms facing each other. Now bring one still straightened hand around and use its fingers as a "pointer" to the open palm of the other hand and trace small circles in the air at a distance of one or two centimeters. Change the direction of rotation. Can you feel a slight tingling sensation being traced out in the palm that is being pointed at? Now try moving your pointing hand back and forth in a line along the open face of the other hand while still maintaining the same close distance. Can you feel the tingling sensation also following this traced path? This simple demonstration shows us that there is indeed a subtle energy field that emanates from our fingertips, and is no doubt why Nature has instinctively taught us to use these subtle energies for healing when, without even thinking about it, we immediately tend to use our hands and fingers to ease the pain of an injury or sore spot, or to comfort others in need.
A more dynamic technique for sensing the aura about our hands is to curl our fingers to form fists while keeping the thumbs straight and on top of each fist. Bring the fists together so that the sides of the thumbs come into contact, along with the curled outer part of the fingers between the second and third joints. Rub your fists rapidly up and down together in a "washboard" manner for about 45 seconds. Then open your hands and hold your palms facing each other, a few centimeters apart. Widen and narrow the gap between your palms. You should feel a slight resistance and tingling sensation which increases as you bring your palms closer together. Also, while your hands are still dynamically energized, try the above "palm pointing" technique again - you should experience the same sensations as before, only even stronger this time.
Now let us consider visualizing an aura, which is generally more difficult to do that "feeling" it. The simplest way to do this is to hold one of your hands with fingers outstretched and apart at arm's length against a neutral colored background. Relax and stare at your hand using "soft focus" - that is relaxing your eyes so that they focus beyond the object being looked at. Slowly you should start to see a halo of white light outlining your hand. As you continue to look at your hand in soft focus, you may eventually see colors appearing at the edges of the white halo. Once you have gained some confidence in this basic technique, try using it to visualize the aura of another person, say seated about 3 meters in front of you. Particularly direct your attention around the head and shoulders region of the person, and if any colors are observed, use the associations outlined in Part 1 of this article to aid in an interpretation… For example - blue being an indicator of spirituality, red of passion, etc.
The last topic to be touched on with regards to the sensing of auras is through the use of a dowsing pendulum. After relaxing and directing your attention to the pendulum, the first thing to do is to determine its "yes/no" response to questions asked of it. This is done by holding the cord of the pendulum between your thumb and first finger and mentally asking it to show you how it moves (e.g. out-in or side-to-side swing, clockwise/anticlockwise rotation, etc.) for a "yes" response, and similarly for a "no" response. Once you feel confident with your connection to the pendulum, you can proceed to seek answers to various questions put to it when it is suspended in the vicinity of an aura. Such a question could be "Is this chakra healthy?" when suspending the pendulum over the region of one of the main chakras of someone lying in front of you. The pendulum technique can be refined by making use of a "dowser's card". To do this, draw on a piece of cardboard a half-circle shape that looks like a "letter D on its back". The horizontal base of this shape will be assumed to correspond with a neutral side-to-side swinging motion of the pendulum. Write equally spaced around the circumference of the half-circle the names of the seven spectral colors - red, orange, … Now, sit with the dowser's card on your lap, or alternatively on or held by another person. Consciously start gently swinging the pendulum in a side-to-side manner along the neutral base of the half-circle shape you have drawn. Then mentally ask the pendulum "What color is my/their aura?" while relaxing and letting the pendulum follow its own direction of swinging. The color it settles down to swinging over will be the answer to your question. Once more, you can use the color associations outlined in Part 1 of this article to aid in an interpretation. Of course your dowser's card can be adapted to suit other question-answer options that may be of interest (e.g. write the percentages 0%, 10%, 20%, … 100% around the circumference of the half-circle to cater for questions that seek a numerical response, such as "How healthy is this chakra?").
We will now move on to consider ways to cleanse and recharge an aura. When one wishes to do this - be it your own aura, that of someone else, or of a location - there are number of techniques that can be used either individually or in combination. A quick and easy way to do this is to simply gain some exposure to sunlight, or alternatively moonlight when the occasion permits. We would all be familiar with the positive impact of getting a little sunshine in our lives, something akin to drawing back the curtains and letting light into a gloomy house.
Perhaps the most ancient and widely accepted cleansing technique is that of "smudging", where the smoke from smoldering herbs or other materials is wafted over the person being cleansed, or into the spaces of a location - a feather being an excellent aid for doing this, though any form of fan or even your hand will suffice. Much of our current knowledge of smudging has come from Native North American culture, where the herb sage is most commonly used; however, other materials may also be used either individually or combined with good effect - for example cedar, pine, rosemary, sandalwood, frankincense and myrrh. The basis of smudging can also be seen in the indigenous Australian "Smoking Ceremony", which is performed on important occasions to purify an environment and ward off negative energies. I am always fascinated and inspired when I see this technique accompanying a public ceremony, such as a "Welcome to Country". If one wishes to recharge the aura to suit a particular intent, the process of smudging can be repeated using a specific incense blend. Scott Cunningham [see sources] has recommended a range of these for such purposes - for example, to encourage protective energies the following simple blend is proposed: 4 parts frankincense, 2 parts sandalwood, 1 part rosemary.
For those seeking more details on how to perform the smudging technique, many resources can be found on the internet - here is a good example: http://www.youtube.com/watch?v=PZpoC4sLK3A
Also, here is an interesting example of a smoking ceremony conducted in a contemporary context: http://www.youtube.com/watch?v=LyAM9EbHRaQ
Disruptive sound vibrations such as the clanging of cymbals, chimes and bells are also effective for cleansing an aura, as is also the beating of drums - these being particularly suitable for cleansing the aura of a location, for example when house clearing. However, two of my personal favorite, though somewhat more subtle, cleansing sounds are the mesmerizing tones of a struck or rubbed singing bowl, and the mystical droning of a didgeridoo. Make the sounds as near to, or directed as much as possible at, the area of the aura. For the aura of a person, this would involve sweeping the played instrument all around and over them, thus completely "shaking out" all negative pockets of energy that may be residing within the aura.
Finally, remaining on the theme of using sound vibrations, let's consider the energizing of one's chakras, and consequently one's personal aura, through vocal toning. This will involve reference to the table which appeared at the end of Part 1 of this article. In that table, each main chakra was associated with a particular color, musical note and vocal tone. First relax and clear your mind, closing your eyes if you wish. Now proceed to progressively vocalize, long and loud after a deep in-breath, each note and tone, from middle C/UH, D/OO,… to B/EE; while mentally visualizing the relevant color glowing at each main chakra as you go - charging them for an all-round uplifting therapeutic effect. As you perform each tone, you should be able to actually feel the vibrations of your voice being naturally focused within your body to the area of the relevant chakra.
By paying extra attention to a specific note/tone/color, the energies of the relevant chakra will be even more strongly charged. This is an effective counter for a particular depletion of that chakra's energy, as may be indicated by personal symptoms or by the dowsing pendulum technique discussed above. Additionally, a focused technique such as this can also be used to actually draw desired energies into your life, by producing a specially charged personal aura which will work for you in a "like attracts like" manner. Here's an example, say that you would like to draw more loving energies into your life. From the table, "Love" is associated with the heart chakra, Anahata – whose color is green, and musical note/vocal tone is F/AH. As before, relax and clear your mind, then proceed to repeatedly vocalize, long and loud, the note F (Fa on the solfege scale) with the sound AH (as in "ma"), while visualizing glowing green energy flooding into your heart chakra, plus other imagery associated with your intent. Repeat this regularly to gain the desired effect. To complement this, you can even take to wearing some green colored clothing, or exploiting other correspondences such as wearing a copper ring or pendant [copper being the metal sacred to Venus, goddess of love], to add to the potency of your message to the Universe.
In this article, I have tried to present some basic information on auras - beginning with their representation in religious and spiritual contexts, followed by an outline of their nature and characteristics according to the teachings of Yoga. We then considered some practical ways to sense, cleanse and enhance auras. The aim throughout has not been to provide any kind of definitive reference on the subjects discussed, but simply one particular perspective from which the reader can draw on, and if they wish, merge with their own metaphysical understandings to further their own unique spiritual development. To this end I wish you well, and may many blessings be yours :-)

List of Images: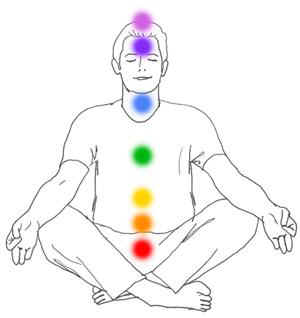 The main chakras.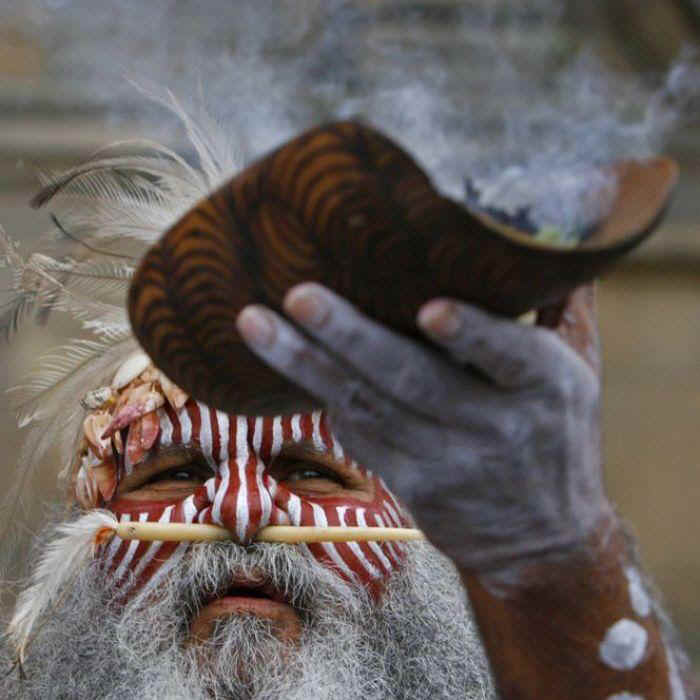 Indigenous Australian Smoking Ceremony. [Source: Australian Broadcasting Corporation]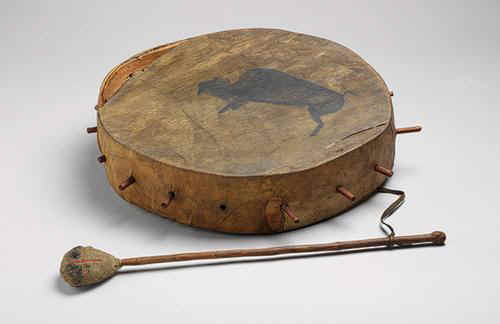 Native North American frame drum. [Source: Metropolitan Museum of Art]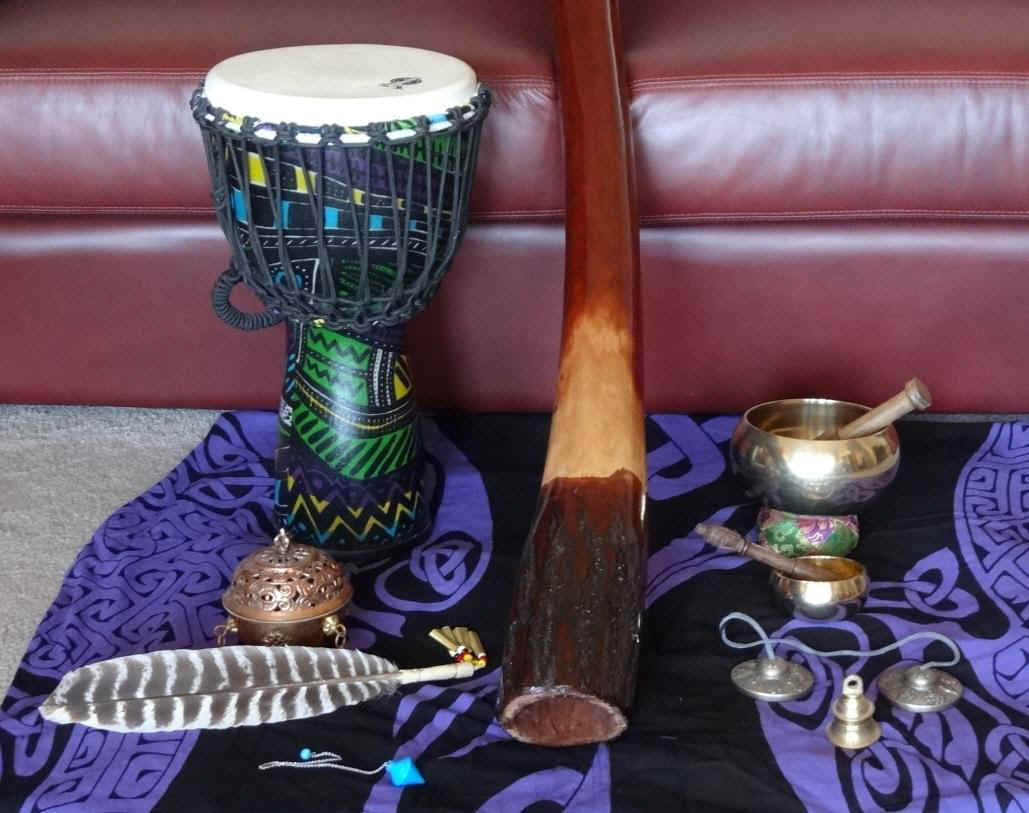 Some tools of the trade.

Sources
"Exploring Auras – Cleansing and Strengthening Your Energy Field" by Susan G. Shumsky, New Page Books, Franklin, New Jersey, USA, 2006.
"The Complete Book of Incense, Oils & Brews" by Scott Cunningham, Llewellyn Publications, Woodbury, Minnesota, USA, 2006.
Unless otherwise stated, all images were either created by the author or sourced from: http://en.wikipedia.org

This article is © Graham Furnell 2014
My grateful thanks to the author Graham Furnell for his permission to reproduce this article here.

Best wishes and Blessed Be