Animals and Witchcraft
(The Witches Familiar)

Sheep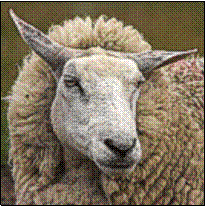 by Lillian Norman
In northern Europe, February was the traditional month of lambing. The ewe's milk came in before the time of giving birth and so we have the names, Imbolc, "in the belly;" and Oimelc, "ewe's milk," as the names of the festival we are celebrating at this time of year. What better time to look at our friend, Sheep, as Totem.
Sheep originated in Asia. We see them as totems in many early Asian civilizations. Sheep has been included in the Chinese zodiac as well as the sign of Aries in the Western zodiac. During the Stone Age, wild sheep were hunted for their meat. Toward the end of the Stone Age, about 10,000 years ago, sheep began to be domesticated. It is thought that this was because the human population had grown to such an extent that having a flock of sheep available provided a consistent source of both meat and milk, and was therefore an efficient means for survival.
Early sheep were hairy and didn't have much wool. As time passed, humans began to breed sheep with longer hair and eventually, about 3,500 BCE, the art of spinning wool for thread and yarn evolved. Interestingly, sheep were also being bred to be less intelligent than their predecessors so they would be easier to manage and less likely to escape. Today's sheep have smaller brains than their ancient ancestors. However, as we shall see, they are not as stupid as they are portrayed to be.
Sheep were one of the earliest animals to be domesticated. Long has been the relationship between sheep and humankind as evidenced by the intertwining of sheep into various cultures, their religions and astrology. The trading of wool and sheep products led to the first international trade. Today sheep farming is a key industry for countries such as New Zealand, Australia, South America and the British Isles.
Gregariousness, or the tendency to gather in social groups of like kind, is a word commonly used to describe sheep behavior. Sheep have strong flocking instincts. It is this flocking instinct that causes them to stick together. It is much more difficult to attack a sheep in a large group than it is a lone stray. They also have an instinct to follow each other. It doesn't matter who's leading. There is a story of a flock falling off a cliff to their deaths because one random sheep decided to take a walk. They are a prey animal and will run from what frightens them.
As a prey animal, the sheep depends greatly on its senses for survival, relying heavily upon its sense of sight. If it doesn't keep other sheep in view at all times, it will become upset and agitated. A sheep's field of vision ranges from 190-306 degrees with just a slight turn of the head. Sheep can recognize and remember up to fifty sheep faces, and even human ones, for years.
Sheep have a keen sense of hearing and become frightened with loud noises. Their sense of smell is highly developed as they can distinguish between their fellow sheep and predators, another necessary defense mechanism. The rams use their sense of smell to locate available females and the ewes use their sense of smell to locate their young. The sense of touch is important for sheep. Group animals stay close together and the sense of touching each other calms the sheep. Lambs stay in close physical contact with their mothers. Taste helps sheep to distinguish between food stuffs. They have been known to choose foods that will make them feel better, a sort of self-medication.
Because of their strong flocking instinct, and their flight response when threatened, sheep are often thought to be unintelligent. This, however, has been disproved. As previously mentioned, sheep have excellent memories. They can also problem solve. It has been reported that they found their way over a cattle grid to get to better food. They have also demonstrated the ability to learn to navigate mazes.
Although mostly docile, sheep can be aggressive and dangerous. A male during rutting season, for example, will show aggressive behavior in an effort to dominate the flock. A ewe will show aggressive and protective behavior when their lambs are threatened.
Baby lambs love to play. They like to run, jump and climb on things. Their cousins in the wild, Big Horn Sheep, Cashmere Goats and Tibetan Sheep live and climb in the highest of mountains portraying a sense of loftiness and being sure footed.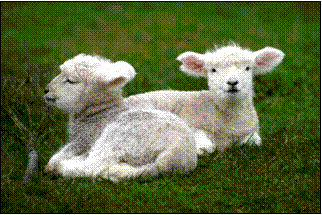 Sheep like their food. Often they are moved with enticements of food instead of being herded with dogs. They are grazers, cud chewers, ruminants. By definition, ruminants graze and regurgitate already chewed and swallowed food to have another go at it.
Relaxation is a key ingredient to feeding this way as opposed to the adrenalin rush experienced by predatory carnivores during their hunt and kill. Rumination also has another definition, one that was derived from the behavior of sheep, which is to think at length, to contemplate, consider, study; to think deeply or ponder; to reflect on over and over again.
When Sheep enters your life, perhaps it is an indication that you have been dwelling on an issue or situation too long and it is time to seek resolution and move on. The other side of that coin to consider is that perhaps you may have been too hasty in a decision or action and need to think deeply, ponder, study or meditate more on a particular situation or issue.
Sheep can indicate balance in precarious situations, lofty ideals, perseverance, status and inspiration. When Sheep shows up, beware of going with the general flow. Look at all sides of the situation before making a decision. Don't follow the flock off a cliff to your detriment.
However, there are times when there is safety in numbers, and when Sheep shows up, it might be an indication to identify your resources and allies and stick close by them to weather out whatever storm may be on the horizon. It may also be a time to think about developing a sense of community and cooperation.
Sheep as Totem reminds us to use all of our senses, internal as well as external, and our intellectual capacity as we go about our daily lives. Sheep reminds us that staying calm and relaxed will help us to better digest, understand and problem-solve what is put in front of us.

Sources:
http://en.wikipedia.org/wiki/Domestic_sheep#History
http://animalscience.ag.utk.edu/sheep/pdf/AppliedSheepBehavior-WWG-2-04.pdf
http://www.sheep101.info/history.html
http://www.alphadictionary.com/index.shtml
http://www.thewildlifetravels.com/sheep-goats-india-wildlife.html
http://www.sheep101.info/201/behavior.html
Sheep herself
© 2009 Lillian Norman
Lil lives in northeast Ohio and is a solitary pagan witch. She has been a member of EW since 2005.

Totem Awareness
© Patricia J. Martin
"In the past shamans, priests, and priestesses were the keepers of the sacred knowledge of life. These individuals were tied to the rhythms and forces of nature. They were capable of walking the threads that link the invisible and visible worlds. They helped people remember that all trees are divine and that all animals speak to those who listen."
There is a shaman and priest or priestess in all of us. It is our job to realize and reconnect to that fact. And it is through the expressions of Nature that we can enhance and hasten the realization and reconnection.
"When we see one aspect of the world with new eyes, we begin to see ourselves with new eyes as well."
It is very common during our celebrations of the Sabbats and Esbats, our Dedications or Initiations, that animals will make themselves known. Animal Spirit understands the sacred journey we are on, and comes to join us in celebration as we explore and discover our truest selves. Many wish to impart their wisdom, if we will but hear. Are you listening?
"Nature teaches to those who will learn from Her."
All quotations attributed to Ted Andrews: Animal-Speak: the Spiritual & Magical Powers of Creatures Great & Small

Best Wishes and Blessed Be.