Old Masters of Academia
(Our Ancestors)
If you have ever done research into ancient history then you will no doubt have seem references to some of the old time "Masters of Academia", the writers, poets and artists whose knowledge, wisdom and foresight have inspired so many. Those whose works live on, collected on shelves in dusty old museums, where they continue to be referenced by historians and others. But have you ever wondered who these old Masters are? Here is my attempt to find out about some of them:
Socrates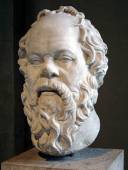 Written and compiled by George Knowles
According to accounts from antiquity, Socrates' father was Sophroniscus, a sculptor, and his mother Phaenarete, a midwife. He was married to Xanthippe, who bore him three sons. She was considered a shrew, and Socrates himself attested that, having learned to live with Xanthippe, he would be able to cope with any other human being, just as a horse trainer accustomed to wild horses might be more competent than one not. He also saw military action, fighting at the Battle of Potidaea, the Battle of Delium, and the Battle of Amphipolis. It is believed, based on Plato's Symposium, that Socrates was decorated for bravery. In one instance he stayed with his wounded friend Alcibiades, and probably saved his life. Despite his objections, Socrates refused any sort of official recognition and instead encouraged the decoration of Alcibiades. During such campaigns, he also showed his extraordinary hardiness, like walking without shoes and a coat in winter.
It is unclear what exactly Socrates did for a living. In Xenophon's Symposium, he explicitly states that he devotes himself only to discussing philosophy, and that he thinks this is the most important art or occupation. It is unlikely that he was able to live off of family inheritance, given his father's occupation as an artisan. In the accounts of Plato, Socrates explicitly denies accepting money for teaching; however, Xenophon's Symposium clearly has Socrates state that he is paid by his students, and Aristophanes depicts Socrates as running a school of sophistry with his friend Chaerephon. It is also possible that Socrates survived off of the generosity of his wealthy and powerful friends, such as Alcibiades.
Socrates lived during the time of the transition from the height of the Athenian Empire to its decline after its defeat by Sparta and its allies in the Peloponnesian War. At a time when Athens was seeking to recover from its humiliating defeat, the Athenian public court was induced by three leading public figures to try Socrates for impiety and for corrupting the youth of Athens.
According to the version of his defense speech presented in Plato's Apology, Socrates' life as the "gadfly" of Athens began when his friend Chaerephon asked the oracle at Delphi if anyone was wiser than Socrates; the Oracle responded negatively. Socrates, interpreting this as a riddle, set out to find men who were wiser than him. He questioned the men of Athens about their knowledge of good, beauty, and virtue. Finding that they knew nothing and yet believing themselves to know much, Socrates came to the conclusion that he was wise only in so far as he knew that he knew nothing. The others only falsely thought they had knowledge.
By questioning everything and everyone, in particular those who claimed to have knowledge, Socrates apparently offended the leaders of his time. Brought to trial, he was found guilty as charged, and sentenced to death by drinking hemlock. His friends and students bribed the prison guard and prepared a ship to escape, but he refused to leave and took a poisonous hemlock. The dramatic court scene and his final speech in the prison are depicted by Plato in his Apology. Socrates' attitude when facing his own death brought about by unjust charges, as recorded by Plato, is remembered in human history as the martyrdom of a just man.
End

First published on the 31st October 2020 © George Knowles

Best wishes and Blessed Be