Mrs Maud Grieve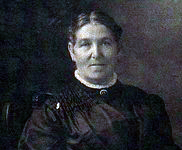 Written and compiled by George Knowles
If you ever need information about herbs, plants or trees, then one of the best resources available today is a book called "A Modern Herbal" by Mrs M. Grieve F.R.H.S. - Edited and introduced by Mrs C.F. Leyel (first published by Jonathan Cape Ltd in 1931). This book is a veritable tome and contains all you need to know about the "Medicinal, Culinary, Cosmetic and Economic Properties, Cultivation and Folklore of Herbs, Grasses, Fungi, Shrubs and Trees with all their modern scientific uses" (ca. 1931). But who was the author Mrs M. Grieve? Sadly while this lady deserves so much credit for her work, which continues to inspire so many people, very little is known about her life. This bio is full of speculation leading from what few actual facts we have been able to uncover, so I would encourage anyone reading it who can add to our knowledge, to please contact me and let me know. Here's the bio:
Sophia Emma Magdalene Grieve (née Law) was a Fellow of the Royal Horticultural Society, a Fellow of the British Science Guild, and the first President of the British Guild of Herb Growers. Mrs. Grieve or "Maud" as she preferred to be called, had an encyclopaedic knowledge of medicinal plants and during the early 1900's founded "The Whins Medicinal and Commercial Herb School and Farm" at Chalfont St. Peter in Buckinghamshire, England. Through her School, Mrs. Grieve provided tuition and practical training courses in all aspects of herb growing, harvesting, drying and marketing.
During WWI as supplies of established medicines dwindled, Mrs. Grieve wrote and produced numerous Pamphlets explaining the use of specific herbs as remedies against common illness, disease and sickness, thus greatly aiding the war effort. Many of these pamphlets were later collated into the now classic work "A Modern Herbal" edited by Mrs. C.F. Leyel (founder of the Society of Herbalists) and published in 1931. Credited with re-establishing herbal medicines into Britain during the early 1900s, today her work continues to inspire herbalists and New Age communities all across the world.
Maud was born on the 4th May 1858 at 75 Upper Street, Islington in London, a daughter of James Law and his wife Sophia (née Ballisat). Her father James Law originated from Scotland where his family owned a Linen Mill, and had moved to London with his brother David Law to set up a warehouse in Finsbury Circus from where they stored and sold on their family's products. When later his father in Scotland died, the Linen Mill was sold and the proceeds divided among family members. As part of his inheritance, James Law retained ownership of the Finsbury Circus warehouse
With money in his pocket due to his inheritance and after a brief sojourn to Australia in a failed attempt to enhance his fortunes, James Law returned to London and married his wife Sophia, the eldest daughter of a Cobbler and Milliner living in Upper St, Islington. After their marriage, as well as running the warehouse in Finsbury Circus, they set up a modest Ladies Outfitters in association with Sophia's parents. Later, Maud the eldest of four children was born in 1858, followed by a brother James John William and two sisters, Margaret Ann and Eliza Caroline. Being a fairly well to do family, we speculate that each of the children received a decent early education.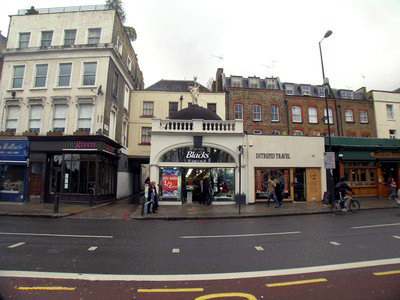 75 Upper Street is now a Sport & Camping Goods Store called Blacks
Sadly nothing more for certain is known about Maud's early life, except for one report that states: "At the age of eight, she and the rest of the children were effectively orphaned and later separated"? Much of what follows is speculation, but it appears that Maud was raised by her uncle David Law and his wife, who by that time owned Carpet business in Beckenham and a warehouse in Friday St, London. The other children it seems were sent to live with relatives called Catmull in Essex? Maud remained with her uncle until he died when she was about 20, after which we believe she travelled to the family home in Scotland with her late uncle's wife, who was also a cousin, and there later met her future husband?
What is known for sure is that by 1885 Maud was in India and married to William Somerville Grieve of Edinburgh. William's family lived in Blacket Place, Newtown in Edinburgh and were wealthy burghers connected to the Somerville and Symington families, owners of the Edinburgh Merchant Company. The Company's holdings included a Paper Mill with associated Publishing and Stationary businesses, and a Wine Merchants. After their marriage the Grieve's remained in India from where William managed the Company's paper supply business from Calcutta.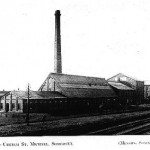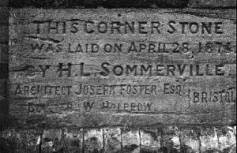 Paper Mill in Edinburgh founded in 1875
As an aside note, it is worth adding here a little more speculation and asking the question "Where did Maud gain her education/knowledge about herbs"? It would seem from the erudition of her later writings that she must at sometime have attended College or University to study Botany or Horticulture? What is interesting to note is that a cousin of her husband William was Symington Grieve (1850-1932), a distinguished antiquarian, naturalist and archaeologist. At times he was a vice-president of the Edinburgh Botanical Society, an ex-president of the Edinburgh Field Naturalists and Microscopical Society, a Fellow of the Royal Physical Society and a Fellow of the Scottish Antiquarian Society. His publications included "The Great Auk", on which he was recognised as a leading authority; "Notes upon the Island of Dominica", and "The Book of Colonsay and Oronsay". He also wrote many scientific papers including "Researches on the Floating Power of Seaweed", a subject that he was encouraged to pursue by the great Charles Darwin. A man of wide scientific interests who travelled the world in pursuit of knowledge, we can only speculate as to whether Maud ever met with him? Could he have been her inspiration??
After William retired from the company in the early 1900's, the Grieve's returned to England and in 1905 settled at "The Whins Cottage", Chalfont St. Peter, Buckinghamshire. Already a keen gardener with a particular interest in the medicinal properties of Herbs, Mrs Grieve soon developed an extensive Herb Garden. A strong and indomitable woman, but never outwardly involved with the Women's Suffragette movement (highly active in those times), instead she became a lead representative of the Daughters of Ceres, a small group dedicated to increasing the opportunities for women in horticultural jobs. To this end she founded the "The Whins Medicinal and Commercial Herb School and Farm" through which she provided practical tuition and courses in herb growing, harvesting, drying and marketing. She was aided at the School by an assistant called Edith Grey Wheelwright, who much later wrote a book called "The Physick Garden: Medicinal Plants and Their History" (Jonathon Cape Ltd, 1934).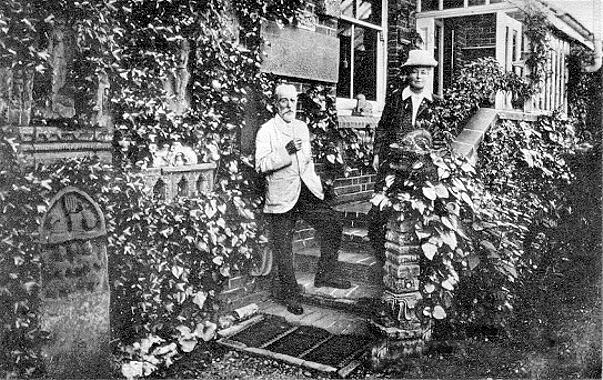 *Photo © Buckinghamshire County Council
Mrs. Grieve and her husband William at The Whins Cottage circa 1910
With the ever increasing demand for medicine brought on by WWI (1914-18), and seeing a demand for herbal remedies as an alternative and supplement to existing supplies, Mrs. Grieve began to write and produced individual pamphlets on the cultivation of specific herbs for their medicinal uses. These she made available to the public by post at 9d each, 6 for 4s, or 12 for 7/6d. She also sold plant seeds by mail order and developed a correspondence course charging 5 guineas for 12 lessons. As well as the pamphlets on herbs, she also wrote articles on subjects such as: Plants supporting Bees, The soil and its care, Economic trees and their by-products and Fungi as Food. In this she was assisted by Miss Ella Oswald F.R.H.S. (Fellow of the Royal Horticultural Society) and a Medallist of the Society of Apothecaries.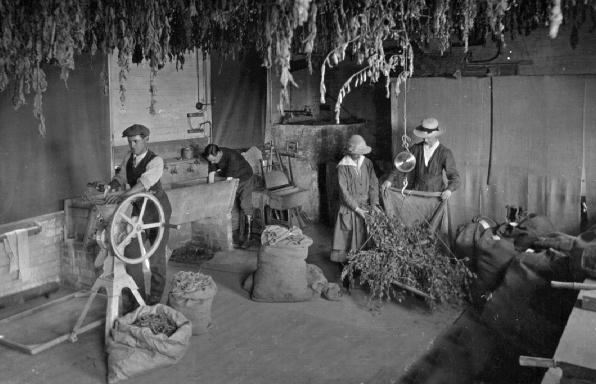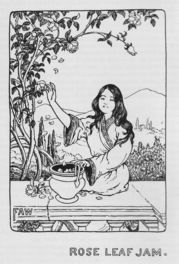 *Photo © Buckinghamshire County Council
Mrs. Grieve at work.

One of her Pamphlets
To further promote the UK's herb growing industry, and when opportunities presented themselves, Mrs. Grieve attended trade shows and exhibitions. One such was the British Scientific Products Exhibition in 1918, which was reviewed in the British Journal of Nursing dated 17th August. The exhibition was due to open on the 7th September and Mrs. Grieve is mentioned as one of the exhibitors. The article states: "An exhibit which opens up to nurses a vista of an interesting hobby, which may also be a work of national utility, is that arranged by Mrs Grieve, F.R.S.H., who has a School of British Medicinal and Commercial Herb Growing at the Whins, Chalfont St. Peter, Bucks, which represents an organised determination to recapture from Germany and Austria the Herb Growing Industry, which those countries have won from Great Britain. Before the war we spent annually £200,000 on importations of drug-yielding Herbs, which we could have grown. What's more interesting for a nurse living in the country than the cultivation of medicinal herbs? It is further of interest that the demand for properly trained herb growers far exceeds supply, and good posts are obtainable for students when proficient."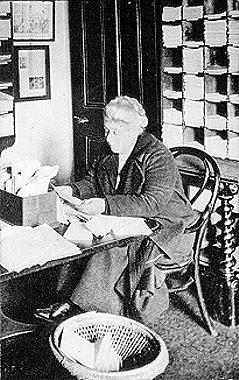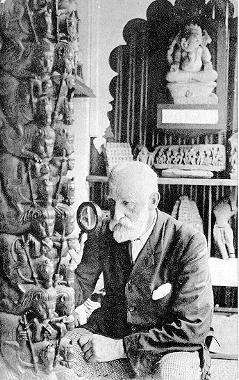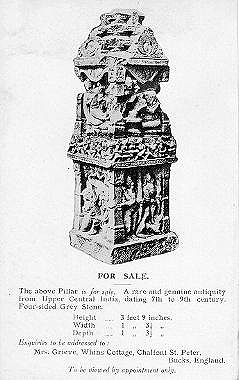 *Photo's *Photo's © Buckinghamshire County Council
Mrs. Grieve dealing with correspondeance.

William Grieve examining a sculpture. A sculpture for sale.
It would seem from the above photos that while Mrs. Grieve ran the business of the School, her husband William was content to interest himself collecting and selling antiques. Sadly however, after the end of WWI and during the Great Depression of the 1920s and 1930s, not only did the School struggle to survive as the recession deepened, but her husband suffered a series of health issues leading to dementia, and died in 1929. After the death of her husband and no longer able to cope with running the business, Mrs. Grieve stopped teaching and closed the School. She gave away many of her existing plants to a fellow herb grower and friend Dorothy Hewer, who ran a similar Herb Farm and School at Seal, near Sevenoaks in Kent.
It was about this time Mrs. Grieve was approached by Mrs. C.F. Leyel (founder of the Society of Herbalists) who wished to use her pamphlets, articles and collection of reference books as the bases for a new "Herbal". Mrs. Grieve welcomed the chance of working on such a book, and had hopes it might relieve some of her failing fortunes. As a result of their collaboration "A Modern Herbal" was published in 1931. However, just before its publication Mrs. Grieve wrote to a friend stating: "My Modern Herbal has been published and will be on sale 29th June, but they have not sent me a copy, nor has Mrs. Leyel returned all my reference books". It would seem that toward the end of their collaboration, their relationship was not always an amicable one?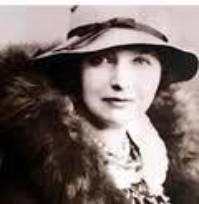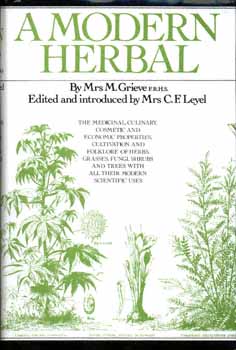 Mrs. C.F. Leyel and the Modern Herbal
Sadly the publication of her book did not bring the anticipated relief Mrs. Grieve needed and she descended into poverty and paranoia. In 1939, no longer able to care for herself, she was place into the care of "Camberwell House" at 30-35 Peckham Road, Camberwell in Surrey (a Lunatic Asylum in South London). That same year to cover her mounting debts, the Whins Cottage and her extensive gardens were sold to property developers and today lies under new houses. Later as WWII escalated and the threat of bombing in London became real, she was released into a private care home called "Townsend House" at 109 High St, Barkway near Royston, Hertfordshire, and there she remained until her death on the 20th December 1941, aged 83.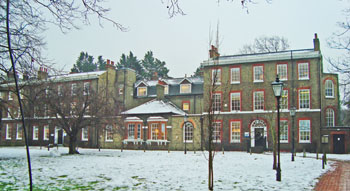 Camberwell House (the Asylum) as it is today
During her lifetime Mrs. Grieve was acknowledged by her peers as an expert in the science of medicinal herbs, and did much to re-establish the herb growing industry throughout the UK. Many of her original pamphlets together with her extensive collection of reference books have been preserved and are now held by the Special Collections Division at Edinburgh University. Correspondence and other papers relating to Mrs Grieve's and The Whins Medicinal and Commercial Herb School and Farm are also held by the Library and Archives section of the Royal Botanic Gardens, Kew, Richmond, Surrey TW9 3AB.
End.

Sources:
My grateful thanks to Mrs. Joan Dugdale MNHAA, MASA, for her invaluable help in compiling this bio. After overlapping careers as a broadcaster, organic farmer and author/novelist (with five published books to her credit), Joan is now a Medicinal Herbalist with a general practice in Marrickville, Sydney, Australia. Some years ago Joan visited the UK where she did some extensive research into the life of Mrs. Grieve and has future plans to write a book about her. More about Joan and her practice can be seen here: http://www.naturaltherapypages.com.au/connect/medicalherbalist/service/1204

Other sources:
http://www.oxforddnb.com/view/article/74452?docPos=12
http://www.network54.com/Forum/217936/thread/1135658123/1298254624/Maud+Grieve+and+Hilda+Leyel
http://en.wikipedia.org/wiki/Maud_Grieve
http://www.indiadivine.org/audarya/ayurveda-health-wellbeing/1100276-modern-herbal-information-long.html
http://www.theherbdepot.com/famous-herbalists_mrs-maude-grieve-1858-%E2%80%93-1941-and-her-arnica-herb_512.html
http://www.aromamedical.org/Reviews/Grieve.htm
http://www.oilsandplants.com/grieve.htm
*Photo Copyright Declaration from: http://www.buckscc.gov.uk/bcc/museum/ea_buckinghamshire_photos.page?
All content on this site, including text, images and design, is the copyright of Buckinghamshire County Council unless otherwise stated. Our content may be used for any not for profit purpose which does not commit an offence under the laws of the United Kingdom. You may electronically copy and print portions of this site for private or educational use ie within the classroom, provided no changes are made and Buckinghamshire County Council is acknowledged as the owner. Commercial use is prohibited unless formal written permission is obtained.
First published on the 11th March 2012
© George Knowles

Best wishes and Blessed Be

Site Contents - Links to all Pages
A Universal Message:
Let there be peace in the world - Where have all the flowers gone?
About me:
My Personal Page / My Place in England, UK / My Family Tree (Ancestry)
Wicca & Witchcraft
Wicca/Witchcraft / What is Wicca / What is Magick
Traditional Writings:
Wiccan Rede / Charge of the Goddess / Charge of the God / The Three-Fold Law (includes The Law of Power and The Four Powers of the Magus) / The Witches Chant / The Witches Creed / Descent of the Goddess / Drawing Down the Moon / The Great Rite Invocation / Invocation of the Horned God / The 13 Principles of Wiccan Belief / The Witches Rede of Chivalry / A Pledge to Pagan Spirituality
Correspondence Tables:
Incense / Candles / Colours / Magickal Days / Stones and Gems / Elements and Elementals
Traditions:
Traditions Part 1 - Alexandrian Wicca / Aquarian Tabernacle Church (ATC) / Ár Ndraíocht Féin (ADF) / Blue Star Wicca / British Traditional (Druidic Witchcraft) / Celtic Wicca / Ceremonial Magic / Chaos Magic / Church and School of Wicca / Circle Sanctuary / Covenant of the Goddess (COG) / Covenant of Unitarian Universalist Pagans (CUUPS) / Cyber Wicca / Dianic Wicca / Eclectic Wicca / Feri Wicca /
Traditions Part 2 - Gardnerian Wicca / Georgian Tradition / Henge of Keltria / Hereditary Witchcraft / Hermetic Order of the Golden Dawn (H.O.G.D.) / Kitchen Witch (Hedge Witch) / Minoan Brotherhood and Minoan Sisterhood Tradition / Nordic Paganism / Pagan Federation / Pectic-Wita / Seax-Wica / Shamanism / Solitary / Strega / Sylvan Tradition / Vodoun or Voodoo / Witches League of Public Awareness (WLPA) /
Other things of interest:
Gods and Goddesses (Greek Mythology) / Esbats & Full Moons / Links to Personal Friends & Resources / Wicca/Witchcraft Resources / What's a spell? / Circle Casting and Sacred Space / Pentagram - Pentacle / Marks of a Witch / The Witches Power / The Witches Hat / An esoteric guide to visiting London / Satanism / Pow-wow / The Unitarian Universalist Association / Numerology: Part 1 / Part 2 / Part 3 / A history of the Malleus Maleficarum: includes: Pope Innocent VIII / The papal Bull / The Malleus Maleficarum / An extract from the Malleus Maleficarum / The letter of approbation / Johann Nider's Formicarius / Jacob Sprenger / Heinrich Kramer / Stefano Infessura / Montague Summers / The Waldenses / The Albigenses / The Hussites / The Sun Dance / Shielding (Occult and Psychic Protection) /

The History of Thanksgiving / I have a Dream, the 1963 speach by civil rights campaigner Martin Luther King / Auras by Graham Furnell - Part 1 and Part 2 /
Sabbats and Rituals:
Sabbats in History and Mythology / Samhain (October 31st) / Yule (December 21st) / Imbolc (February 2nd) / Ostara (March 21st) / Beltane (April 30th) / Litha (June 21st) / Lughnasadh (August 1st) / Mabon (September 21st)
Rituals contributed by Crone: Samhain / Yule / Imbolc / Ostara / Beltane / Litha / Lammas / Mabon
Tools:
Tools of a Witch / The Besom (Broom) / Poppets and Dolls / Pendulums / Cauldron Magick / Mirror Gazing
Animals:
Animals in Witchcraft (The Witches Familiar) / Antelope / Bats / Crow / Fox / Frog and Toads / Goat / Honeybee / Kangaroo / Lion / Owl / Phoenix / Rabbits and Hares / Raven / Robin Redbreast / Sheep / Spider / Squirrel / Swans / Wild Boar / Wolf / Serpent / Pig / Stag / Horse / Mouse / Cat
Trees:
In Worship of Trees - Myths, Lore and the Celtic Tree Calendar. For descriptions and correspondences of the thirteen sacred trees of Wicca/Witchcraft see the following: Birch / Rowan / Ash / Alder / Willow / Hawthorn / Oak / Holly / Hazel / Vine / Ivy / Reed / Elder. Also see: The Willow Tree (Folk Music)
Sacred Sites:
Mystical Sacred Sites - Stonehenge / Glastonbury Tor / Malta - The Hypogeum of Hal Saflieni / Avebury / Cerne Abbas - The Chalk Giant / Ireland - Newgrange /
Rocks and Stones:
Stones - History, Myths and Lore
Articles contributed by Patricia Jean Martin: / Apophyllite / Amber / Amethyst / Aquamarine / Aragonite / Aventurine / Black Tourmaline / Bloodstone / Calcite / Carnelian / Celestite / Citrine / Chrysanthemum Stone / Diamond / Emerald / Fluorite / Garnet / Hematite / Herkimer Diamond / Labradorite / Lapis Lazuli / Malachite / Moonstone / Obsidian / Opal / Pyrite / Quartz (Rock Crystal) / Rose Quartz / Ruby / Selenite / Seraphinite / Silver and Gold / Smoky Quartz / Sodalite / Sunstone / Thunderegg / Tree Agate / Zebra Marble
Wisdom:
Knowledge vs Wisdom by Ardriana Cahill / I Talk to the Trees / Awakening / The Witch in You / A Tale of the Woods
Articles and Stories about Witchcraft:
Murder by Witchcraft / The Fairy Witch of Clonmel / A Battleship, U-boat, and a Witch / The Troll-Tear (A story for Children) / Goody Hawkins - The Wise Goodwife / The Story of Jack-O-Lantern / The Murder of the Hammersmith Ghost / Josephine Gray (The Infamous Black Widow) / The Two Brothers - Light and Dark
Old Masters of Academia:
Pliny the Elder / Hesiod / Pythagoras
Biographies
(Ancient, Past and Present)
(Departed Pagan Pioneers, Founders, Elders and Others)

Abramelin the Mage / Agrippa / Aidan A. Kelly / Albertus Magnus "Albert the Great" / Aleister Crowley "The Great Beast" / Alex Sanders "the King of the Witches" / Alison Harlow / Amber K / Anna Franklin / Anodea Judith / Anton Szandor LaVey / Arnold Crowther / Arthur Edward Waite / Austin Osman Spare / Biddy Early / Bridget Cleary / Carl Llewellyn Weschcke / Cecil Hugh Williamson / Charles Godfrey Leland / Charles Walton / Christina Oakley Harrington / Damh the Bard (Dave Smith) / Dion Fortune / Dolores Aschroft-Nowicki / Dorothy Morrison / Doreen Valiente / Edward Fitch / Eleanor Ray Bone "Matriarch of British Witchcraft" / Dr. John Dee and Edward Kelly / Dr. Leo Louis Martello / Eliphas Levi / Ernest Thompson Seton / Ernest Westlake and the Order of Woodcraft Chivalry / Fiona Horne / Friedrich von Spee / Francis Barrett / Gerald B. Gardner / Gavin and Yvonne Frost and the School and Church of Wicca / Gwydion Pendderwen / Hans Holzer / Helen Duncan / Herman Slater "Horrible Herman" / Israel Regardie / James "Cunning" Murrell / Janet Farrar & Gavin Bone / Jessie Wicker Bell "Lady Sheba" / John Belham-Payne / John George Hohman / John Gerard / John Gordon Hargrave (the White Fox) / John Michael Greer / John Score / Johannes Junius the Burgomaster of Bamberg / Joseph John Campbell / Karl von Eckartshausen / Laurie Cabot "the Official Witch of Salem" / Lewis Spence / Margaret Alice Murray / Margot Adler / Marie Laveau the " Voodoo Queen of New Orleans" / Marion Weinstein / Matthew Hopkins "The Witch-Finder General" / Max Ehrmann and the Desiderata / Monique Wilson the "Queen of the Witches" / Montague Summers / Nicholas Culpeper / Nicholas Remy / M. R. Sellers / Mrs. Grieve "A Modern Herbal" / Oberon and Morning Glory Zell-Ravenheart / Old Dorothy Clutterbuck / Old George Pickingill / Paddy Slade / Pamela Colman-Smith / Paracelsus / Patricia Crowther / Patricia Monaghan / Patricia "Trish" Telesco / Philip Emmons Isaac Bonewits / Philip Heselton / Raymond Buckland / Reginald Scot / Robert Cochrane / Robert 'von Ranke' Graves and "The White Goddess" /

Rudolf Steiner / Rosaleen Norton "The Witch of Kings Cross" / Ross Nichols and T

he Order of Bards, Ovates & Druids

/ Sabrina - The Ink Witch / Scott Cunningham / Selena Fox / Silver Ravenwolf / Sir Francis Dashwood / Sir James George Frazer / S.L. MacGregor Mathers and the "Hermetic Order of the Golden Dawn" / Starhawk / Stewart Farrar / Sybil Leek / Ted Andrews / The Mather Family - includes: Richard Mather, Increase Mather, Cotton Mather / Thomas Ady / Vera Chapman / Victor Henry Anderson / Vivianne Crowley / Walter Brown Gibson / William Butler Yeats / Zsuzsanna Budapest

Many of the above biographies are brief and far from complete. If you know about any of these individuals and can help with aditional information, please cantact me privately at my email address below. Many thanks for reading :-)
"FAIR USE NOTICE"
While I have taken due care and dilligence to credit all sources where possible, this website may contain copyrighted material which has not been specifically authorized by the copyright owner. My use of making such material available here is done so in my efforts to advance our understanding of religious discrimination, the environmental and social justice issues etc. If you wish to use copyrighted material from this wedsite for purposes of your own then you must obtain permission from the relevant copyright owner yourself.


Email_Witches
My online email discussion group:
http://groups.yahoo.com/group/Email_Witches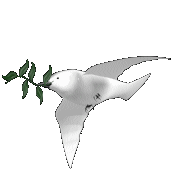 Dove of Peace
Help send a message of peace around the world! The Dove of Peace flies from site to site, through as many countries as possible. It does not belong to ANY belief system. Please help make a line around the globe by taking it with you to your site, by giving it to someone for their site, by passing it on to another continent or to the conflict areas of the world. May trouble and strife be vanquished in it's path.

Please take time to sign my Guest Book.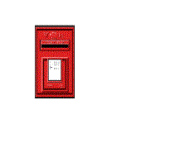 mailto:George@controverscial.com