S.L. MacGregor Mathers (1854-1918)
And "The Hermetic Order of the Golden Dawn"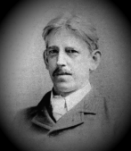 Written and compiled by George Knowles.
S.L. MacGregor Mathers was a prominent occult scholar, author and a leader of the occult revival in the late 1880's. He had a life long fascination with magic, mysticism and Celtic symbolism that led him to hold high office in the S.R.I.A. (Societas Rosicruciana in Anglia). He, together with Dr. William Wynn Westcott and Dr. William Woodman was a co-founder of the influential secret occult Order known as the "Hermetic Order of the Golden Dawn".
Little is documented about the early life of Mathers, though we do know he came from a humble background and spent most of his life on the borders of poverty surviving mainly on the charity of his friends and peers. He was born on the 8th of January 1854 at 11 De Beauvoir Place in Hackney in London. His father William M. Mathers was a commercial clerk and his mother is known only as "Miss Collins". His father died during his early childhood after which his mother moved from London to Bournemouth where they lived until her death in 1885.
Early in his life Mathers developed an interest in boxing, fencing and military strategy. During his early twenties with aspirations of a military career, he joined the First Hampshire Infantry Volunteers. A self-portrait photograph he had taken depicts him wearing the uniform of a Lieutenant, though in fact he never rose above the rank of private. His first book was actually a military manual, Practical Instruction in Infantry Campaigning Exercise (1884), which was based on a French military manual and adapted for the needs of the British Army.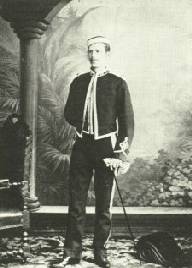 Mathers depicted as a Lieutenant
Masonic and Rosicrucian interests:
Shortly after, Mathers began to take an interest in Freemasonry and on the 4th October 1877 was initiated into the "Lodge of Hengest - No. 195" in Bournemouth. His sponsor was E.L.V. Rebbeck a well-known real estate agent in the area. Mathers quickly progressed through the grades of Entered Apprentice and Fellow Craft, and was raised to Master Mason on January 30, 1878. A fellow member of the lodge was a student of Hebrew philosophy and Qabalah called Frederick Holland and it was he that introduced Mathers into occult studies. Holland was also a metallurgist, alchemist and avid crystal gazer, and without doubt they did some work together. Holland had a definite influence on Mathers particularly his teachings related to scrying and Spirit Vision.
In 1882 Mathers dropped out of Freemasonry and was admitted into the S.R.I.A. (Societas Rosicruciana in Anglia). He took to Rosicrucianism with serious enthusiasm and used for his motto "S Rioghail Mo Dhream (SRMD)", which is Gaelic for "Royal is my Race". Mathers quickly showed his aptitude for ceremonial magic, occult philosophy and esoteric languages, and within four years had become a member of the societies High Council. There he made the acquaintance of Dr. William Woodman (Magus of the society), and Dr. William Wynn Westcott (the Secretary General), he also served as Celebrant of the London College.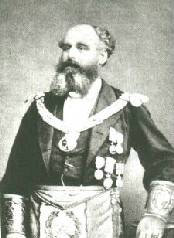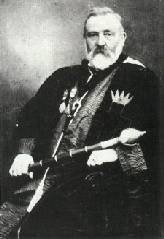 Dr. William Woodman / Dr. William Wynn Westcott
After the death of his mother in 1885, Mathers was left in poor circumstances and moved back to London. He took modest lodgings in Great Percy Street, King's Cross, from where he was able to take up an appointment as the assistant librarian to Frederick Horniman M.P, founder of the famous Horniman Museum and an affluent tea importer. Encouraged by Dr. Woodman and Westcott from the S.R.I.A, Mathers continued with his occult studies and as a consummate student made considerable progress. So much so that with the aid of Dr. Westcott he was able to publish his first translation of Knorr Von Rosenroth's - Kabalab Denudata, which ran through several editions and earned him high regard in occult circles.
Mathers by now was an accomplished ritualist and transcriber of old texts, and it was to him after obtaining some old the Cipher Manuscripts in 1887, that Dr. Westcott approached to flesh out the ritual outlines contained with in them, and to turn them into functional initiation ceremonies (the code of the Cipher is believed to have come from a 15th century code originated by the Abbott Trithemius). Westcott also invited him to join a triumvirate of Chiefs with himself and Dr. Woodman in a newly created order to be called the "Hermetic Order Golden Dawn". Mathers agreed and started work on the rituals.
In the meantime Mathers had made the acquaintance of Dr. Anna Kingsford and her associate Edward Maitland. They were founders of their own Hermetic Society based on esoteric Christianity, and became very close friends with Mathers. Dr. Kingsford was very knowledgeable on theoretical occultism, and it was to her that he dedicated his later translation the Qabbalah Unveiled. She was also one of the early fighters for women's rights and her belief in equally for women was shared and adopted by Mathers, who would later demanded that women share in the new Order of the Golden Dawn. She was also an anti-vivisectionist and a vegetarian. Mathers was also a vegetarian, and at a time when almost every male in English society smoked a pipe or cigar, Mathers was also a non-smoker. Without doubt Dr. Kingsford as a friend and leader of her own Society, greatly influenced Mathers.
The Golden Dawn:
While constructing the new Order's rituals, Mathers incorporated his belief that women as well as men should be allowed to join. Most societies at that time were men only, and that woman should be allowed into an Order, much less on an equal basis with men, was an unheard of precedent. Westcott and Woodman at first rebelled but Mathers was insistent, and until they agreed he would not proceed. After much discussion they all came to agreement, and the outer order of the "Hermetic Order of the Golden Dawn" was born and formally founded on 1st of March 1888. Mathers signed the charter for the Isis-Urania Temple #3 as Praemonstrator using the same motto he used in the S.R.I.A. "S Rioghail Mo Dhream". His 7=4 motto for the new order was "Deo Duce Comite Ferro" meaning "With God as My Leader and the Sword as my Companion".
The outer order of the Golden Dawn was controlled by an inner second order of which only Westcott, Woodman and Mathers were members and the self-appointed chiefs. They claimed to be under direction from the Secret Chiefs of a Third Order, thought to be entities of the astral plane. Woodman controlled the day-to-day administration of the outer order, while Mathers concentrated on its curricula. Westcott in the meantime seemed content to stay in the background, floating between the Golden Dawn and the S.I.R.A, which the three also controlled.
Later that year in 1988 on a visit to the British Museum, Mathers met his future wife Mina Bergson. She was an artist and graduate of the Slade School of Art, and was at the museum studying Egyptian art. They became engaged and were married on the 16th June 1890 at Chacombe in Oxfordshire. The "Rev W.A. Ayton" conducted the service, himself a prominent mystic student and researcher into Alchemy, later he would also became a member of the Golden Dawn. Mina became an important life-long partner of Mathers, though strangely their marriage was never consummated. She was also the first woman initiate into the Golden Dawn (for which she changed her name to Moina).
Moina introduced Mathers to "Annie Horniman", a wealthy and influential friend and fellow student from the Slade School of Art. She was also the daughter of his employer Fredrick Horniman M.P. of the Horniman Museum. In 1891 Horniman donated the Museum to the nation and Mathers after a quarrel with the new management was dismissed. Until then he and Moina had resided at Stent Lodge in Forest Hill, but with Mathers facing poverty again they moved to rented rooms in central London where they lived on Annie Horniman's charity.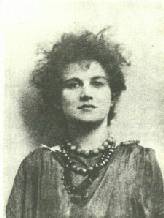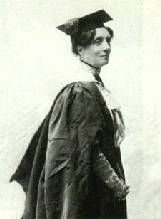 Moina Mathers / Annie Horniman
From 1888 to 1891 the Golden Dawn was primarily a theoretical school, which performed the initiation ceremonies of the Outer Order and taught its members the basics of Qabalah, Astrology, Alchemical symbolism, Geomancy and the Tarot, but other than the Lesser Banishing Ritual of the Pentagram no practical magic. This all changed when Mathers finished the ritual for the first grade of a new Second Order, or Inner Order called the "Ordo Roseae Rubeae et Aureae Crucis" (R.R. et A.C.), or the "Order of the Rose of Ruby and the Cross of Gold". In December of 1891, Dr. Woodman died and no one was chosen to take his place in the ruling triad. Mathers therefore managed to accomplish a restructuring of the Order and became its primary Chief.
Following the death of Dr. Woodman, on the 25th February 1892, Mathers was appointed Secretary General of the S.R.I.A. while Westcott became Magus. To the Society's Transactions, Mathers contributed essays on "The Deity in Hebrew Letters", "Rosicrucian Symbols" and "Rosicrucian Ancients and their Zodiacal Emblems". While continuing to submit papers to the S.R.I.A. Mathers left much of its control and administration to Dr. Westcott while he concentrated his focus on the Golden Dawn. With the creation of the new Second Order those initiates who achieved the grade of Adeptus Minor and above, were now able to put the theoretical knowledge taught in the Outer Order into active magical practice.
Admission to the Second Order was gained through invitation, as well as by examination. The work of the Second Order was extensive and members were required to make and consecrate several magical implements. Mathers had created the curriculum, which had a series of eight examinations leading up to the sub-grade of Theoricus Adeptus Minor. Few members had the time or stamina to complete the grade work and all eight examinations, and those who did could rightly profess to have obtained a complete education in nearly every facet of Western Hermetic magic (it was comparable to a university degree in magic).
Mathers was also responsible for writing several of the Second Order's most important manuscripts, including the Z Formula documents concerning the symbolism of the Neophyte Ceremony and the five systems of magic, these included: invocation, talisman consecration, transformations, divination and alchemy, known collectively as the "Magic of Light". Through his researches at the British Library, Mathers had gained an extensive knowledge of Egyptology as well as Dr. John Dee's "Enochian" workings. These he also incorporated into the Second Orders curriculum, expanding Dee's original workings into a potent system of Magical work.
In the spring of 1892 Mathers and his wife Moina moved to Paris where they initially lived in extreme poverty. His main source of income came from Annie Horniman, who had agreed to support them financially from England. As a condition of her support, Horniman expected Mathers to dedicate much of his time to the work of the Order. It was two years after moving to Paris that Mathers succeeded in establishing a working Temple, this they called "Ahathoor Temple #7". During which time Mathers become increasingly distracted by Jacobite politics and other pursuits. He also devoted a great deal of his time to a translation of an old manuscript, claiming it to be bewitched and inhabited by a species of a nonphysical intelligence. From this "The Book of the Sacred Magic of Abra-Melin the Mage" was eventually published in 1898.
In the meantime and in his absence Dr. Westcott became the Chief of the Second Order in England, which thrived under his leadership, thus causing a little jealousy and resentment from Mathers, who continued to create new material for the Order and send it back to London via Paris. Mathers while a talented magician had always been eccentric and demanding, and perhaps due to his distraction and jealousy, he also turned autocratic. In the spring of 1896 a disagreement erupted between Horniman and Mathers over his politics, and the time he was taking away from his Order responsibilities.
Mathers accused her of trying to weaken his authority, and in turn she withdrew her financial support from him. Later that same year Mathers claimed that the Secret Chiefs had initiated him into the Third Order, thus making him supreme master over and above Dr. Westcott. Rumblings of discontent began spreading through the Second Order Adepts in London, as they became increasingly restlessness with his autocratic behavior. Mathers acted swiftly and sent each of them a manifesto demanding complete obedience to him on everything related to the First and Second Orders. All but Annie Horniman submitted to his demand, while she, verbally disputed his claim to the third order. Mathers to the consternation of many expelled her from the Order further adding to their discontent.
The discontent in the order was further exasperated when in March 1897 someone sent a letter to Dr. Westcott's political superiors regarding his role in the discovery of the Cipher Manuscripts. By this time the order was achieving notoriety in the press, and it was not seen fit for a "Coroner of the Crown" to be associated in any way with such a society, he was therefore requested by his political leaders to cease his activities with the Golden Dawn. Rather than refute any claims of illegality, Westcott remained silent and merely resigned from all public duties associated with the order. Today the authenticity of the Cipher Manuscripts continues to cause considerable speculation.
The Cipher Manuscript:
Originally it was claimed that Westcott received the Manuscripts from the Reverend A. F. A. Woodford in 1887. In turn it was claimed that Woodford obtained them from "a dealer in curios". Many people think that Westcott with his extensive occult and hermetic knowledge fabricated them himself. Still others speculate that Lord Edward George Earle Bulwer-Lytton, the 1st Baron Lytton of Knebworth wrote them. Lytton was a well-known English author and writer of the famous "Last Days of Pompeii (1834)", "Rienzi (1835)" and also a lesser-known occult novel called "Zanoni, A Strange Story". Frederick Hockley a well-known Rosicrucian "seer" and transcriber of occult manuscripts, was also credited with writing them.
Other sources and theories for the Manuscripts include a Masonic Lodge in Frankfort called the "Loge zur aufgehenden Morgenrothe"; this was also thought to have had an offshoot Lodge founded in London. The "Qabalistic College" in London headed by an influential Qabalist by the name of Johann Friedrich Falk is also thought to have been a possible source. Some suspect that both these groups had connections with the mysterious Hermanoubis Temple of the Golden Dawn, thought to be an early predecessor, but there seems to be no evidence to support these theories. The most likely and popular theory as to the origin of the Manuscripts has been attributed to Kenneth Mackenzie, a leading member of the S.R.I.A. and author of "The Royal Masonic Encyclopedia".
A leading occultist of his day, Mackenzie had known Eliphas Levi and was also a friend of Frederick Holland, another high-ranking Mason. R.A. Gilbert a leading Golden Dawn historian, suspects that the Hermanoubis Temple was an early Golden Dawn prototype, founded in 1883 by Holland and known as the "Society of Eight". It is thought that Holland then asked Mackenzie to write some outline rituals for the new order, but in Cipher form to preserve their secrecy (believed to be a 15th century code originated by the Abbott Trithemius), however the new order never really manifested itself. After Mackenzie's death, the Reverend A. F. A. Woodford somehow acquired the papers and passed them on to Westcott.
Westcott with his hermetic knowledge recognized the Cipher and realized what he had. As a high ranking Mason and a leading member of the S.R.I.A, Westcott had long seen the need for a new organization, one in which both men and women could come together without the restrictions imposed by Masonry and the S.R.I.A. A new order was needed to teach and research such occult studies as the Qabalah, Alchemy, Astrology, Divination and other Western Esoteric Traditions. Westcott was more than familiar with the notion of organization through hierarchy, and as most occultists during that time were also Masons, in order to attract them to such a new order (the Golden Dawn), he may have felt the need to provide it with a written history, proving a legitimate hierarchical succession from some distant authority. Since no such history or authority existed for the Golden Dawn, he fabricated one.
While the Cipher Manuscripts (such as they were written) appear to be genuine, the fabrication seems to be in the additions made to them. Another paper written in the same Cipher was inserted. This was in the form of a letter containing the credentials and address of a woman in Germany. Her name was Fraulein Sprengel, and she bore the motto "Soror Sapiens Dominabitur Astris" meaning "The wise person shall be ruled by the Stars". Westcott claimed that he wrote to this Fraulein Sprengel and was informed that she was an Adept of an occult Order called "Die Goldene Dammerung", or "the Golden Dawn". She supposedly authorized Westcott through a series of letters to establish a new temple in England. She also gave him permission to sign her name on any document that was needed, and so in the spring of 1888 Westcott was able to produce a Charter of Warrant for the Isis-Urania Temple #3 of the Esoteric Order of the Golden Dawn in London.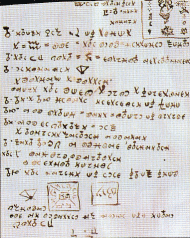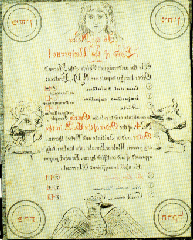 A page from the original Cipher Manuscript / The Charter of Warrant
While much of this story is speculative, most authorities would contend that Westcott did indeed make up his story about Anna Sprengel and her letters, and if he did, what a clever piece of fabrication it turned into. By naming her a high-ranking official in an obscure German Order, he was also able to make her appear authoritative, credible and yet unreachable, for once she had served her purpose, she conveniently died.
Florence Farr, Aleister Crowley and Mathers:
After Dr. Westcott was forced to resign, Florence Farr the famous stage actress took over as the head of the order in London, but still under direction of Mathers in Paris. However her relationship with Mathers remained strained, she also lacked Westcott's practical management qualities. Whatever his faults regarding the Cipher Manuscripts, Westcott had been an enthusiastic manager with a propensity for orderly paperwork, but on his leaving, the extensive grade-work and examination system of the Second Order began to deteriorate and the whole London order slipped into decline.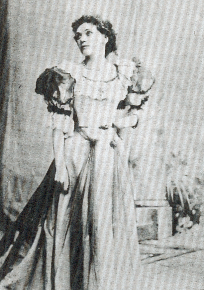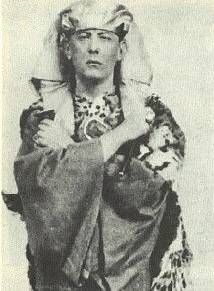 Florence Farr / Aleister Crowley
Meanwhile in Paris, Mathers and his wife Moina had started working on a series of Egyptian rituals called the "The Rites of Isis". These they acted out as ritual dramas, performed publicly on stage at the Theatre Bodiniere on the Rue Saint-Lazare. They were well received and earned them a meager living after Horniman's support had been withdrawn. That same year in 1898, Aleister Crowley was initiated into the London branch and rose quickly through the outer order ranks. But as was his way, trouble soon followed. Crowley was not a well-liked man and while no one could doubt his capabilities as a magician, he constantly argued with Farr and other Adept members in London. In December 1899 when Crowley became eligible for initiation into the Second Order, Farr supported by other London Adepts retaliated and rejected his initiation. They saw him as a questionable candidate for such high office.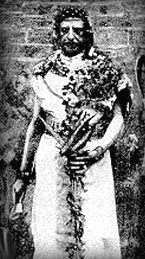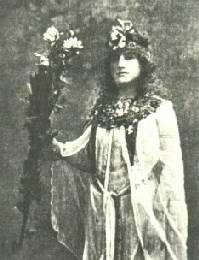 Mathers as Rameses / Moina as a Priestess of Isis
Not to be denied, Crowley immediately went to Paris to see Mathers and demanded to be initiated into the Second Order. Mathers sensing an ally in Crowley against the resentment of other Adepts in London readily agreed. However the London Adepts rallied under Farr and refused to acknowledge Crowley's initiation, a full-scale rebellion was about to begin. Meanwhile the relationship between Crowley and Mathers, never really friendly, remained stained at the best of times. Crowley considered himself a superior magician to Mathers, and the two supposedly engaged in magical warfare. Mathers is said to have sent an astral vampire to attack Crowley, who in return responded with an army of demons.
In February 1900 Farr wrote a letter to Mathers suggesting that the London Order should be dissolved, but Mathers increasingly out of touch with feelings in London, suspected a scheme to bring back Westcott and replace him as head of the Order. To prevent this ever happening Mathers further fuelled the Cipher Manuscript controversy and revealed to Farr that Westcott had forged the letters from Fraulein Sprengel. These allegations further rocked the Second Order in London, which was already suffering from internal problems and schisms. On learning of Westcott's alledged duplicity regarding the Cipher Manuscripts, the very foundation on which the order had been founded, they formed a committee to investigate allegations of fraud.
In April of 1900, Mathers perhaps fearing he was losing all control over the Adepts in London declared the Second Order committee annulled. He then sent Crowley to London as his emissary to take possession of the Second Order's private rooms and implements. The attempt by Crowley failed, for in the ensuing confusion William Butler Yeats took control of the Order, reconvened the committee and promptly expelled both Mathers and Crowley. This was the beginning of the end for the "Golden Dawn" as it had been, though splinter groups would carry its name for some time to come. Even Crowley, forever vengeful, would later retaliate by publishing some of the Golden Dawn's secret rituals in his periodical "The Equinox".
The End of the Order:
In the meantime, Yeats who had taken over the Second Order during the attempted coup by Crowley, valiantly attempted to restore unity, but the schisms within in the Order were proving irreparable. The order was further dogged by a scandal in 1901, which brought with it national publicity. It arrived in the form of a Mr. and Mrs. Horos, who appeared to be a couple of con artists. Somehow they had managed to convince Mathers in Paris that Madame Horos was actually the real "Anna Sprengel". Mathers, who was fooled for a while, became suspicious when they stole some copies of the Golden Dawn's rituals and fled with them back to London.
Once in London they set up their own bogus Order called "The Order of Theocractic Unity". This they used as a front for fraud, extortion and sex. Eventually Mr. Horos was arrested for rape and charged by the authorities, at which time they claimed themselves to be the leaders of a secret order called the "Golden Dawn". As a result the media had a field-day, what better could they have wished for than for a story of illicit sex, fraud and extortion mixed in with a secret society. As a result some of the arcane secrets of the Order became public knowledge, and the initiation rituals of the Golden Dawn were printed in the London newspapers. It was a devastating blow to Yeats and the other Adepts trying to restore the Order.
The order now began to break up into factions and independent groups. Florence Farr resigned from the original Order, which after all the publicity changed its name to the "Hermetic Society of Morgenrothe". Those who remained loyal to Mathers formed the "Order of the Alpha et Omega Temple", and the remnant of the original Isis-Urania Temple was taken over by Arthur Edward Waite, a mystic, occultist and prolific writer who studied several branches of esoteric wisdom. Many of the remaining Golden Dawn members stayed with Waite's group, which he called the "Order of the Independent and Rectified Rite". However many of the old group didn't like the new Order, for Waite did not care for magic and was far more interested in Mysticism, as such he had reduced the emphasis on ritual magic in favor of the mystical path he preferred. This led to another flare-up, and the more magically inclined members including Dr. Robert William Felkin and John William Brodie-Innes left and formed the "Order of the Stella Matutina". Many other Temples and offshoot Orders would appear over the following years.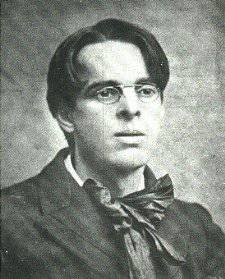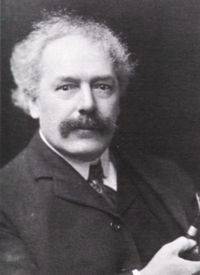 William Butler Yeats / Arthur Edward Waite
S.L. MacGregor Mathers in the meantime had no further dealings with the splinter groups of the Golden Dawn, though he continued to control and operate the "Ahathoor Temple" in Paris, and no doubt stayed in touch with a few loyal Adepts in London. In 1909, his old friend and adversary Aleister Crowley broke his oath of silence and attempted to publish some of the Order's secret rituals in his periodical "The Equinox". Mathers immediately returned to London and attempted to prevent their publication through the courts. But by now both had gained some notoriety, particularly Crowley, and the clash once again drew mass media attention. However Mathers' case failed on appeal and Crowley won the day.
After his final clash with Crowley, Mathers retired back to Paris where he lived out the rest of his days in relative obscurity. Aside from his dealings with the Golden Dawn, Mathers had always remained a very private individual, and very little is known about his final years, even his death is shrouded in mystery. No one really knows how he died, and so we can only speculate. We are led to believe that he died in his apartment in the Rue Rivera on the 20th November 1918, where according to statements by his wife Moina, he died of the Spanish influenza pandemic that reportedly killed 22 million people worldwide. However, while Moina was in possession of a death certificate, it did not record or state a cause of death. Further, no other records of his death have been discovered and neither has a grave ever been found.
Eulogy from the Occult Review in April, 1919
Some Personal Reminiscences By J. W. Brodie-Innes
In November of last year, almost unnoticed by the general public, there passed away in Paris a very remarkable man. What was he - a great adept - a great scholar - a great impostor - a great rascal? I have heard all opinions, confidently, even dogmatically, asserted. As many and as contradictory opinions as were pronounced of Cagliostro. I knew him intimately; and perhaps a close friendship of some thirty years may warrant my giving a few personal reminiscences that may help to a better understanding of a most interesting personality.
When I first met with him he was in charge of the Horniman Museum at Norwood, and even then the contradictory accounts I heard of him roused keen curiosity. Some eminent archaeologists told me that, from his wonderful learning in strange by-paths of knowledge, there was no man in Great Britain better fitted to arrange and catalogue such a Museum as the Horniman. Others denounced him as a superficial charlatan, whose learning could only deceive the ignorant. His very name was in doubt - was he MacGregor - was he Mathers? Yet even the slightest knowledge of Highland history would solve this. The name McGregor was proscribed after the 'Forty-five. His ancestors took what was in effect a by-name - Mo-Athair's - "The Posthumous" - from the infant son of Alastair Macgregor of Glenstrae, who, born after the murder of his father in 1603, was installed as Chief of Glenstrae. This name was anglicized into Mathers, which was borne by his ancestors. But the true name was, of course, MacGregor. His grandfather had fought with great gallantry at the siege of Pondicherry, with Lally Tollendal, and received from Louis XIV the title of Count MacGregor de Glenstrae, afterwards confirmed by James II, a French title that naturally was not used in England.
As soon as I came to know him well the mystery of the varying opinions with regard to him was apparent. MacGregor was a Celt of the Celts, a type that no Englishman of the Teutonic strain has ever yet been able to understand or to appreciate. To very many indeed this type is as a red rag to a bull. There are those to day who will outdo Dr. Johnson in abuse of everything Celtic or Highland. MacGregor had all the Celtic fiery temper and pride of race. He would pick a quarrel on a point of punctilio, a real, or even a fancied, slight to his clan or nation, and fight it out with the keen zest of a mediaeval knight, but always at a disadvantage, for he was above all a chivalrous Highland gentleman, and in all his nature was not one grain of malice, but among his opponents were some who disdained but the use of very underhand weapons - any stick good enough to beat a dog. Such a nature, familiar to me as a Celt, was incomprehensible to the average Saxon. Vanity doubtless he had, but it was the harmless vanity of a child. Credulous too, and liable sometimes to be taken in by an impudent impostor, he hated deceit but was slow to suspect it in another, and unsparing in his denunciation when he found it.
Of his scholarship it is not for me to speak, so far was it beyond my own, yet I know it was as frankly acknowledged by some competent authorities, as it was bitterly denied and depreciated by his opponents. I once showed some of his letters to me on the Kabalah to my own first teacher in Hebrew, a Rabbi and an advanced Kabalist, and he said, "that man is a true Kabalist. Very few Gentiles know as much, you may follow him safely. " When he arranged a Temple of Isis for the Paris Exhibition, an Egyptologist whose name is world-famous said, "MacGregor is a Pharaoh come back. All my life I have studied the dry bones; he has made them live. " These are but two examples out of many. Yet there have been those who have said that his Kabalah and Egyptology were shallow and superficial, a rehash of other men's work. Who shall decide? Yet I do know that many questions I asked him were answered at once, and satisfactorily, with abundant citation of authorities, showing intimate acquaintance with the subject, and never have I detected a mistake.
This is not the place to retell how he was taken in by the famous (or infamous) Horos pair. The story is well known, and the trial may be read by the curious; - that he should have been thus deceived is an instance of the faults of his qualities.
Of his occult knowledge and power I can speak more confidently. He had the rare gift of making clear-cut and luminous those deep inner teachings, so often veiled in nebulous vapourings and prolix verbiage, wherein one plods through leagues of slush to pick out a few gems. His astrological knowledge was exceptional, as is abundantly proved by many horoscopes that have passed through my hands, in which the accuracy of his judgment as evidenced by events was convincing. He had also the second-sight of his race developed to a remarkable degree. Of this I have had many proofs. Ceremonial magic of many ages and countries was familiar to him, and eminent scientists have told me that his explanations of the power and effect of ceremonial were clear and logical.
That he was the head of a Hermetic Rosicrucian Order is well known. But of this nothing can be said. The pledge was given in full in the Horos trial. All members were bound by a solemn oath to divulge nothing concerning the Order, or its members, or what took place at its meetings. Anything therefore that has been published as to this Order can only have been obtained by the willful perjury of some member, or evolved from the imagination of the narrator. I may, however, say of my own knowledge that, in spite of dissensions and secessions in the past the Order has gone on and flourished. It has spread over many lands, and the loyalty and affection of its members for their chief was probably greater at the time of his death than ever before. For many years he lived in Paris, and while in France he naturally and properly used his French title, which he had dropped while resident in this country.
Seldom, I suppose, has a man inspired such love and devotion, and such deadly animosity. For myself I can but speak of him, as I knew him, the true and loyal friend of well-nigh half a lifetime. Often I have written to him some question relating to my own literary work, and with unselfish readiness he has laid aside other work to search the Paris libraries and museums, and copy or translate page after page from MSS, inaccessible to me, or frankly to place at my disposal the stores of his strange learning and his patient researches. I was not blind to his faults, which lay on the surface, and were patent to all. Yet seldom I think has a man had a more faithful and cordial friend through many changes of sunshine and shadow than I had in MacGregor Mathers.
Dear, impulsive, hot-headed, warm-hearted Highlander, he had all the defects and the qualities of his race; misunderstood, reviled; and revered, brave and loyal to the last, bearing no malice to any, scarcely even resenting the many baseless falsehoods freely circulated about him, I am glad of this opportunity to add this one little leaf to the wreath laid on the tomb of my dead friend.
J. W. Brodie-Innes
Conclusion:
From the many sources I have perused to produce this article, many it would seem deride and disparage his achievements. Mathers despite his human faults, his arrogance, jealousies and autocratic behavior, dedicated his entire life to the Western Mystery Traditions and to a magical way of life. Not only was he the principal architect of the Golden Dawn, he was also the author of almost all of the Golden Dawn's important teachings and documents. It was he who developed it into what was considered one of the most powerful magical systems in the world, and a repository of the most arcane occult knowledge.
He may at times have been a difficult man, but so too were many other great men throughout history. Mathers must surely rank alongside them, for he was provenly possessed of great magickal genius and creativity. Few people realiase that much of what we know of the Tarot comes from Mathers and his wife. Today we take the Tarot for granted, but without the groundbreaking work of Mathers, its use and symbolism might still be basic and trite. Much of modern day Ceremonial Magick and many Witchcraft working are knowingly or unknowingly base on the Golden Dawn teaching. This is largely due to the actions of a later member of the order, who published most of the orders teachings to ensure thay would never be lost into obscurity.
In 1933 Israel Regardie, a one-time secretary of Aleister Crowley, joined the Hermes Temple of the Stella Matutina, and became a leading Adept in 1934. Regardie quickly realized the Order was dying a slow death, and felt that the leaders were more interested in claiming exalted grades than in understanding and learning from the basic material. Many of the Knowledge Lectures were being changed or dropped altogether. After much soul searching in regard to his oath of secrecy, in 1937 he made the decision to publish most of the Order's lectures and rituals in his book, The Golden Dawn. By doing so, he kept the teachings of the Golden Dawn from being lost forever. While vilified at the time, today Regardie is often credited with keeping the traditions of the Golden Dawn alive, by insuring that everyone who is interested has access to it's teachings.
Some of the books and other writings produced by Mathers during his time include: A practical Instruction in Infantry Campaigning Exercises (1884, translated from French). The Tarot. A short Treatise on reading Cards (Translated from French). The Fall of Granada. A Poem in Six Duans (1885, translated from French). The Qabbalah Unveiled (1888. Originally in Chaldee, but he translated the seventeenth century version of the Kabbala Dunatta by Knorr Von Rosenroth from Latin). The Tarot, It's Occult Significance and Methods of Play (1888, translated from French). The Key of Solomon the King. Clavicula Solomonis (1889. Translated from Hebrew).
End.

Sources:
The Encyclopedia of Witches &Witchcraft - by Rosemary Ellen Guiley.
An ABC of Witchcraft Past and Present - By Doreen Valiente
Encyclopedia of Wicca & Witchcraft - By Raven Grimassi
Man Myth & Magic - Edited by Richard Cavendish
Revelations of the Golden Dawn - R.A. Gilbert
The Golden Dawn - Israel Regardie
Plus to many websites to mention
First published on the 16th August 2004, 19:16:52 © George Knowles


Site Contents - Links to all Pages
A Universal Message:
Let there be peace in the world - Where have all the flowers gone?
About me:
My Personal Page / My Place in England, UK / My Family Tree (Ancestry)
Wicca & Witchcraft
Wicca/Witchcraft / What is Wicca / What is Magick
Traditional Writings:
Wiccan Rede / Charge of the Goddess / Charge of the God / The Three-Fold Law (includes The Law of Power and The Four Powers of the Magus) / The Witches Chant / The Witches Creed / Descent of the Goddess / Drawing Down the Moon / The Great Rite Invocation / Invocation of the Horned God / The 13 Principles of Wiccan Belief / The Witches Rede of Chivalry / A Pledge to Pagan Spirituality
Correspondence Tables:
Incense / Candles / Colours / Magickal Days / Stones and Gems / Elements and Elementals
Traditions:
Traditions Part 1 - Alexandrian Wicca / Aquarian Tabernacle Church (ATC) / Ár Ndraíocht Féin (ADF) / Blue Star Wicca / British Traditional (Druidic Witchcraft) / Celtic Wicca / Ceremonial Magic / Chaos Magic / Church and School of Wicca / Circle Sanctuary / Covenant of the Goddess (COG) / Covenant of Unitarian Universalist Pagans (CUUPS) / Cyber Wicca / Dianic Wicca / Eclectic Wicca / Feri Wicca /
Traditions Part 2 - Gardnerian Wicca / Georgian Tradition / Henge of Keltria / Hereditary Witchcraft / Hermetic Order of the Golden Dawn (H.O.G.D.) / Kitchen Witch (Hedge Witch) / Minoan Brotherhood and Minoan Sisterhood Tradition / Nordic Paganism / Pagan Federation / Pectic-Wita / Seax-Wica / Shamanism / Solitary / Strega / Sylvan Tradition / Vodoun or Voodoo / Witches League of Public Awareness (WLPA) /
Other things of interest:
Gods and Goddesses (Greek Mythology) / Esbats & Full Moons / Links to Personal Friends & Resources / Wicca/Witchcraft Resources / What's a spell? / Circle Casting and Sacred Space / Pentagram - Pentacle / Marks of a Witch / The Witches Power / The Witches Hat / An esoteric guide to visiting London / Satanism / Pow-wow / The Unitarian Universalist Association / Numerology: Part 1 / Part 2 / Part 3 / A history of the Malleus Maleficarum: includes: Pope Innocent VIII / The papal Bull / The Malleus Maleficarum / An extract from the Malleus Maleficarum / The letter of approbation / Johann Nider's Formicarius / Jacob Sprenger / Heinrich Kramer / Stefano Infessura / Montague Summers / The Waldenses / The Albigenses / The Hussites / The Sun Dance / Shielding (Occult and Psychic Protection) /

The History of Thanksgiving / I have a Dream, the 1963 speach by civil rights campaigner Martin Luther King / Auras by Graham Furnell - Part 1 and Part 2 /
Sabbats and Rituals:
Sabbats in History and Mythology / Samhain (October 31st) / Yule (December 21st) / Imbolc (February 2nd) / Ostara (March 21st) / Beltane (April 30th) / Litha (June 21st) / Lughnasadh (August 1st) / Mabon (September 21st)
Rituals contributed by Crone: Samhain / Yule / Imbolc / Ostara / Beltane / Litha / Lammas / Mabon
Tools:
Tools of a Witch / The Besom (Broom) / Poppets and Dolls / Pendulums / Cauldron Magick / Mirror Gazing
Animals:
Animals in Witchcraft (The Witches Familiar) / Antelope / Bats / Crow / Fox / Frog and Toads / Goat / Honeybee / Kangaroo / Lion / Owl / Phoenix / Rabbits and Hares / Raven / Robin Redbreast / Sheep / Spider / Squirrel / Swans / Wild Boar / Wolf / Serpent / Pig / Stag / Horse / Mouse / Cat
Trees:
In Worship of Trees - Myths, Lore and the Celtic Tree Calendar. For descriptions and correspondences of the thirteen sacred trees of Wicca/Witchcraft see the following: Birch / Rowan / Ash / Alder / Willow / Hawthorn / Oak / Holly / Hazel / Vine / Ivy / Reed / Elder. Also see: The Willow Tree (Folk Music)
Sacred Sites:
Mystical Sacred Sites - Stonehenge / Glastonbury Tor / Malta - The Hypogeum of Hal Saflieni / Avebury / Cerne Abbas - The Chalk Giant / Ireland - Newgrange /
Rocks and Stones:
Stones - History, Myths and Lore
Articles contributed by Patricia Jean Martin: / Apophyllite / Amber / Amethyst / Aquamarine / Aragonite / Aventurine / Black Tourmaline / Bloodstone / Calcite / Carnelian / Celestite / Citrine / Chrysanthemum Stone / Diamond / Emerald / Fluorite / Garnet / Hematite / Herkimer Diamond / Labradorite / Lapis Lazuli / Malachite / Moonstone / Obsidian / Opal / Pyrite / Quartz (Rock Crystal) / Rose Quartz / Ruby / Selenite / Seraphinite / Silver and Gold / Smoky Quartz / Sodalite / Sunstone / Thunderegg / Tree Agate / Zebra Marble
Wisdom:
Knowledge vs Wisdom by Ardriana Cahill / I Talk to the Trees / Awakening / The Witch in You / A Tale of the Woods
Articles and Stories about Witchcraft:
Murder by Witchcraft / The Fairy Witch of Clonmel / A Battleship, U-boat, and a Witch / The Troll-Tear (A story for Children) / Goody Hawkins - The Wise Goodwife / The Story of Jack-O-Lantern / The Murder of the Hammersmith Ghost / Josephine Gray (The Infamous Black Widow) / The Two Brothers - Light and Dark
Old Masters of Academia:
Pliny the Elder / Hesiod / Pythagoras
Biographies
(Ancient, Past and Present)
(Departed Pagan Pioneers, Founders, Elders and Others)

Abramelin the Mage / Agrippa / Aidan A. Kelly / Albertus Magnus "Albert the Great" / Aleister Crowley "The Great Beast" / Alex Sanders "the King of the Witches" / Alison Harlow / Amber K / Anna Franklin / Anodea Judith / Anton Szandor LaVey / Arnold Crowther / Arthur Edward Waite / Austin Osman Spare / Biddy Early / Bridget Cleary / Carl Llewellyn Weschcke / Cecil Hugh Williamson / Charles Godfrey Leland / Charles Walton / Christina Oakley Harrington / Damh the Bard (Dave Smith) / Dion Fortune / Dolores Aschroft-Nowicki / Dorothy Morrison / Doreen Valiente / Edward Fitch / Eleanor Ray Bone "Matriarch of British Witchcraft" / Dr. John Dee and Edward Kelly / Dr. Leo Louis Martello / Eliphas Levi / Ernest Thompson Seton / Ernest Westlake and the Order of Woodcraft Chivalry / Fiona Horne / Friedrich von Spee / Francis Barrett / Gerald B. Gardner / Gavin and Yvonne Frost and the School and Church of Wicca / Gwydion Pendderwen / Hans Holzer / Helen Duncan / Herman Slater "Horrible Herman" / Israel Regardie / James "Cunning" Murrell / Janet Farrar & Gavin Bone / Jessie Wicker Bell "Lady Sheba" / John Belham-Payne / John George Hohman / John Gerard / John Gordon Hargrave (the White Fox) / John Michael Greer / John Score / Johannes Junius the Burgomaster of Bamberg / Joseph John Campbell / Karl von Eckartshausen / Laurie Cabot "the Official Witch of Salem" / Lewis Spence / Margaret Alice Murray / Margot Adler / Marie Laveau the " Voodoo Queen of New Orleans" / Marion Weinstein / Matthew Hopkins "The Witch-Finder General" / Max Ehrmann and the Desiderata / Monique Wilson the "Queen of the Witches" / Montague Summers / Nicholas Culpeper / Nicholas Remy / M. R. Sellers / Mrs. Grieve "A Modern Herbal" / Oberon and Morning Glory Zell-Ravenheart / Old Dorothy Clutterbuck / Old George Pickingill / Paddy Slade / Pamela Colman-Smith / Paracelsus / Patricia Crowther / Patricia Monaghan / Patricia "Trish" Telesco / Philip Emmons Isaac Bonewits / Philip Heselton / Raymond Buckland / Reginald Scot / Robert Cochrane / Robert 'von Ranke' Graves and "The White Goddess" /

Rudolf Steiner / Rosaleen Norton "The Witch of Kings Cross" / Ross Nichols and T

he Order of Bards, Ovates & Druids

/ Sabrina - The Ink Witch / Scott Cunningham / Selena Fox / Silver Ravenwolf / Sir Francis Dashwood / Sir James George Frazer / S.L. MacGregor Mathers and the "Hermetic Order of the Golden Dawn" / Starhawk / Stewart Farrar / Sybil Leek / Ted Andrews / The Mather Family - includes: Richard Mather, Increase Mather, Cotton Mather / Thomas Ady / Vera Chapman / Victor Henry Anderson / Vivianne Crowley / Walter Brown Gibson / William Butler Yeats / Zsuzsanna Budapest

Many of the above biographies are brief and far from complete. If you know about any of these individuals and can help with aditional information, please cantact me privately at my email address below. Many thanks for reading :-)
"FAIR USE NOTICE"
While I have taken due care and dilligence to credit all sources where possible, this website may contain copyrighted material which has not been specifically authorized by the copyright owner. My use of making such material available here is done so in my efforts to advance our understanding of religious discrimination, the environmental and social justice issues etc. If you wish to use copyrighted material from this wedsite for purposes of your own then you must obtain permission from the relevant copyright owner yourself.


Email_Witches
My online email discussion group:
http://groups.yahoo.com/group/Email_Witches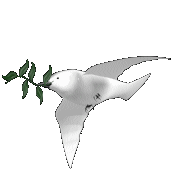 Dove of Peace
Help send a message of peace around the world! The Dove of Peace flies from site to site, through as many countries as possible. It does not belong to ANY belief system. Please help make a line around the globe by taking it with you to your site, by giving it to someone for their site, by passing it on to another continent or to the conflict areas of the world. May trouble and strife be vanquished in it's path.

Please take time to sign my Guest Book.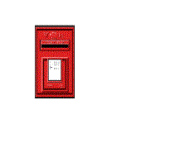 mailto:George@controverscial.com